Photo (and Video) of the Day: Demons vs. Four-Eyed Shaman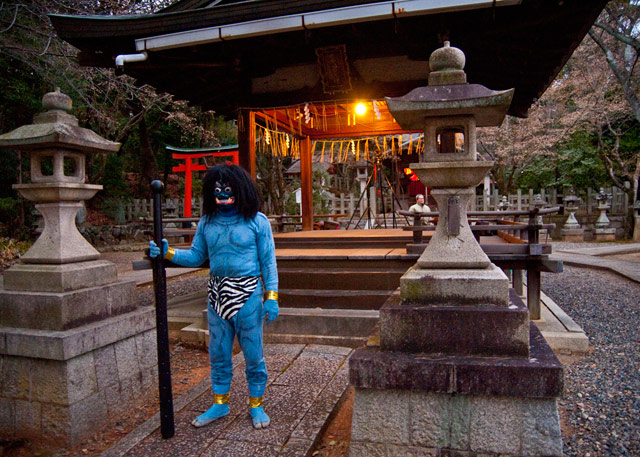 A blue demon prepares for the annual Setsubun festival, which marks the first day of Spring, according to the Japanese lunar calendar, at Kyoto's Yoshida Shrine on February 3, 2012. (John Einarsen /Kyoto Journal)
During Japan's annual Setsubun festival, which marks the first day of Spring, an epic showdown takes place between good and evil.
It's common practice for onis or demons — who represent different shades of grief — to participate in Setsubun ceremonies. A blue demon represents grief, a yellow, disease and a red, anger. To get rid of these demons, people throw beans at them to drive them from their homes for another year.
Videographer and producer Michael McAteer, who participated in one such ritual when he was a child in Japan, filmed this epic battle a few years ago. He describes the tsuinashiki (or ceremony to expel evil spirits) at the Yoshida Shrine in Kyoto as "an ancient Star Wars."
In the reenactment seen in the video below, demons terrorize children with clubs until a four-eyed shaman and his entourage of children save the day. You don't want to miss this rare glimpse of an ancient Japanese rite which started in Kyoto than a thousand years ago.
Want to see your images in our Photo of the Day posts? Use Flickr and tag your photos "asiasociety" or simply email your best shots from Asia to photos@theasiablog.org. Be sure to include where and when the photo was taken. We look forward to seeing — and publishing — your submissions!