Orville Schell: To Restore Relationship, US and China Should Consider 'Previously Unthinkable Options'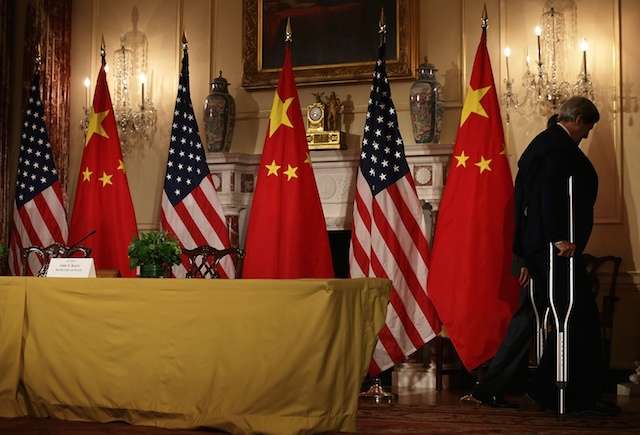 U.S. Secretary of State John Kerry leaves after the closing news conference on June 24, 2015 at the Department of State in Washington, D.C. Officials from the U.S. and China participated in the seventh annual U.S.-China Strategic and Economic Dialogue. (Alex Wong/Getty Images)
In an op-ed published July 9 in the New York Times, Orville Schell, director of the Center on US-China Relations at Asia Society, posits that "the level of discouragement and pessimism, especially among China specialists, about the future of Chinese-American relations is at its highest since the bloodshed of 1989."
He writes:
The idea that countries with such different political histories, systems and values could ever cooperate arose out of two summit meetings: in 1972, President Richard M. Nixon and his national security adviser, Henry A. Kissinger, visited Mao Zedong and Zhou Enlai (with both countries alarmed about the Soviet Union) and in 1979, Deng Xiaoping visited President Jimmy Carter (when both countries resumed full diplomatic relations). Sadly, these breakthroughs were followed by a breakdown, the suppression of pro-democracy demonstrations in Tiananmen Square and cities across China, in 1989. Nonetheless, over the ensuing decades the relationship improved enough to allow many on both sides to imagine that, with more time, economic liberalization, and educational and social exchange, China might evolve into a more open society and a more responsible "stakeholder" in global affairs, giving us a common goal.

It is this inchoate hope that has now been arrested by Mr. Xi [Jinping]'s "Chinese Dream," an indigenous reverie confected to rally his people not to the promise of greater openness and constitutionalism, but greater wealth, power, national unity and global clout.

President Bill Clinton once scolded President Jiang Zemin for being "on the wrong side of history." As far as Mr. Xi is concerned, history is now on China's side, as it returns to a central role befitting its ancient civilization and its status as the most populous country.
Schell suggests ways in which the U.S. government can respond to a more assertive China, but notes that "to achieve any kind of lasting breakthrough in the China-United States relationship, both sides must be prepared to make difficult concessions." Such "previously unthinkable options" include, for the U.S., giving China a greater role in governing global institutions and, for China, allowing maritime disputes to be adjudicated by international law.