Opinion: The Link Between Israel and America's Natural Gas Boom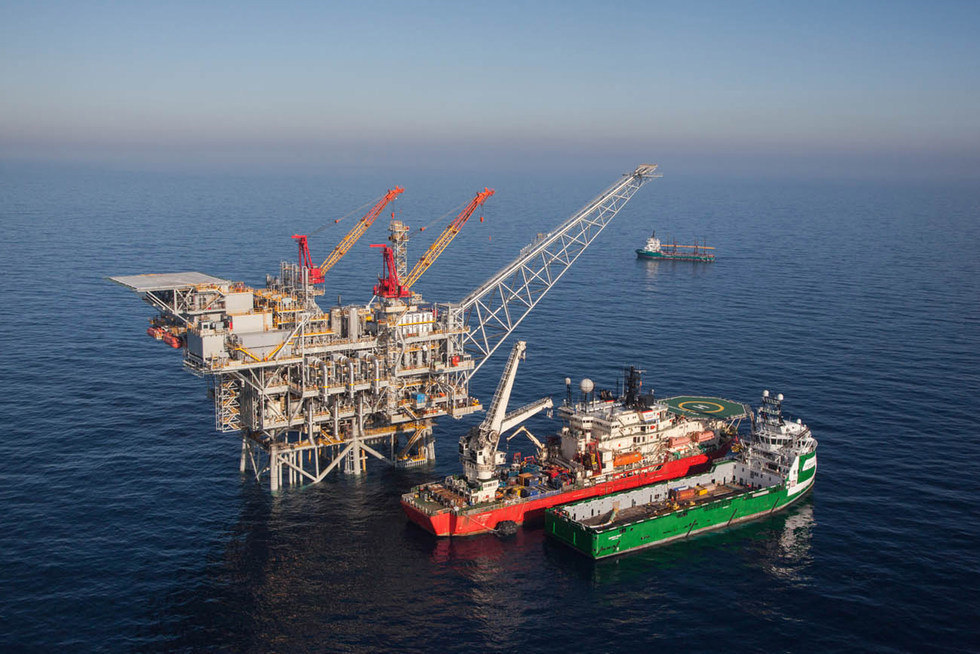 The Tamar drilling natural gas production platform is seen some 25 kilometers West of the Ashkelon shore in February 2013 in Israel. (Getty Images)
Jeffrey Kupfer is the Bernard Schwartz Fellow at the Asia Society Policy Institute. He previously served as a senior level government official in the U.S. Energy Department, as well as the White House and the U.S. Senate. The views expressed in this blog post are his own. This post was originally published by Fortune.
It may come as a surprise, but at several government and business meetings I attended in Israel last week, I found that Israelis are grappling with many of the same issues that have preoccupied U.S. energy policy during the past few years: a boom in natural gas, and whether to export the extra supply to foreign neighbors. Oddly enough, in a region known mainly for crises and bad news, many see the energy situation as a way to spur economic development and regional cooperation. And they may be right.
For most of its history, Israelis have viewed energy as a source of vulnerability. Indeed, they joke that that Moses must have made a wrong turn, landing in the one Middle Eastern country without vast energy resources. Just 10 years ago, Israel imported almost all of its energy, generating 60% of its electricity with imported coal and using some Egyptian natural gas that passed through the Sinai via a pipeline.
But the 2009 discovery of the Tamar natural gas field, 50 miles off the coast of Israel, upended this reality. Tamar is estimated to have 9 trillion cubic feet (tcf) of natural gas reserves — enough to fulfill all of Israel's energy needs for decades (Israel used .19 tcf of gas in 2010). Israel followed with the Leviathan natural gas discovery in 2010. At 22 tcf, it was the world's largest natural gas find that year. U.S.-based Noble Energy has worked diligently to develop both fields, and Tamar, which came on line last year, is currently producing 1 bcf per day. Leviathan is expected to begin production in 2018.
Tamar is already having a huge impact on Israel's economy. Israelis estimate that 1% of its GDP growth last year was attributed to natural gas. It has also improved the country's energy security. In 2012, after the fall of President Hosni Mubarak, the Egypt-Israel natural gas pipeline was shut down after enduring 14 terrorist bombings in roughly 12 months. Nevertheless, because of the offshore gas, Israel has been able to adapt, and is currently generating over 50% of its electricity with its domestic natural gas — a number that is expected to continue to rise.
The environmental benefit has also been dramatic: the switch from coal to natural gas has reduced carbon emissions by the equivalent of taking all Israeli cars off the road for one year.
Moreover, these fields, along with other prospects in the same Mediterranean waters, should be able to provide Israel with more than enough gas for its annual energy needs for the foreseeable future.
Israel is confronting the same basic question that the U.S. has been facing with its own boom in natural gas and oil. What is the best use of these resources?
Last year, the Obama Administration accelerated approvals for broader natural-gas exports in the U.S. amid ongoing debates over whether it would be good for the economy and international ties. Proponents said exporting cheap natural gas would help the U.S. trade balance and further encourage adoption of clean-burning fuel around the world, while opponents worried domestic prices may rise and hurt consumers and some industries. The approvals have been welcomed by trading partners like Japan and Korea and have provided some stability for the U.S. natural gas industry.
Like the U.S., Israel recognizes the importance of having a secure domestic supply, but they also recognize the strategic potential of natural gas. They understand that while the amount of gas available for export may be a drop in the bucket in the global market, it could make an important difference — both economically and strategically — in their region. A reliable supply of relatively natural gas could help underpin economic growth in Israel and neighboring countries, many of which face energy challenges. At the same time, the availability of export markets would also help attract the necessary capital to continue to develop the offshore fields.
In September, Noble Energy, buoyed by the Israeli and U.S. governments, signed a letter of intent to provide 1.6 tcf of natural gas to Jordan over 15 years. They have also signed a $1.2 billion deal to supply gas to the Palestinian Authority and a letter of intent to provide gas to Egypt (either reversing the flow of the Sinai pipeline or building new subsea infrastructure). Others have even floated the idea of supplying gas to Turkey or to European countries.
There is still a long way to go. As with any major energy project, especially in the current volatile market environment, there are a series of significant financial and regulatory issues that will need to be addressed. Moreover, there is no question that the ongoing political and security dynamics will play a significant — though uncertain — role.
With all the focus on the region's problems, it is easy to gloss over positive developments like these offshore natural gas fields. But the Israeli energy situation reinforces important themes, which are also applicable to the U.S. as we consider our abundant resources and the desirability of allowing oil and gas exports. First, we should never underestimate what can happen when we combine technological advances, a can-do attitude, and market forces. Second, energy resources can be used as a force for good. Whether it is in the Middle East, Asia, or elsewhere, energy has the potential to bring countries and people together.