Online Artists React to China Train Crash
By now you've no doubt heard of last Saturday's tragic accident involving two bullet trains in China's Zhejiang province. Official government reports say the crash killed at least 39 people and injured hundreds more, and some believe the actual death toll is much higher.
The accident has sparked a wave of unrest in China along with accusations of a government cover-up. Chinese journalists and netizens have spoken out against the government's accident response and the the government's handling of the development of the high-speed railway itself. For continuing coverage of the crash and its aftermath, visit the China Media Project, Shanghaiist and China Geeks.
Some Chinese netizens have begun to take a stand in the form of art, creating highly critical works that target the railway and the government. Below are a few standout pieces from a gallery at Douban, a popular Chinese website: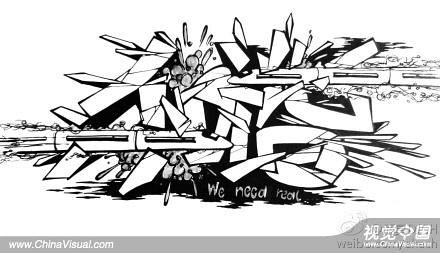 Two high speed trains crush the word "harmony," the literal translation of héxié hào (和谐号), the Chinese name for these trains.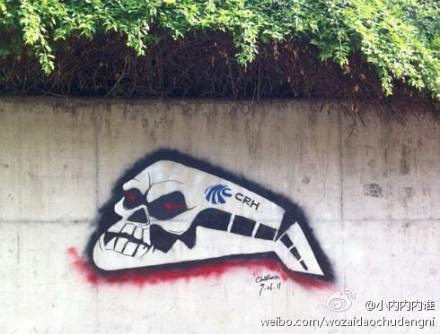 Graffiti depicts a CRH (China Railway High-speed) train as a skull-faced monster.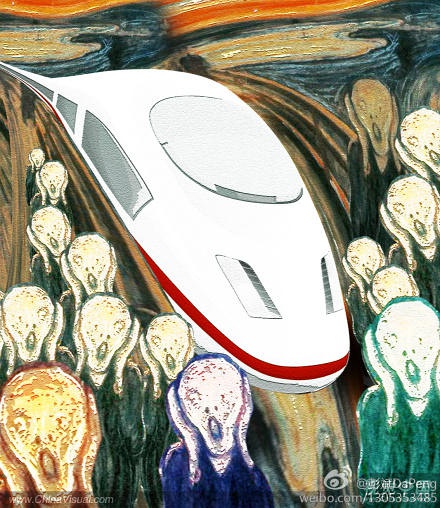 Repurposing the subject of Edvard Munch's "The Scream."
The official logo of the China Railway placed on its side.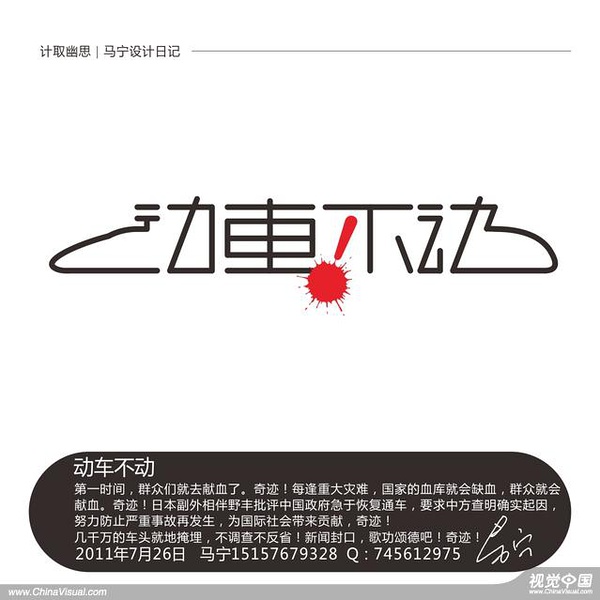 Mocking the state-run media coverage of the crash. Here's a translation of the Chinese text:
"D TRAIN NOT MOVING
Instantly, people went to the blood drive. Miracle! In the wake of every major disaster, there will be a lack of blood in the national blood bank, and people would go to the blood drive. Miracle! One of Japan's foreign ministers criticize China's government rushing to restore train service, asks China to find out actual reasons of accident and try to prevent repeats of such grave accidents, and contribute to the international community. Miracle! The locomotive that's worth tens of millions was immediately buried, no investigation and no self-reflection! Media cover-up, singing high praise for themselves. Miracle!"
See the other works at Douban.