Odd Arne Westad Wins 2013 Asia Society Bernard Schwartz Book Award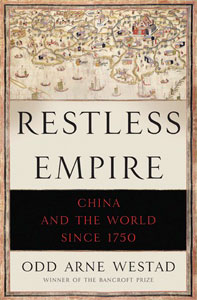 Historian Odd Arne Westad has won the 2013 Asia Society Bernard Schwartz Book Award for his book Restless Empire: China and the World Since 1750. Westad's work is recognized for its outstanding contribution to the understanding of contemporary Asia, and was selected from over 130 other nominated works.
Last year, in a book interview with our sister site ChinaFile, Westad said many historical accounts of Chinese international affairs were not being told from the Chinese perspective. "I was inspired to write this book mainly because I thought we needed more of a China-centered history of Chinese international affairs," he said. "Not just as the history of wars and diplomacy, but also from a more general perspective — trying to look at people's experiences."
The result is Restless Empire: an account of China's foreign affairs over the last 250 years, during which Chinese people have grappled with conflicting impulses toward international engagement and insularity. Westad said that this tension remains a central theme of Chinese foreign policy today.
"What remains reasonably stable, I think, over the past 150 years or so, is the link between trying to find a form of state-building within China that links China in a positive way to the outside world," he told ChinaFile. "That's been one of the big challenges in Chinese history, and it's an ongoing challenge."
Watch Westad's complete book talk above. The author will be honored and presented with a $20,000 prize at a Bernard Schwartz Book Award ceremony at Asia Society's headquarters in New York City later this year.