Nuclear Deal With Iran Could Lead to Broader U.S.-Iran Dialogue, Say Experts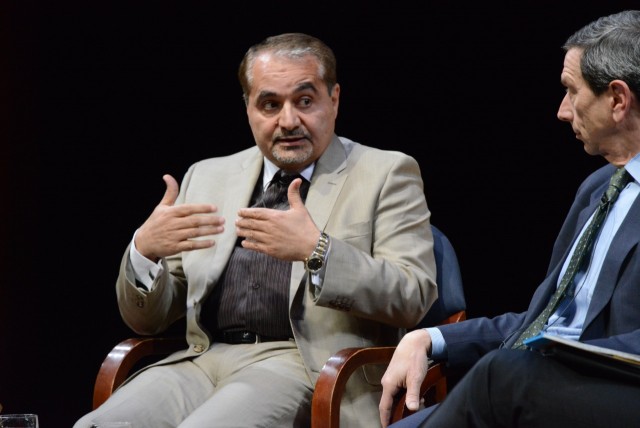 Hossein Mousavian (center) speaks with former U.S. nuclear negotiator Robert Einhorn during an event at Asia Society New York on December 17, 2013. (Kenji Takigami/Asia Society)
Former Iranian nuclear negotiator Hossein Mousavian this week made news when he returned to Iran for the first time since 2009. In the second convening of the Asia Society Policy Institute's AsiaConnect teleconference series, Mousavian and Asia Society's Vice President of Global Policy Programs Suzanne DiMaggio offered their views on the interim nuclear agreement reached between the P5+1 and Iran and on the prospects ahead for U.S.-Iran relations. Below is a condensed version of their comments.
Is this deal a good one for both sides?
Mousavian: The deal represents a step forward, and this is reflected in the support it has received from within Iran. Most of the conservative members of Parliament were in favor of the deal, with some reservations. But we must remember it is only a temporary deal. I think everyone in Tehran is waiting for a comprehensive deal before they decide whether this one is good or not.
DiMaggio: The deal stops Iran from advancing its nuclear program, puts time on the clock for further negotiations, and opens the way to a diplomatic solution. The U.S. and its P5+1 partners gave away very little ($7 to $8 billion in sanctions relief), since the sanctions are being temporarily lifted and can be applied again if Iran doesn't hold up its end of the bargain. Moreover, the agreement represents a diplomatic breakthrough. After 34 years of estrangement and hostility, U.S. and Iranian officials are talking to each other.
Should we be optimistic about the prospects for a comprehensive agreement on Iran's nuclear program?
Mousavian: I believe Iran is in a better position to deliver a final deal than President Obama, and more inclined to make a deal. The domestic situation in Iran is similar to the situation in the U.S. There are politicians who are strongly in favor of a final deal, politicians who are silent, and politicians who are strongly opposed. The key difference is that no foreign countries are questioning Iran about the deal and trying to influence its position. Here in the U.S., other countries are interfering in the U.S. policy process. One major obstacle will be agreeing on a framework for a comprehensive deal. If the U.S. and the P5+1 countries accept the Non-Proliferation Treaty [NPT] as the basic framework, I'm optimistic that they will reach a deal within the six-month window. But if they want more restrictions than NPT, it will be much more difficult.
DiMaggio: There are many difficult issues that will need to be resolved, including the heavy water reactor in Arak, the fortified facility in Fordo, the 19,000 centrifuges that Iran possesses today, and the sequencing/timing of sanctions relief, to name a few. The Obama administration will face obvious challenges managing the expectations and concerns of Israel, other key allies in the region, and those in Congress who oppose the deal. President Rouhani and his team face domestic challenges, too. There are strong hardliners in Iran who have been profiting from the sanctions.
What about the broader strategic picture for relations between the U.S. and Iran?
Mousavian: I've been advocating for four years that the U.S. and Iran need to conduct bilateral negotiations, in parallel with the P5+1 talks, and discuss other regional issues. Rapprochement between Iran and the U.S. would greatly facilitate cooperation on other regional issues, particularly the extremism that is spreading from Syria to Iraq and Lebanon.
DiMaggio: If a final nuclear agreement can be implemented successfully, this could lead to a broader dialogue on other issues in the Middle East and Southwest Asia. Syria would be at the top of that list, followed by the future of Afghanistan and the worsening security situation in Iraq. The key challenge is for Tehran and Washington to get to a point in their relations where it becomes strategically unwise for Iran to breakout of these relations and go for nuclear weapons.
How did sanctions on Iran contribute to the interim deal?
Mousavian: The conventional argument is that sanctions brought Iran to the table. I think that interpretation is wrong. In March 2005, when I was part of Iran's nuclear negotiation team, Iran proposed a solution with the same elements that were in the November 2013 deal. Iran didn't relax its terms at all as a result of the sanctions.
DiMaggio: Sanctions played an important role in getting us to where we are today. They blocked Iran's efforts to modernize its military and weakened the economy. But the deal couldn't have been reached without some other changes that took place.
What other factors paved the way?
DiMaggio: The election of Hassan Rouhani as President of Iran helped to clear a path to a deal. Rouhani ran on a platform that promised to improve the economy and end Iran's diplomatic isolation. The fact that the Obama administration distanced itself from "regime change" in Iran as a strategic objective while stating that it was prepared to accept Iran having a peaceful nuclear capability also contributed to a successful outcome in Geneva.
Mousavian: Iran made the deal because the U.S. made a major shift in its position. In 2005, the U.S. wanted Iran to have zero uranium enrichment capability. This past year, the U.S. moved its red line to blocking Iran from acquiring a nuclear bomb.
Were the sanctions significant in other respects?
Mousavian: No one can argue that the sanctions have not harmed Iran's economy. But the objective of the sanctions was to contain Iran's nuclear program. In that respect they were completely counterproductive. Iran accelerated its nuclear program because of the sanctions and now has a greater nuclear capability than it did before the sanctions were applied.
DiMaggio: The efficacy of the sanctions will be long debated. What is clear now is that the timing was right for Washington to strengthen the diplomatic track in order to seize the opportunity created by the pressure track. Direct, bilateral engagement is the only way to build confidence and trust.
---
AsiaConnect is a monthly telephone briefing series on pressing issues in Asia and U.S.-Asia relations. The AsiaConnect series is made possible through the generous support of Asia Society Trustee Mitch Julis.
Hossein Mousavian served as Iran's lead nuclear negotiator (2003-05), head of the Foreign Relations Committee of Iran's National Security Council (1997-2005), and Iran's Ambassador to Germany (1990-97). Currently a Visiting Research Scholar at Princeton University, he is the author of The Iranian Nuclear Crisis: A Memoir. Suzanne DiMaggio is Vice President of Global Policy Programs at Asia Society. She directs the Society's U.S.-Iran Initiative, which includes a Track II component that brings together Americans and Iranians to discuss issues of interest to both countries.