Northeast Asia in 2013: New Beginnings, Old Challenges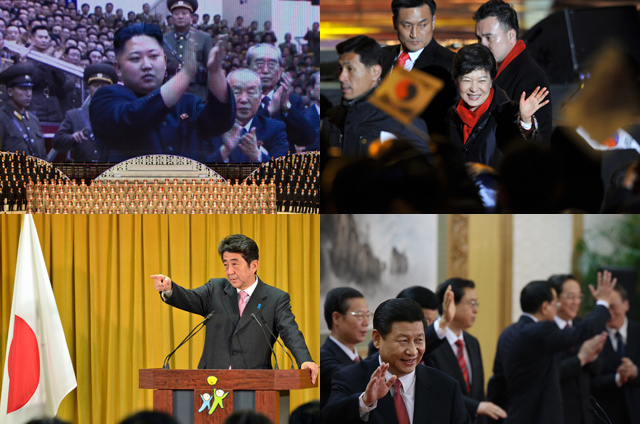 This year was a year of leadership transitions and consolidation of power. (Asia Society)
Park Geun-hye's election to the presidency of South Korea on December 19 marks the last in a series of political transitions in the United States and Northeast Asia. By early next year, there will be new administrations in place in Washington, Beijing, Tokyo and Seoul. Kim Jong Un seems now to have largely consolidated his power in Pyongyang, one year after his father's death. Such a confluence of change in Northeast Asia is rare, perhaps unique. It may offer a new opportunity for regional cooperation, a fresh start after this year's confrontations between Japan and China over the Senkaku/Diaoyu Islands, South Korea and Japan over Dokdo/Takeshima and the World War II "Comfort Women," and pretty much everyone and North Korea over Pyongyang's rocket launch. But significant challenges lie ahead, especially with regard to North Korea, as well as ongoing territorial disputes between China and Japan and Japan and Korea, and the mutual suspicions between China and the U.S. over the former's regional ambitions and the latter's "pivot" to Asia.

For the most part, the political changes in all four Northeast Asian capitals, as well as in the United States, point toward continuity and stability; in the case of Japan, the return of the Liberal Democratic Party seems to have even an element of nostalgia after three years of tumultuous government under the Democratic Party of Japan. Shinzo Abe will once again be Prime Minister; Obama was re-elected; Park is from the same party as her predecessor Lee Myung-bak; Xi Jinping and Le Keqiang come from deep inside the Chinese establishment; Kim Jong Un represents the third generation of Kim family rule in North Korea. However, a great deal of uncertainty lies ahead. The issues that gave rise to the current confrontations remain unresolved, and the emergence of conservative and often nationalistic governments in the region may exacerbate these problems.

Perhaps the biggest question ahead regards North Korea. In the past few years North-South Korean relations have hit their lowest point in decades, and although President-elect Park has promised a cautious re-engagement with Pyongyang, it remains to be seen how the North will respond. Even though a coordinated approach to North Korea among the United States, Japan and South Korea looks more promising now than it has for some time, China continues to support Pyongyang and offers only mild criticism of North Korean actions that others in the region see as highly provocative. Without Chinese cooperation the North Korean nuclear issue is not going to get resolved, and it doesn't appear that North Korea is likely to give up its nuclear ambitions any time soon.

Another big question is that of rising nationalism in the region, especially in Japan, and the conflicts exacerbated thereby. Abe's promise to increase Japan's military presence in the region, welcomed by Washington, is viewed with deep suspicion by Seoul and Beijing. China's military build-up evokes concern in South Korea and Japan, but that doesn't necessarily drive Seoul and Tokyo together. The territorial disputes between Japan and Korea and between China and Japan have now become strongly invested with national pride, and no side shows much willingness to compromise. For the next Obama administration, promising a new focus on East Asia after a long period of preoccupation with the Middle East, navigating these complex tensions among both allies and rivals will be one of the central foreign policy challenges of 2013.