Non-Resident Indian's Confession Spurs an Online Tempest
A post this past weekend in the New York Times blog India Ink, "Why I Left India (Again)," by an NRI (Non-Resident Indian) — about his personal experience of returning to India after 11 years of living in the U.S. and having to leave the country again, apparently for good — has generated a storm of reactions by readers and critics alike.
The post was written by Sumedh Mungee, a software professional, about his personal experience of moving to Bangalore with his wife and daughter, only to discover two years later that India was not for him. The problems start with the fading away of what Mungee calls the three India metaphors — the bullock-cart India, scooter India and airplane India — as he feels himself falling into what is presumably the airplane category, when things start going wrong.
Mungee writes:
Three months after our return, after a friend told me that his two children were sick with amoebiasis — he thought they got it from their maid — my wife and I designated a separate set of dinnerware for our maids. It's more hygienic.

Within six months, I'd brusquely refused my driver an emergency loan of 500 rupees ($10) to attend his grandmother's funeral. I'd learned my lesson after our previous driver scammed me into paying for his son's broken leg (as it turned out, he had no son). It only encourages them to ask for more; besides, they're all liars.
After a series of similar incidents that led to a further deterioration in the writer's relationship with India, he comes to a realization, which he describes as a moment "when a person who was a part of you just an instant ago becomes a surrealistically familiar stranger. After that moment, inertia and denial can only delay the inevitable."
Mungee's remarks about domestic help in particular seems to have provoked the most vehement response. Among the most nost notable was "Happy Diwali (and why I am still here)," a rejoinder by Indian columnist and author Chetan Bhagat on his website. An NRI himself, having lived in Hong Kong for 11 years, Bhagat termed the piece a true reflection of what many NRIs feel. But certain foreign media houses, he noted, were inclined to publishing stories about "poor little pathetic India" stereotype of the "real muck beneath the shining India" stories.
Bhagat continues:
Unfortunately, or fortunately, that is not the person I am. I cannot assume a person is a thief as default. To me, a person helping me in the house is giving me enormous service. To treat them badly is unthinkable. I hate abuse of power to the core, and yes, many Indians abuse their domestic helpers without even realizing it.

Anyway, the idiot me continued with my welfare approach to domestic help. We moved to Bandra in a year, and our driver then, used to live in South Mumbai. I didn't want him to quit. However, his commute using public transport would be hard. He asked for a bike. I bought him one. He didn't run away with it. It's been over a year. He still hasn't run away with it.
Bhagat's piece has since made it into the conversation about the original post. Reactions to the Times post are wide-ranging and varied — from sympathy to condemnation and, inevitably, a comparison between life in India and the United States.
Here are some of the comments in reaction to the post on the Times website:
"The issues that you talk about exist in the US as well. Have you wondered how your Mexican house cleaning lady is making. yeah she is making more than what she would have in Mexico — thats also true for your house cleaning lady in India…."

"Why is NYT continuing to publish such juvenile junk on India? .... This is a vicious, self-perpetuating cycle .... Other Indians abroad read and empathize with this. And so the cycle continues."

"This was a thoughtful, articulate post about one man's experience .... Yes, he could have reacted like a saint and spent the rest of his life working to uplift the poor. But that is such a ridiculous, insecure and knee-jerk reaction. I don't get why the choice is between being a saint or a nameless, voiceless zombie among the masses..."
A commentator on Facebook wrote:
"Living in India and other similar places requires that you develop a personal view on a number of uncomfortable truths. You don't have to dehumanize people if you live there .... unfortunately, tragedies like the caste system are so prevalent, even in modern society, that a lot people feel comfortable dehumanizing others. The author also makes another point — of not giving for the fear of being fleeced. This is a complicated one. India has a great deal of need and also great deceit. Finding a balance between common sense and compassion is difficult."
Meanwhile, Twitter has its own stream of comments: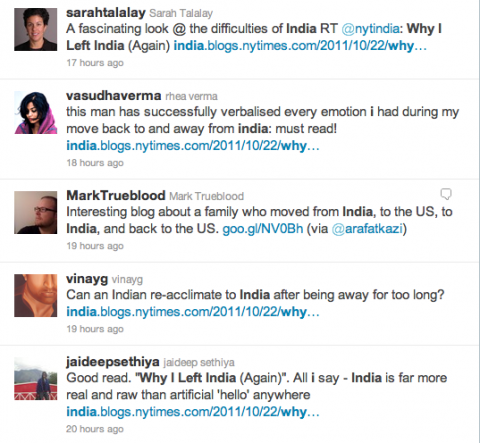 Tell us what you think. What do you make of Mungee's post, Bhagat's reaction, and the strong feelings the piece has evoked in general?