New Yorker Writers: How to Cover China in the Present Day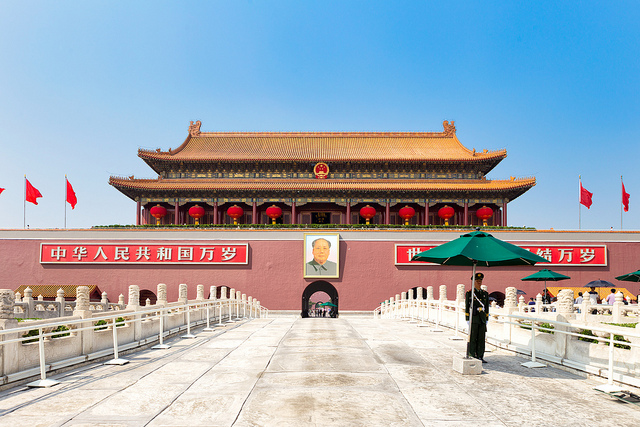 On December 17, Orville Schell, Jiayang Fan, Peter Hessler, Zha Jianying, and Evan Osnos will appear in conversation with David Remnick about covering China for The New Yorker. (See-ming Lee/Flickr)
When the United States re-established ties with China in the 1970s, the American media found itself tasked with covering a country emerging from a long period of isolation. One of these publications was The New Yorker. Freed from the fast-paced demands of a daily newspaper, the magazine instead contributed a rich portrait of the people and places that characterized the swiftly changing Asian country. On December 17, five of the writers who have covered China for The New Yorker — Orville Schell, Jiayang Fan, Evan Osnos, Peter Hessler, and Zha Jianying — discussed these changes at Asia Society in New York with David Remnick, the magazine's longtime editor. 
Prior to the event, we asked the five writers to describe what their approach to covering China would be, were they to begin their stints in the country anew. This is the second installment of a two part interview. Click here to read part one.
Orville Schell
Arthur Ross Director of the Center on U.S.-China Relations at Asia Society
The Chinese language and some pre-existing experience working in Chinese society are critical prerequisites to being able to do good reporting.
It is a pity that just as a foreign correspondent gains both these skills, and a wide network of reliable and accessible sources, they are often moved out of China, sometimes up to editorial positions in the home office. Thus, China reporting has very few people who have followed that tectonic and changing country over the long term.
Jiayang Fan
New Yorker editorial staff
In China, so many outrageous things seem to be happening everyday that I imagine it would be all too easy to treat every turn of events as somehow unprecedented or groundbreaking. For this very reason, I think it's vital to locate the significance of a movement or person or event in the context of history and visit the subject with as many points of view as possible. In the past, I have sometimes seen a handful of anecdotes hurriedly and erroneously broadened into a trend that, in turn, becomes broadcast as the state of China. This is both misguided and inaccurate.

From experience, I think it's also important to report out a little further than a particular story requires, even to the edges that might not fit in print. If it's a story worthy of being told, chances are its effects won't be contained in a bubble. Its effects should be felt across social, economic, and political lines. If I can't articulate its reverberations along those axes, alarm bells should start to ring in my head.
 

Evan Osnos
New Yorker staff writer, author of Age of Ambition: Chasing Fortune, Truth, and Faith in the New China
In my first couple of years in China, I went for a long walk, heading west from Chongqing for a month or so on foot. When I move back someday — my wife and I are sure that we will — I'd like to do that again. There's no substitute for moving at three miles per hour. Would I be allowed by local police? I think it might be harder now, but I'm hopeful.
 

Peter Hessler
New Yorker staff writer, author of River Town, Oracle Bones, and Country Driving
It's hard to say [what I'd do differently]. I wrote about China during a period of very uninteresting politics, so I focused elsewhere. Now a different kind of political atmosphere is being established by Xi Jinping, so it's important to find some way to capture that. I wrote a lot about working-class people, especially those from the countryside who were migrating. China has a much more substantial middle class now. So maybe I would shift a bit. But I don't know. I always felt like the migrants and the factory workers were under-represented in the press, and I think that's basically still true.

On a larger level, I think that I would do one thing the same — I would find ways to write about families. You can capture so much about a society by examining how families function and how the members interact. My work in Egypt has also moved in that direction. As I've become more comfortable here, I'm writing more and more about how families behave, how they treat each other, and how they respond to the larger climate. This kind of thing tends to be rare in traditional journalism, which usually hones in on very specific themes or individuals. The themes become richer when they intersect with families.
That's one reason why Zha Jianying's New Yorker piece about her brother had so much depth. It was a story about a dissident that captured the family dynamic, especially the way that other members responded to this dissident with a combination of respect for his principles but also frustration at his stubbornness and his willingness to see his life destroyed. It's a very human response, and one that many of us have noticed in similar situations in China. But it doesn't tend to come through in most dissident stories. It could be captured only in the context of the family.

Zha Jianying
Author of Tide Players: The Movers and Shakers of a Rising China and China Pop: How Soap Operas, Tabloids and Bestsellers Are Transforming a Culture
If I were not a native Chinese speaker, I'd take at least two years of Chinese language courses before arriving, and keep trying to improve my language skills after arrival. I'd definitely try to gain a level of proficiency so I can read basic Chinese data comfortably and conduct long interviews without a translator. (By the way, can you imagine a Chinese reporter stationed in the U.S. who has to rely on a translator to do his work?) I'd try to leave the expat ghetto and make Chinese friends and hang out with the locals as much as I can. I'd travel widely in China, visiting both small towns and big cities, talking with both elites and ordinary people.
But I'd also pick out one or a few areas I can sink my teeth into and go very deep. I'd be open-minded about story topics and explore new angles and off-beat characters. If necessary I'd remind my home editor that he/she is not living in China, I am, and a real story, like a real tree, should grow out of the ground, not from the sky. I'd try to get to know both some agreeable Chinese and some disagreeable Chinese whose irritatingly different worldview or strange cultural sensibility I'd try my best to understand and report. I'd work very hard, but be very patient.
---
See the complete program at Asia Society in the video below.

(L to R) Peter Hessler, Jiayang Fan, David Remnick, Zha Jianying, Evan Osnos, and Orville Schell discuss reporting on China at Asia Society in New York on December 17. (1 hr., 27 min.)
---