Myanmar: Whose Reforms?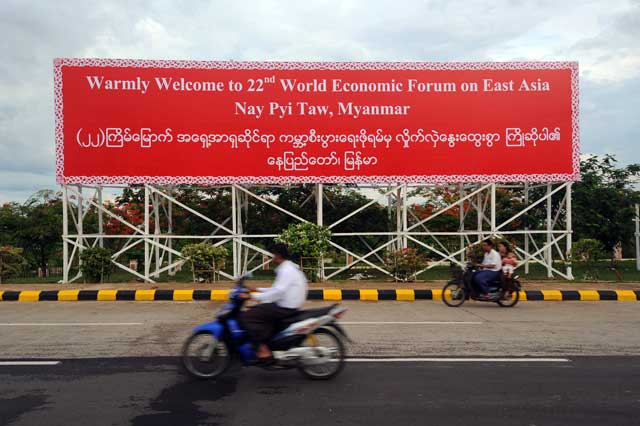 Locals ride motorcycles past a billboard for the 22nd World Economic Forum on East Asia, held this year in Myanmar's capital city of Naypyidaw, on June 3, 2013. (Soe Than WIN/AFP/Getty Images)
Two years after President Thein Sein took over the top government position in Myanmar, the world has embraced most positive changes taking place in the country. The business community gave the Myanmar government another nod at the World Economic Forum on East Asia, held in Naypyitaw earlier this month, by sending over 1,000 economic and business leaders to the usually-empty capital to discuss investment opportunities in the "last frontier market." Much of the curiosity has not turned into real financial investment due to the country's lack of basic infrastructure, untapped human capital, the military's strong hold, and uncertain political future.
While the international business community discusses sustainable development, eco-tourism, ethical and responsible investment, ethnic reconciliation, land rights, financial inclusion, and pro-poor growth, the people of Myanmar are experiencing those rapid economic and social transitions with mixed feelings. Most of them believe those new investments can help create jobs for young people, reversing the trend of losing talents to Singapore or other developed economies in the region for better jobs. Many question, however, whether economic reforms are taking priority over the political reforms that President Thein Sein promised to implement.
"The business community needs to help political reforms," said Zin Mar Aung, a former political prisoner and civil society leader. She would like to see the President giving more attention to democratic reforms, "because without political reforms to guarantee transparency and the rule of law, there will not be businesses return[ing] in Myanmar."
Some other young activists worry about the increasing income disparity and the negative consequences of uneven development between urban and rural towns, and between ethnic and Burman areas. According to Shunn Lei Swe Yee, who runs Pandita Development Institute, which provides human rights education and ICT training to young people, rising prices are making life harder for the poor. There is an increased number of young women working in massage parlors, tea houses, and KTV bars serving men from Myanmar and other countries. She believes some are younger than 18 years old.
The opening of Myanmar also brought in international NGOs (INGOs) whose admirable mission of helping development in the country hasn't matched people's perceptions. "Most people think INGO workers just sit in air-conditioned offices, drive nice cars, have iPhones and high salaries, but don't really help the people," said Shunn Lei Swe Yee and Zin Mar Aung. They know Myanmar has strong indigenous NGOs that do excellent work, but their lack of English capability is preventing them from receiving donor funding. Some have become "pet NGOs" for INGOs.
Pyo Let Han, who runs a journal for middle-class women through the Women Can Do It Network, would like to see more gender issues discussed in public and more women in leadership positions. She believes women tend to dominate social welfare issues, and this country needs more female political leaders and parliamentarians to take care of society. However, "we need women working on all issues." Too much focus is on women's political and business leadership, but there is insufficient conversation about changing gender norms in Myanmar. "Women are still seen as second class."
The young women would like to see the first and only female minister in President Thein Sein's government, Minister of Social Welfare Myat Myat Ohn Khin, with more more resources. "[The] government budget is too small and the allocation to the Ministry of Social Welfare is even smaller, so the Minister has been quiet," said Shunn Lei Swe Yee and Zin Mar Aung. It is, nevertheless, encouraging to see the Minister working with civil society on violence against women issues, discussing the possibility of the Women Protection Law and the Marriage Law. According to Pyo Let Han, an outdated law stipulates that Burmese men can marry more than one woman, even though in practice most men have only one wife. They also think government leaders need to speak out for women. "The First Lady can potentially play a role and change the image that the government doesn't touch the real people," suggested Zin Mar Aung.
Youth is another issue of interest to these young leaders. According to the Asia Development Bank, 13 million out of Myanmar's 60 million people are between the age of 15 and 18. Training programs targeting the young are growing and the network of young NGOs is expanding. Pa Pa Phyo, who founded the Buddhist Leadership Youth Empowerment group in 2008, created a national network of young Buddhists to teach "socially engaged Buddhism." She conducts training in monasteries to help empower young ethnic Buddhists to be more engaged in civic affairs.
Doubts over Myanmar's future remain, but optimism and hope continue to propel the country forward. As long as the people feel a sense of ownership of both political and economic reforms, Myanmar will have an opportunity to impress the world as it takes over the ASEAN chairmanship in 2014 and holds a peaceful and transparent parliamentary election in 2015.
Asia Society New York brings together experts to assess the progress and challenges of Myanmar's reform process, and think through ways forward for U.S.-Myanmar relations, on Wednesday, June 26. Click here for complete program details.