Myanmar Rises to Challenge of Environmental Conservation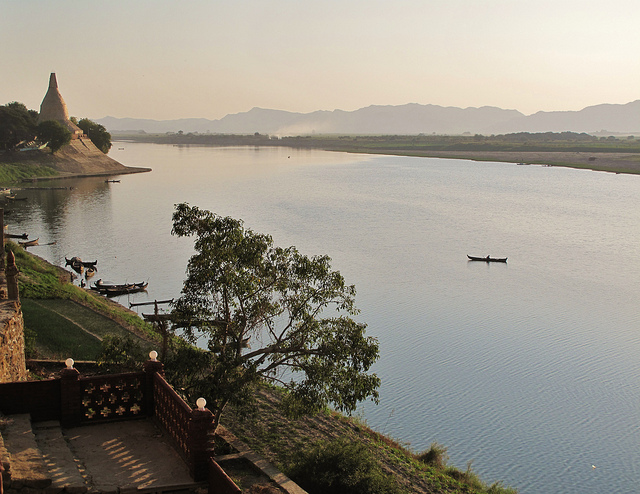 Myanmar's Ayeyarwady River, January 2013. (Flickr/Francisco Anzola)
President Thein Sein's decision in September 2011 to suspend construction on the Myitsone Dam at the headwaters of the Ayeyarwady River in Myanmar's northern Kachin State signaled the rise of a significant environmental movement in the country. Indeed, President Sein cited public opinion as a main factor in his decision. Over the past year, environmental groups have challenged a number of other development projects, including the Dawei Special Economic Zone and the Letpadaung copper mine near Monywa. Protection of the country's rich biodiversity and relatively clean environment has rapidly emerged as a key national interest in the face of a potential surge in economic investment and development following recent economic and political reforms.
With the gradual development of a free press and expanded access to information, the country's population has become increasingly aware of its unique biodiversity and valuable natural resources. The desire to protect these assets has become a sentiment dear to virtually all sectors of the population and is reflected in the policies and laws being considered by both the executive and legislative branches of the government. The new foreign investment law, for example, requires environmental impact assessments for all major development projects. Further, the parliament recently proposed the establishment of an Ayeyarwady River Commission to ensure the conservation of the country's main water artery, whose sub-basins house a large percentage of the country's biodiversity "hot spots."
But this is only a start — recent measures being taken by the government to protect the environment are baby steps. The provisions for environmental protection cited in the investment law must be elaborated immediately to clarify the precise environmental and social standards the government will require of investors and economic developers. The parliament's proposal for an Ayeyarwady River Commission must be developed into a decision making body with balanced representation by all stakeholders and a solid base of scientific research and data to inform decisions. These are major undertakings that will not be accomplished quickly, but they must be articulated sooner rather than later in order to signal that, over the long-term, investments will be held to high standards, even though these standards may not yet be firmly in place.
The nongovernmental environmental movement, for its part, should also press the government to elaborate social and environmental standards for development projects and it should organize itself on a local and national level to monitor these projects in the absence of government institutions adequate for the task. Simply demanding that the government halt development projects is not a strategy, because the country needs economic development if the transition to democratic governance and higher living standards is to succeed. Modern technology and international experience with environmentally sound practices make it possible today to manage economic development without sacrificing the environment.
On the whole, this expanding environmental awareness in Myanmar is an encouraging development in one of the world's few remaining pristine ecosystems and the international community is well advised to assist the country in developing wise environmental management. This will contribute significantly to environmental conservation not only in the Southeast Asia region, but the whole world — environmental pollution does not observe national boundaries.
Myanmar's neighbor, China, just took a significant step that could have important consequences for environmental conservation in the region and beyond. On February 2, China's Ministries of Commerce and Environmental Protection jointly announced the promulgation of a set of guidelines for Chinese companies investing overseas, designed to ensure that they respect local customs, labor rights, and environmental regulations. If, for example, Myanmar were to adopt specific social and environmental standards for foreign investment and infrastructure projects, Chinese companies would now be bound by their own government to abide by these regulations. This kind of agreement between China and Myanmar could potentially be expanded further within ASEAN and globally.
Nongovernmental organizations are playing an important role assisting Myanmar in developing environmentally sound practices. Among these are the Blue Moon Fund of Charlottesville, Virginia, in partnership with Asia Society's Track II program with the Myanmar Development Resources Institute's Centre for Economic and Social Development. The Blue Moon Fund has recently sponsored a scoping mission to develop a strategic plan for taking an integrated water resources management approach to the Ayeyarwady River. Blue Moon Fund has also supported work by the Vermont Law School and Beijing's Global Environmental Institute on social and environmental standards for investment and sustainable development in Myanmar.
Thus the building blocks for Myanmar to adopt a modern, scientifically informed approach to environmentally sound economic development are being put in place. If the government and civil society continue to move forward with standards and enforcement mechanisms, Myanmar will have the opportunity to preserve its vast natural beauty from the ravages of unregulated construction, resource extraction, and other destructive practices that have accompanied rapid economic development elsewhere in the region.