Myanmar Earthquake Damages Celebrated Buddhist Temple Complex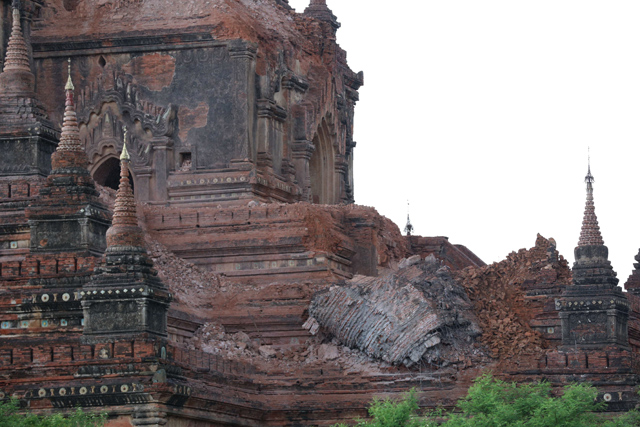 Collapsed walls surround an ancient pagoda after a 6.8 magnitude earthquake hit Bagan on August 24, 2016. (Soe Moe Ang/AFP/Getty Images)
An earthquake measuring 6.8 on the Richter scale struck central Myanmar on Wednesday, killing at least three people and damaging many centuries-old buildings near the ancient temple complex of Bagan. Reuters has more details:
The U.S. Geological Survey (USGS) said the quake struck near the town of Chauk, on the Ayeyarwaddy River south of Bagan and about 175 km (110 miles) southwest of the country's second city Mandalay, just after 5 p.m. (1030 GMT).

Fire department and Red Cross officials said two children were killed in the small town of Yenanchaung, south of Chauk.

"Two young girls died when a pagoda collapsed on a river bank," said Moe Thidar Win, deputy director of the disaster management team at the Myanmar Red Cross Society.

"One man died in a Pakokku tobacco factory when the roof collapsed on him."

In Bagan, known as the "City of 4 Million Pagodas," one female tourist was injured at a pagoda, said local official Khin Mya Lwin.

The Ministry of Information said nearly 100 of Bagan's famed pagodas, mostly built between the 11th and 13th centuries, had been damaged.
The temple complex of Bagan is one of Myanmar's most important tourist attractions: According to the Myanmar Times, over 240,000 tourists visited Bagan during the 2014-5 fiscal year, contributing over $4 million to the country's economy. One tourist, visiting the temple complex when the earthquake struck, made a short video that was later published by the New York Times:
In 2013, the travel magazine Jungles in Paris, an Asia Society partner site, explained the beauty and significance of Bagan:
Bagan's art and architecture — including the trademark shikhara, or spire — is rooted in older Indian cultures. Overall, though, it is a more restrained aesthetic, one that emphasizes repeated motifs more than fanciful ornament. Scholars have noted the "ritual monotony" in the city's sheer volume of murals and sculpted Buddhas, and the many thousands of clay votive tablets that citizens of Bagan, from kings to paupers, contributed to the construction process in hopes of achieving merit. The city's largest pagoda, Nanda, is considered one of the architectural masterpieces of the East.

'Pagoda Plains' by Jungles in Paris. Cinematographers: Chris Brosz, Shannon Winter. Editor: Oliver Hartman.
Some of the treasures possessed by the Bagan Archaeological Museum were loaned to Asia Society Museum for its groundbreaking 2015 exhibition Buddhist Art of Myanmar.