Multimedia: Pakistani Artists Explore Myth, Reality and Identity
Pakistan has a rich cultural and sociopolitical history which is often overshadowed by its political instability. On one hand Pakistani society is confronted with seemingly intractable class, gender and human rights issues, and on the other hand it has a thriving art, media and high-end fashion industry.
Asia Blog caught up with three young artists — Mohammad Ahsan Masood Anwari, Maria Khan and Mohsin Shafi — who spoke to us about their artwork and practice in the extremely contradictory social, political and economic context of Pakistan. The gallery above showcases some of their artwork, and following are individual interviews conducted through email.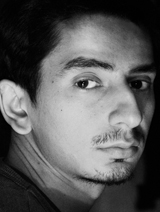 Ahsan Masood (right) completed his Bachelor of Fine Arts degree from National College of Arts (NCA), Lahore in 2008 and in 2011 completed his first international artist's residency in Cape Town, South Africa. Masood has been producing work in acrylics, water paints, conceptual photography, photo transfers and sculptures made from found objects.
"I view sexuality as the ultimate form of defiance and hence a revolution in itself," says Masood, whose work revolves around a highly politicized sexuality. He draws his inspiration directly from how his religious, social and political context engages with this sexuality, which in turn determines how he deals with issues like arranged marriages between homosexual men, or Section 377 of Pakistan's penal code, which criminalizes any sexual conduct between two consenting adults who may be of the same gender.
Masood is equally interested in the ethics of producing art and art's relevance in a country struggling on multiple social and political fronts. Although reluctant to label his art as traditional, he doesn't believe that it fits within the Pakistani modern art movement. "I have taken a long time to understand what art is. I believe I may require an equal, if not more, amount of time to understand what modern art is."
While he doesn't follow a particular aesthetic school, the works of Ali Kazim, Asim Butt and Anwar Syed have been a great influence.
Masood notes that while Pakistan doesn't have a wide audience for contemporary art, modern art originating from Pakistan has attracted a much wider audience and market in the West.
"Amidst snickering journalists and red-faced young adults," he says, "I don't think that my work has been received with open arms by the Pakistani public. About a year ago, one of my male nudes was taken off of a group show in a reputed gallery in Islamabad only a couple of hours before the opening of the show, because a handful of journalists objected."
He reckons that the challenges of working in the Pakistani art industry are perhaps very similar to those experienced elsewhere in the world. For him, one of the biggest of those challenges is finding a viable space willing to showcase his work. "I am quickly beginning to believe that it is not what you make, but who you know, that can make or break your career. This also posed its own set of obstacles for a self-professed introvert artist," he concludes.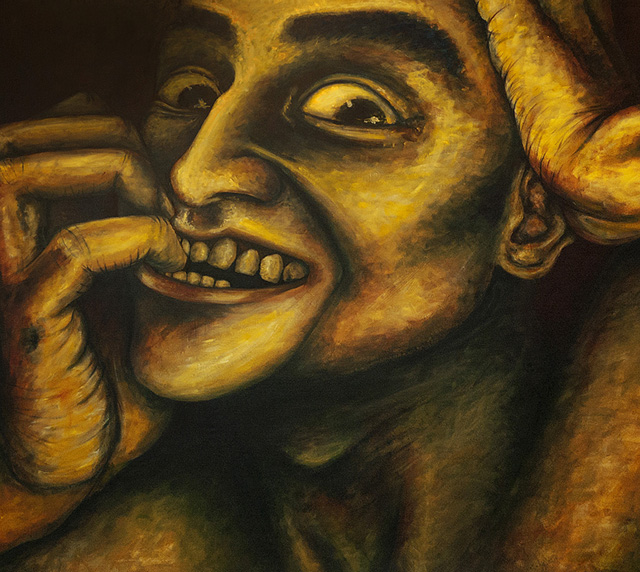 Mohammas Ahsan Masood Anwari, "Rossie," 2011, acrylic on canvas, 6.5 x 6 feet.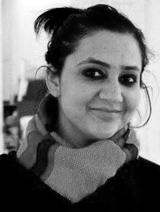 Maria Khan (right) completed her Masters with Honors in Visual Arts from NCA, Lahore, with a distinction in studio practice, in 2011 and was given the best young artist award in 2010 and 2012 by the Punjab Arts Council. She is skilled in oil painting and drawing. Her work revolves around deformity — showcasing larger-than-life, monstrous characters like the big-bosomed mature Women of the Night (#5 in the gallery above), who sit comfortably in their corpulent flesh and fancy clothes, every smile showing off a beautifully crooked set of teeth. A childlike ribbon, a golden tooth, pet birds…something is delightfully wrong about them.
Borderline feminist, Khan's work celebrates the idea of being who you are. It is about a woman's inner nature and visualizing the more disturbing aspects of the self, which are normally kept locked in our heads away from public scrutiny. "I paint women in savage forms," says Khan.
Khan sees her work as intensely personal and influenced by her immediate surroundings, but not by the country's economic and political conditions. "We all have stories and secrets that we want to share with the world," she comments, "and in my case painting was my medium to share those stories."
Although she works with traditional media and techniques, Khan engages with her subject from a modern perspective that frequently baffles viewers in Pakistan. "They think any surface painted is a painting," says Khan, "or anyone who can paint is an artist! People expect artists to create only images of beautifully painted women with roses. They are not ready to see a big fat woman with a bleeding rose in their living rooms because that is not 'beautiful' by their standards. People are not ready to accept change in artistic expression or see the brutal reality recreated in art."
At Khan's thesis show at National College of Arts, she met a woman doctor who was interested in buying one of her paintings. However, the potential buyer wanted Khan to make some changes in the piece, such as cropping the woman figure, changing the background of the painting from yellow to pink (as she felt the yellow was too bright), and finally, adding some sky blue so that the painting would match her pink, white and blue living room. The woman claimed that other than these details, she liked the painting. Khan admits that she was offended — but at the same time concedes that there are some people who actually understand her work.
"I guess no one should try to understand art," she remarks, "it's a visual treat and a person should be able to just enjoy it."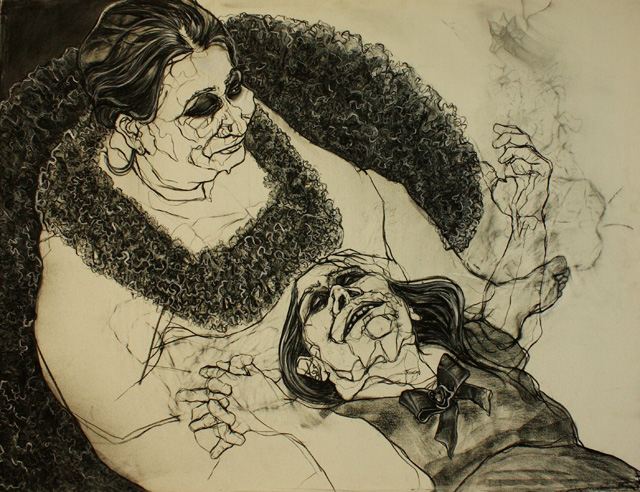 Maria Khan, "Craving for Love", 2012, charcoal on canvas, 4.5 x 3 feet.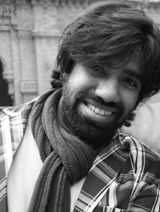 Mohsin Shafi (right) received his Bachelor of Fine Arts degree in Visual Communication in 2007 and a Masters Degree in Visual Arts in January 2012, both from the National College of Arts (NCA), Lahore. He lives and works in Lahore. His collages combine many different types of printing into one work. He uses raw sketches, printmaking, photography, cutouts and text all together on one canvas to create vivid imagery. Shafi has also been integrating drawing, printmaking, photography, collage and text, video simultaneously.
Shafi's densely layered work is rooted in everyday aspects of life and regularly explores the social constructions of race, gender, desire, identity, religion, sexuality and spirituality. "Each art piece is a cathartic release, an artistic expression or both," he comments. "They document the varied emotional and psychological energies co-existing within my embodied experiences."
"As far as politics and support from galleries, it can be very frustrating when all you want is to get your work out there to an audience and you are confronted with obstacles that have nothing to do with artistic freedom and more to do with people's agendas," he explains. Despite his disappointing experience in dealing with Pakistani galleries, Shafi is hesitant to reach out to Western galleries that showcase Pakistani art, as he feels that most of them are looking for exotic art with a "third world" visual narrative or very minimalistic sophisticated imagery, which he doesn't produce. However, he stays optimistic by continuing to create and present wherever he can, even if it's on the streets.
"There is [the] feeling we live in a global village these days and have greater access," observes Shafi. "This is true to a certain extent, but it also comes at a price. My resources are limited and [I] rely on support and perseverance. I think this is also a reflection of the general contemporary art scene here. It exists, but it has many contradictions and is limited to a chosen few."
With regard to subject matter, "There is no getting away from local and global social and political tensions," the artist says, adding that "the important thing is to be aware of these issues and to explore them through art."
In the video below, Shafi explores the myth of making taweez, a kind of talisman bearing a written Quranic verse or certain numerals that supposedly protects the bearer from misfortune. Shafi is shown making his own taweez on which he tries to inscribe the perfect verse, the perfect word, the perfect digit. After writing something that he thinks will finally work for him, he puts the taweez around his neck with the faith that his troubles will disappear. Each time he enacts the ritual, he writes a different line on the talisman, which is revealed only at the end when the taweez is opened and displayed next to the video installation.
Video: Mohsin Shafi, The Chorus of Hollow Souls, 2012. (3 min., 49 sec.)