Multimedia: Chitra Agrawal on Making, and Finding, Good South Indian Vegetarian Food
I knew that healthy Indian food was mainstream in America because of an interview I came across on TV a few years ago. It was on Inside the Actors Studio and Robert Downey Jr. was the guest. James Lipton asked Susan Downey, his wife, what Robert was like when she first met him on the set of Gothika in 2003.
"He was really into yoga. He would do all his workout moves and asanas on the set and he used to eat this weird yellow herb porridge that looked like gruel to detox. I used to think he was kind of strange."
"'Weird yellow herb porridge,'" I thought. That's just kitchuri. A mixture of rice and yellow lentils, and occasionally vegetables. It's a common dish in India that people eat to cleanse their system. Yoga practitioners have been recommending it on retreats as a way of adhering to a week-long cleanse.
So Robert Downey Jr. likes kitchuri — even though he might not know what it's called.
Nearly one million people in America are vegan, and the number is growing each year. For vegans and vegetarians the challenge is how to find food that's versatile and appealing which still allows you to stay within your dietary framework. It would seem that Indian food, rooted in centuries worth of tradition in vegetarianism, is the perfect cuisine for vegans.
As the popularity of yoga has taken off in America, so has the interest in South Indian vegetarian food that's rooted in Ayurvedic practice. Moreover, after the phenomenal success of Eat, Pray, Love many people have become interested in the taste and health benefits of South Indian vegetarian food. "In general, it is obvious that a vegetarian diet is healthier for people," says Deepak Chopra, whose name has become synonymous with Eastern health and medicine. "Vegetarianism is better for ecology and less violent on life as a whole. Eating habits are based on culture, geography and influenced by religion." And as more people are realizing, South Indian vegetarian food is remarkably diverse in its flavors as well.
Grains, lentils, and spices make up the cornerstone of South Indian vegetarian food. There are the well-known immediate go-to dishes like dosa, idli, vada, uttapam, the spicy, soupy sambar, and the variety of vegetable-based dishes and pickles that make up a South Indian vegetarian meal.
Asia Blog recently talked to food writer Chitra Agrawal on what she finds so appealing about South Indian vegetarian food. Agrawal, a contributor to The Huffington Post and the author of her own successful food blog, The ABCD's of Cooking, shared her insights into the diversity of this unique regional cuisine.
You've explored a lot of different areas of Indian food and seen how it's taken off in the U.S. in the past 15 years. What do you think appeals to people about South Indian vegetarian food besides its obvious health benefits?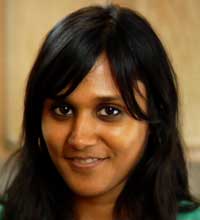 Chitra Agrawal
It's true, people are drawn to South Indian food at first for its health benefits and especially if they are looking for vegetarian, vegan or gluten-free options. What's really appealing, though, is that this type of food is both healthful and super-flavorful. Also, people now are becoming more knowledgeable about regional styles of cooking and are seeking it out. Dishes in South Indian cooking tend to incorporate different flavors and ingredients from the usual North Indian fare that people are accustomed to.
Nowadays, people are getting a lot more adventurous with the foods they're eating, so I think that also lends itself to the growing popularity of these dishes.
South Indian vegetarian food is naturally quite diverse, regionally and taste-wise. Tamil cuisine is unique in its own way from the food of Kerala, Mangalore and Andra Pradesh. But if you were explaining aspects of South Indian vegetarian food to someone who's relatively unfamiliar with it, how would you describe some of the key tastes, flavors and sensations?
South Indian dishes, especially home cooking, are light and fresh, and the tastes are complex, totally unique and carry a good amount of heat. Many of the recipes are centered around rice, dals and seasonal vegetables and flavored with coconut, black mustard seeds, curry leaves, chilis and a host of other spices. Curry leaves are special to South Indian cooking and give off a fresh herb and citrus flavor. I find the different treatments of dals interesting and focus on them in my cooking classes, where I teach how you can fry dals in stir fries and rices, soak them for salads, grind them for batters and chutneys or boil them for stews and soups. There is also a sour component that comes from the use of fermented foods like the batter for dosa and idli, in addition to sour fruits like tamarind and gooseberries. Also, yogurt is a big deal in South India. It was present at most every meal I ate growing up.
All of these flavors — spicy, sweet, sour, fresh vegetables and herbs — come together at most every South Indian meal.
What are some of your favorite South Indian vegetarian dishes?
There are so many! I of course love rasam, saru, dosa and idli, but my favorites are home cooking recipes from my mother (who grew up in Bangalore) that you can't really find in too many restaurants. One of the dishes is chitranna, a yellow (from turmeric) peanut rice that is so colorful and what we'd pack for car rides and picnics. Another one of my favorites is kosambri, a shredded carrot salad made with soaked lentils, coconut, lemon, cilantro and tempered spices of mustard seeds, curry leaves and chili. I love akki roti, which is made from a dough of rice flour, coconut, cilantro and chilis and fried in a wok. One unique dish that my mom makes for me whenever I go home is majjige huli, a yogurt curry made from green chilis, cilantro, roasted dal and other spices, usually made with a watery squash or cucumber.
I also love Indian pickle condiments and my favorite South Indian variety is made from amtekai, a wild green mango. Another lesser-known condiment which I dip into frequently is chutney pudi, a coconut chili spice powder that you can sprinkle on most anything to make more delicious (so good on pizza!).
What are some of the authentic South Indian vegetarian restaurants that you really like here in America — whether in New York or anywhere else?
Growing up in New Jersey, Oaktree Road was and still is the place to go. I frequent Dosa Express for sure. And there is this one out-of-this-world restaurant in Somerset called Hoysala, which specializes in home cooking from several South Indian states.
I lived in California for eight years so I definitely had my go-to places there. In LA, I would eat at Paru's, a place my parents used to go to decades ago when they lived in the city. You have to ring a doorbell on the street to get let in. In LA, I'd also frequent the nearby town of Artesia, AKA "Little India," and go to Udipi Palace. In the Bay Area, I'd go to Vik's Chaat House in Berkeley, which pretty much nails all the dishes they offer from all over India. I have been going to DOSA, which is a newer restaurant, when I visit San Francisco these days. If I'm eating in South Bay, it's at my Aunties' houses.
In New York, love Thiru Kumar's dosa cart on Washington Square, and the Ganesh Temple Canteen in Flushing is awesome. On some weekends, they'll serve up really unique and special dishes from different regions of India. Otherwise, I frequent some of the usual suspects on Curry Hill like Tiffan Wallah (love their rava dosa), Pongal and Saravanaa Bhavan. I also visit India each year, and for my last trip I documented some local spots in Bangalore for Serious Eats.
If a novice to Indian food wanted to make some South Indian dishes, where would you recommended beginning? Are there any good books to guide newcomers in the process?
The best place to start is to seek out a South Indian cooking class. The way I learned was watching my mom and begging for recipes from her and my other relatives (Indian moms are notorious for not measuring). It's important to familiarize yourself with both the ingredients and the techniques. I find there aren't a lot of cookbook resources dedicated to South Indian cooking that are readily available so you kind of have to dig. I do have a few books that were printed in small editions or ones that were literally put together by Aunties.
Also, the Internet is another resource with tons of desi blogs and cooking videos specializing in foods from all regions. I have to admit though, I always do a Mom/Auntie check before I try out any new recipe I see on the Internet as information on measurements and even ingredient names can vary from site to site.
Video: Chitra Agrawal makes chitranna (4 min., 18 sec.)