The Middle East: US Moves Out, China Moves in?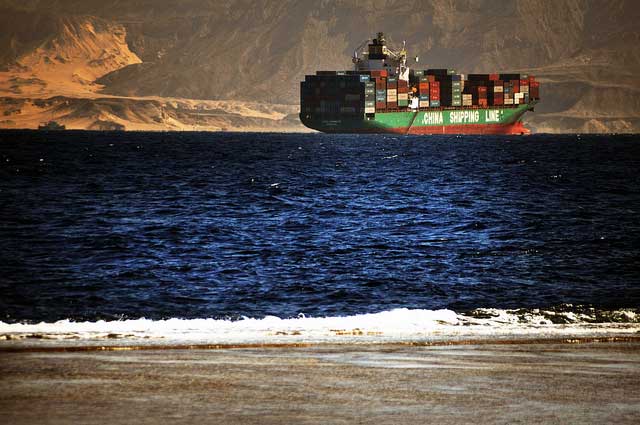 China Shipping Line, Sharm el Sheikh, Egypt, on January 1, 2010. (oliver gartmann/Flickr)
Amidst the chaos of the teetering Assad regime, Syrian rebels have been vocal about the need for international support to further their cause. Despite having a massive military presence just over the border in Iraq, however, the U.S. has not taken an aggressive stance on the issue. With domestic appetite for another Middle East entanglement low, the Obama administration has pursued aloof, cautious support for the rebels, favoring engagement with Assad's supporters, such as Russia, above direct military intervention.
While this ambiguous stance may or may not be prudent — especially in the face of the mixed results of other so-called Arab Spring revolutions — any perceived equivocation regarding American commitments to the Middle East will open up questions about declining American influence and the power vacuum that it would leave behind. In the Middle East, a region whose local politics are so tied to great-power relations, an obvious contender to step into that role is the rising superpower of China.
Economics alone could determine China's need for a greater role in the region: according to the Brookings Institution, the Middle East accounts for 60% of China's oil imports, and China is heavily dependent on countries like Iran and Saudi Arabia to fuel its development. Tens of billions have also been invested in non-energy-related sectors, including nearly $5 billion in real estate in the United Arab Emirates and $990 million in agriculture in Saudi Arabia. The Heritage Foundation has produced a breakdown of global Chinese investment, which shows a growing concentration on its neighbors to the West. China will need to protect all of these interests if it intends continue its rise, a sentiment reflected in the People's Liberation Army's outward-looking 2013 White Paper.
A desire to achieve parity with other global nations might also motivate China to build up its presence in the Middle East. After nearly 200 years of second-rate status, the Chinese are now viewed as stakeholders in almost every area of international interest. CCTV reports that on June 4, the Chinese Special Envoy to the Middle East, Wu Sike, presented a four-point plan for resolving the Syria crises to members of the Arab League. This kind of profile-raising speech, however, belies a turbulent record on international issues: China has alienated nearly all of its neighbors in the past few years and a recent BBC poll shows global impressions of China declining rapidly.
To examine the role of China and the U.S. in the Middle East in greater depth, Vali Nasr, Dean of Johns Hopkins University's School of Advanced International Studies (SAIS), will deliver an address at the Asia Society this coming Monday, June 17. In a recent interview for PBS News Hour, Nasr called the current Chinese strategy a "pivoting West," in contrast to the much-discussed American "Pivot East." His book, The Dispensable Nation: American Foreign Policy in Retreat, chastises the Obama administration for not taking a more proactive stance on the Syria issue and the Middle East in general. (For those who can't attend in person, Nasr's talk will also be a free live webcast on AsiaSociety.org/Live at 6:00 pm ET.)
Perhaps a smaller American presence is inevitable, but the unprecedented lack of conflict between two major powers with overlapping interests offers an opportunity for collaboration. In cooperating on the changing balance of power in the Middle East, the U.S. and China may find a way to protect their interests while offering a new chance for peace in the region.