Marita Cheng: Girls Can Make a Difference Through Engineering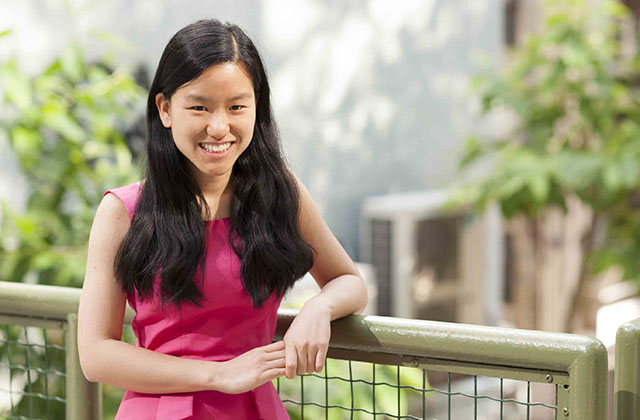 Marita Cheng.
When Marita Cheng embarked on a career in robotics engineering, she found that there weren't many other girls around her. In fact, in her native Australia, only about 14 percent of all engineers are women.
In 2008, at the age of 19, she started Robogals with the aim of bringing more girls into science, technology, engineering, and math fields through workshops, networking, and encouragement. Since then, the organization has grown to 31 chapters across nine countries and reached more than 50,000 budding engineers.
Since graduating college, Cheng has become an award-winning engineer herself, focusing on projects that help some of the people most in need. With her startup 2Mar Robotics, she developed robotic arms that can be controlled by smartphone to aid people with disabilities. At a separate startup, Aipoly, Cheng created an app that uses artificial intelligence to help blind people navigate their surroundings. She's currently developing telepresence robots that allow people to control a moveable robot from a remote location and stream video both directions.
In 2012, Cheng was named Young Australian of the Year for "demonstrating vision and leadership well beyond her years," and on October 27th she will be an honoree at Asia Society's Asia Game Changer awards. In an interview with Asia Blog, Cheng described what got her into engineering and how more young girls can be brought into the field.
What first got you into engineering?
When I was growing up I used the internet on my computer and thought it was absolutely amazing that I could access all this information so quickly from all over the world. Then I thought it would be so cool if we could use all that computer processing power to make mechanical systems work in the real world. I looked around and there weren't that many things that were like that. We had cars but I wanted to make something that could make a difference to people in their homes and their day-to-day lives, so I decided I wanted to study mechatronics engineering and be part of that movement — that robotics revolution of bringing useful robots to the world.
How did it feel being a distinct minority as a female going into engineering?
I'd read in all the career books that there weren't many women in engineering, and about women who worked in mines or oil rigs or as chemical engineers who were in the minority and a bit out of place. I thought, "I can handle that, I can handle myself."
I don't think it became noticeable to me until my first week of lectures at university when I went early and took a seat towards the middle. As I was sitting there waiting for the lecture to begin, other students came into the hall and I noticed one girl walk in with a group of guys, then a bunch of other guys walked in — so many guys — and then the lecture started. I thought, "Hang on, why's the lecture starting? Not everybody's here yet. There's only one girl here."
I turned around and saw a few more girls but mostly guys and thought, "Ok, now I get it. Now I get why they were saying there aren't many women in engineering."
There were lots of instances, like in tutorials, where there would be 20 guys and I'd be the only girl. It happened all the time, and it was fine, just a bit strange and took some getting used to. By the end of my first semester, I realized there were five girls in my degree out of 50 total. It was my second year at university when I decided to do something about it and start Robogals.
What do you think continues to drive that gender imbalance in engineering?
Girls are actively discouraged from participating in this field because their parents maybe see it as a dirty job. That's how my mom saw it. They see it as an environment that isn't friendly to women. They see it as an environment that doesn't have many women.
I think girls really want to make a difference, really want to make an impact in people's lives and improve people's lives, but they don't realize that they can do that with engineering. They see that they can do that more easily with medicine, for example, where they see sick people every single day and help them get better. Engineering is one step removed from that. With engineering, if you come up with something that helps people, it doesn't just help one person. It can help thousands or millions of people. So it's like a scaling up effect of what you can do through medicine.
So how can more girls be encouraged to pursue this line of work?
I think that the conversation around engineering needs to change to one where female engineers, or all engineers, talk about how our job makes a difference. If we keep honing that message in, girls will realize "I like math and science and I can use that to make a difference at a really large scale."
There's a disconnect in the engineering community. They say it's a challenge, they say it's difficult but rewarding, that it uses math and science to solve problems. But what high school girls are actually interested in is making a difference, flexibility, good income, and a good working environment. So I think we need to speak to how a high school girl might view the world in order to encourage them to take up a career in this field. And once they are in the field, I think allowing that flexibility and giving a good working environment are very key factors in keeping them there. 
There are a lot of reports in tech that even women who are true believers and really hang in there because they love their profession — it just gets to be too much when you're the only person of a certain description in your office and you feel left out of things, like nobody understands you, and the environment is inflexible.
I think in all the cases where I've spoken to senior women, they always say, "I'm really here because of my boss. My boss promoted me, my boss sponsored me, my boss gave me flexible hours, and allowed me to work part-time while my kids were young so I could manage my time, juggle motherhood, and my career. If it wasn't for that I wouldn't be here now."