In Manila, Experts in Disaster Recovery Explain How to 'Build Back Better'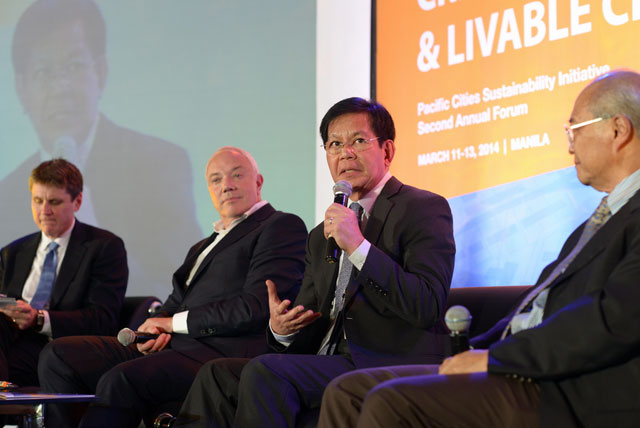 L to R: Asia Society Executive Vice President Tom Nagorski, Sir Robert Parker, Secretary Panfilo Lacson, and Dr. Kuntoro Mangkusubroto at the second annual PCSI Forum in Manila on March 11, 2014. (Asia Society)

A joint program of the Asia Society and the Urban Land Institute, the Pacific Cities Sustainability Initiative (PCSI) is a collaborative dialogue which aims to foster long-term sharing of urban sustainability strategies between communities across the Asia-Pacific region. Click here for information on the 2014 PCSI Forum in Manila.
Four months after a super-typhoon battered the Philippines, killing more than 6,000 people, "red tape" and unpaid donor pledges remain major challenges, the man in charge of the recovery effort told an Asia Society conference in Manila.
"The biggest problem is still coordination," said Panfilo Lacson, Presidential Assistant for Rehabilitation and Recovery for the Philippines. "We have to rush all the rehabilitation work because in five to six months we will be expecting a new series of typhoons to hit the country."
Typhoon Yolanda was 2013's deadliest natural disaster and left four million people displaced. Lacson said "red tape" and "political dynamics" had made coordination between the central and local government difficult, and that while 24.8 billion pesos (roughly $550 million) had been pledged from donor nations, only 648 million ($14.4 million) has been delivered thus far.
Lacson, a former Senator and Director General of the Philippine Police Force, was tapped by President Benigno Aquino to lead the effort in November. "I am still learning the ropes," he said. "I am a neophyte among the three here on the stage."
The others on "stage" were veterans of their own national disasters. Dr. Kuntoro Mangkusubroto led the reconstruction effort in Banda Aceh, Indonesia, where a tsunami tore through coastal communities nearly ten years ago. That calamity took more than 230,000 lives — 170,000 in Banda Aceh alone. Sir Robert Parker was Mayor of Christchurch, New Zealand in February 2011, when a shallow 6.3 earthquake struck directly beneath that city. Only 185 people were killed, and Parker was knighted for his leadership. Together they made for a kind of disaster-response master class, speaking at the second annual Pacific Cities Sustainability Initiative (PCSI), a conference co-hosted by the Asia Society and Urban Land Institute.
The issue of authority hung over the conversation — the clear implication being that the Philippines might benefit from a single "czar"-like leader of the recovery effort.
In Indonesia, Mangkusubroto said he was given not just coordinating but decision-making power, in the face of hugely complex needs: an influx of thousands of relief workers, customs clearances for machinery, the clearing of tons of debris, chasing of donors, and tracking of myriad rebuilding projects.
"I flew to Banda Aceh with all the authority I needed," he said. "I was able to tell the people there, I am the authority now." To which the Philippines' Lacson said, "In my case (my requests) are always preceded by a 'please.'"
Both Parker and Mangkusubroto said they had developed moment-of-crisis checklists, involving everything from communication lines to locating water, to establishing clear lines of authority. Mangkusubroto stressed the importance of "zero tolerance for corruption," and suggested that communities prepare and stock warehouses, not only with food and water but also construction materials.
"The main thing is to act," said Mangkusubroto, who added that he found an understandable but dangerous paralysis among local officials in the weeks following the 2004 tsunami. "People should do something. If it doesn't work, OK, fine. If there are mistakes, correct them. Fly there. Be on the ground. Look by yourself. Use your eyes." In Aceh, he said, the most important decision had been to overcome reticence towards foreigners and open affected areas to international relief organizations. Ultimately Mangkusubroto wound up managing a massive global aid effort; more than $7 billion was pledged, with a 93 percent rate of pledges received. Nearly 10,000 relief workers descended on what had been a sleepy area of western Indonesia.
Parker, the Christchurch Mayor, was thrown off his feet by the quake, and suffered three fractured ribs. A thousand buildings in the central business district and several thousand private homes were irreparably damaged. Parker said he believed his "checklist" would apply in other places, however different the circumstances. "Ensure that you work with the affected communities," he said. "Ensure that you have connections. And before disaster strikes, rehearse. Where is the heavy equipment we could get our hands on quickly? Where can we set up a headquarters?" No mayor or president can ever be fully prepared, Parker said, but "when the day comes, you'll have a framework."
The Philippines served as a poignant venue for the conference (it had been chosen before the typhoon struck), and March 11th a poignant date — the third anniversary of the earthquake and tsunami that devastated Japan.
A mix of government officials, business leaders, urban planners, and representatives of NGOs and academia gathered to discuss the resiliency of cities in the face of natural disaster — what many participants agreed will be one of the century's greatest challenges. Twenty-one mayors from across the Philippines attended; so did business leaders who have helped organize reconstruction following the 8.8 earthquake that hit Chile in 2010.
Beyond crisis management, the veterans of recovery and reconstruction efforts have worked to "build back better," a phrase coined by relief experts to encourage rebuilding that is both practical but also suited to limiting damage from future calamities. That can involve anything from improved building codes to smarter power grids, from new fiber-optic lines in the Philippines to so-called "Evacuzones," which were set up in New Orleans after the botched evacuations following Hurricane Katrina.
Aceh's rebuilding has provided several clear successes under the banner of "building back better." In one powerful example, the Muhammadiyah Primary School had been destroyed in the tsunami; only 17 in 300 students survived. Mangkusubroto led a successful effort to build new schools designed to withstand an 8.0 earthquake, and when a 6.7 quake struck last year, the new school at Muhammadiyah was hardly scratched.
For the Philippines, Secretary Lacson said "building back better" will also mean "moving people away from the unsafe zones," but he acknowledged that many in the worst-affected areas are reluctant to move. "Most of those residing along the shoreline — they need to go back to their livelihood. If we move them to the safe zone (40 meters away from shoreline), they will eventually go back. It's a challenge."
"People are very fast to forget," said Mangkusubroto. In Aceh, "people moved back to live close to water again. It is us — government, actually — who has the most responsibility to communicate to them. But when they say, 'if another tsunami comes it is God's will,' then what can you do?"
Video: PCSI disaster recovery panel, Part One (17 min., 30 sec.)
Video: PCSI disaster recovery panel, Part Two (48 min., 28 sec.)
)
Video: PCSI disaster recovery panel, Part Three (23 min., 16 sec.)
)