'Kimchi Paradigm' Offers New Insights Into Success at Asian Women Leaders Conference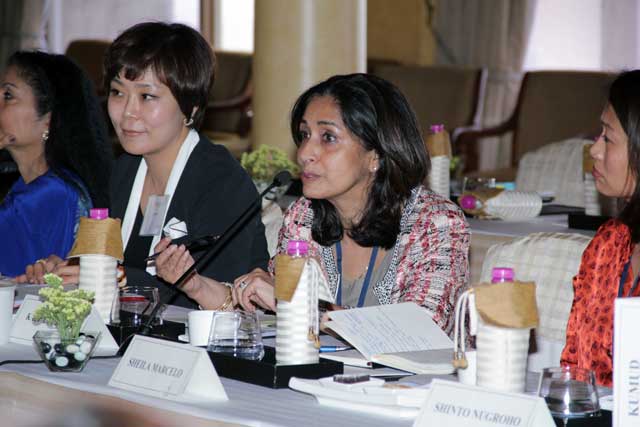 L to R: Jade Taihee Chung, Kalpana Raina, and Sheila Marcelo at Asia Society's Women Leaders of New Asia conference in New Delhi in April 2013. (WLNA)
NEW DELHI, April 14, 2013 — Kimchi (n.): Kor. Cookery. a spicy pickled or fermented mixture containing cabbage, onions, and sometimes fish, variously seasoned as with garlic, horseradish, red peppers, and ginger.
True, we were eating mainly delectable Indian dishes at the fourth annual Women Leaders of New Asia summit in New Delhi, but the reference to kimchi did come up. When discussing the subject of next-generation leadership, one delegate, who is among the handful of female senior executives in the Korean private sector, noted that women often do not know how to ask for what they want or deserve. They also do not negotiate well (this is amply borne out by research) and, as a result, men tend to be paid better than women for similar work. In addition, women may be handicapped in other areas, including networking and executive presence. She noted that the next generation needs to cultivate readiness to become global leaders, learn to do self-marketing, and be open to feedback.
The delegate further recounted how she overcame some of the common pitfalls for rising women leaders when, as a young professional in a U.S. company, she found that she did not have much to contribute when the largely male executives talked about sports and other things American. So the next time she was at a gathering, she prepared her own talking points: kimchi and other things Korean. This made her stand out. Soon, others, with knowledge and curiosity, joined in. She was no longer left out. She led the conversation. She redefined discourse and dynamics to make herself noticed as an articulate and capable professional.
I may have read more into the kimchi story than the speaker intended, but I immediately blurted out during the session that we had just heard the kimchi paradigm! So what is the kimchi paradigm? It refers to the fact that successful women leaders often know (or, at least, learn) how to take who they are and what they know and let their individuality shine. They are (or become) confident in their skin. In addition, these women leaders know how to take the unique strengths of other individuals and capitalize on human variety and spice to create teams that work effectively.
In a more interdependent and globalized world, the old paradigm of leadership — based on aggression, authority, hierarchy and competition — is increasingly becoming questionable. It may still work well in some contexts, but leadership gurus note that, in many instances, new modes of leading may be needed — based on authenticity, transparency, collaboration, and even vulnerability.
At the summit, I was inspired by all the kimchi in action. Around the table of 35 women leaders were scholars, politicians, journalists, activists, art connoisseurs, entrepreneurs, corporate executives, philanthropists, venture capitalists, and others. It was a spicy, interesting group of individuals. There was a great fermentation of ideas. We were variously seasoned by the insights and stories and personalities of women who have blazed amazing trails and improved the lives of others, in particular. I came away with new energy, feeling the heat and kick of kimchi in my brain.