Interview/Gallery: Innovative New Publisher Readies India for Its Indie Comics Moment
Billed as "India's first independent black and white comics anthology," Comix.India is an innovative new publishing venture that's taking advantage of crowd-sourcing and up-to-the-minute technology to help build an audience for stories outside the traditional kids', superhero, and Amar Chitra Katha fare.
The story begins in 2009, when Bharath Murthy, a comics author based in Coimbatore, realized he was ready to do something about the lack of outlets for Indian comics artists looking to publish short works not meant for the children's audience. Murthy encountered fellow cartoonist Kailash Iyer on an online forum for Indian comics, and the two began to discuss self-publishing as a low-risk way of putting together an anthology of alternative material. The response to their first call for entries was, in their words, "overwhelming," and the inaugural issue of Comix.India quickly followed in March 2010.
Since then the duo have released five volumes, working through both the print-on-demand model and a unique profit-sharing approach in which revenue from each issue is divided equally among all contributors, who also retain all copyright to their work. Those contributors include (not surprisingly) numerous first-timers, along with a handful of industry veterans like Orijit Sen, creator of River of Stories (1994), widely considered India's first graphic novel; E.P. Unny, the Indian Express political cartoonist who has written and drawn graphic novels in Malayalam; Kolkata-based novelist Rimi B. Chatterjee; and the internationally published artist Vivek Goel, who now runs his own publishing house, Holy Cow Entertainment.
In the five issues of Comix.India published so far, humor strips, noir, horror, social satire, fantasy, and autobiography all co-exist in a kind of giddy jumble, and the range of writing and drawing styles is as diverse as the subject matter. Taken cumulatively, the dozens of stories suggest an emerging, anything-goes comics culture whose unruly creative energies threaten to spill over page borders and genre boundaries alike.
From his studio in Mumbai, co-publisher Iyer answered Asia Blog's questions about Comix.India via email.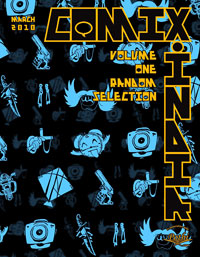 Inaugural issue, 2010
The first thing I notice about Comix.India is just how varied the styles and subject matter are in all five issues. Is this diverse content a reflection of your wide-ranging tastes, or are you simply reflecting the variety of the independent comics scene in India today?
It's actually a fair representation of both. Bharath and I have some individualistic tastes. Bharath reads a lot of manga, something I haven't really explored. On the other hand, I enjoy a well-crafted superhero/mainstream comic as much as the next guy, but that's something Bharath doesn't really look at. We both, however, enjoy alternative and self-published comics a lot, and are appreciative of the European comics scene.
Hence, we were fairly open to the submissions people sent in. We are somewhat partial towards comics that are esoteric or of a more personal nature, but we don't have a strict editorial policy which dictates content direction, and we believe that's reflected in our books. We only do the occasional copy check if there are grammatical or spelling errors. We did have broad themes for the second through fifth books, but based on feedback, we've dropped even that.
Still, it's a bit hard to define this with respect to the local "independent" scene, though, because the number of indie/self-publishers are fairly small, and most of them have only been visible over the last year or so. Most of our contributors, in fact, aren't regular comics creators, and you won't find a lot of their work outside of our books.
Your second issue was a "Girl Power" special devoted to comics created by women. Was it a particular priority for you to make sure women artists were represented?
"Girl Power" was pretty much the reason we decided to have themes for issues. Bharath had discussed the idea of having an issue done completely by female creators, and I though that was fantastic. We subsequently contacted as many as we could, and quite a few got on board. Somewhere down the line, the idea mutated into a broader theme that explores womenhood in its entirety. At that point, we contacted many others and asked if they'd be interested in writing a comic around a female character or issue. We were delighted with the response and the sheer variety of comics we received!
Comix.India operates on what appears to be an innovative model — both print-on-demand and also profit-sharing, with revenue from each issue split equally among all the contributors. After five issues, how has this worked out? Do you see it as being viable indefinitely?
We haven't had any complaints from the contributors, so we assume they're pretty happy with the setup. Our processes are completely transparent (everyone who's eligible for royalty has a login on Pothi, our print-on-demand publisher, where they can see how many issues have been sold and what their share is). Comix.India doesn't take any part of the revenue, it's completely split between Pothi and the contributors.
That said, there are certain drawbacks of relying only on print-on-demand:

- We do feel readers are a bit hesitant to try our books, because a hard copy doesn't exist for them to peruse first.
- We miss out on impulse buys at bookstores as well as targeted crowds at the Comic-Con and other book fests.
One other problem we faced initially was that the shipping charges were putting off people, who'd become used to free shipping from other portals. Pothi later got around that by including the shipping in the book's pricing itself.
Forthcoming: Comix.India Volume Six
Along the same lines: these days, from what we read, it seems almost counter-intuitive for a comics publisher not to offer web content in addition to print. Can you envision a way to offer a web version of Comix.India and still stick to your POD, profit-sharing model?
We would love to have our issues on the web. Unfortunately, due to a couple of technical and managerial issues, I don't see this happening at the moment.
The primary reason for this is that Comix.India isn't a company or registered label as such. So all the finances are handled by Pothi. In fact, they set up the profit-sharing mechanism on their site solely as a response to our requirement, and that was pretty fantastic on their part. They don't currently offer ebooks, and we (Bharath and I) aren't equipped at the moment to offer ebooks on our own, and handle the royalty payments.
At some later stage, if we do decide to publish the books ourselves, ebooks will certainly happen.
You launched your first issue in March 2010, and just under a year later, the first-ever Indian Comic Con was held in New Delhi. Together with the many other comics and graphic novel publishers who are bringing their titles to market these days, do you feel the audience for "new" comics has reached a critical mass there?
We're still a substantial way from any sort of critical mass. Right now, I think we're still witnessing the birth of a new market. A lot of independent and self-published stuff is just starting make its way across the table, but the market is still dominated by those two behemoths in the room — DC and Marvel superheroes; and the local stuff that sells well is broadly divided into kids/all-ages (Tinkle, Diamond Comics) or Indian superhero/mature stuff (Raj Comics, Level 10).
It's still exciting to see all the new publishers/comics that are lined up. I think over the next two years or so, we'll get a much better idea if the local market is willing to support original Indian content to the extent that it can become a substantial source of revenue for the creators.