Interview: 'Zombie Combat' Expert Roger Ma Protects Fellow Citizens From the Undead

"The Zombie Combat Manual: A Guide to Fighting the Living Dead" by Roger Ma (R).
It's no secret that zombies and vampires have all but overrun American pop culture in recent years, marauding through movies, TV, and airport book stalls alike. Is there anyone to stand between average citizens and these blood-sucking, flesh-eating hordes?
Fortunately for ordinary mortals, New York City native Roger Ma is on the case with two books that put a sanguinary new spin on the self-help genre. The Zombie Combat Manual: A Guide to Fighting the Living Dead (2010) and its 2012 follow-up The Vampire Combat Manual: A Guide to Fighting the Bloodthirsty Undead (both Berkley Trade) offer tongue-in-cheek, yet somehow deadly earnest, advice on how to disarm (even literally) any undead adversary. Together, the two books — which actually draw on Ma's real-life experience as Team Chief for a New York City Community Emergency Response Team (CERT) — have earned him a cult following and an appearance in the History Channel documentary Zombies: A Living History.
Ma's parents emigrated from mainland China to Taiwan after the 1949 revolution and then to the United States, where they became successful New York restaurateurs for several decades. (One of their businesses was the storied Times Square tiki restaurant Hawaii Kai, which earned a place in pop culture immortality as the backdrop for Joe Pesci's "funny guy" moment in the 1990 Martin Scorsese gangster classic Goodfellas.)
Asia Blog checked in with the self-defense specialist, onetime actor, and marketing professional via email.
To mark Asian Pacific American Heritage Month, we'll be running Q&As with noteworthy Asian Americans throughout May. Read them all here.
Tell us a little about your life story. How does a son of immigrant restaurant owners become an authority in the field of hand-to-hand combat with the undead?
How I came to write about fighting the living dead is a great example of how the smallest and seemingly inconsequential events can have a major influence on life, and how the things parents spend their time obsessing over don't make much difference. My father used to take my younger brother and me to the movies on the weekends, and often he'd let us pick the movie. One weekend, as I leafed through the movie section of the Sunday paper, I pointed to an ad for George Romero's Dawn of the Dead. I was eight years old.
Perhaps not the wisest parenting decision on my dad's part, but I'm so grateful for it. I've been both a fan and terrified of zombies ever since. So, all the stuff that my folks thought would make a difference — the Chinese language classes, the extra tutoring, the SAT prep courses — didn't make much of a difference when it comes to this aspect of my life.
Your author bio also states that you're a Team Chief for a New York City Community Emergency Response Team (CERT), which assists first responders in the event of a major emergency. Is it safe to assume those duties were part of the inspiration for The Zombie Combat Manual?
Former Team Chief, just to be clear, as I had to relinquish my post due to time constraints, and being TC is a pretty demanding role. Actually, my CERT training was less about inspiration and more a part of the research for the book. I wanted to understand exactly what kind of knowledge and training is available to the typical citizen who doesn't have a background in the military, law enforcement, or emergency care.
Getting involved with CERT was also a personal point of interest, as I was working very close to the World Trade Center on 9/11. I wanted to be able to contribute in some small way during times of crisis, and the CERT program is a great way to do just that.
In our lifetimes, zombies have gone from being a marginal, disreputable corner of pop culture — the stuff of midnight movies, basically — to being mainstream entertainment: there's a hit TV show about them and they're all over an upcoming summer blockbuster starring Brad Pitt. How do we account for this cultural shift?
As a longtime fan of the genre, I've seen the popularity of zombies ebb and flow much like many other horror genres tend to do. One of the more interesting rationales for this pattern, and one that I agree with, is that during times of great societal turbulence, whether they be economic or sociological in nature, the concept of an undead outbreak becomes more attractive to the populace. A zombie apocalypse is the ultimate reset button — one that eliminates the weak and unprepared, but leaves the societal infrastructure intact. This recent wave of mainstream popularity, however, does seem more powerful that in the past. I have a couple of thoughts behind why this is so.
First, the living dead have always been the most manageable of supernatural threats: if you're smart enough, skilled enough, and prepared enough, the thinking is that the zombie is an adversary that you can overcome. And interestingly enough, those who have the skill set to survive may be those lower on the socioeconomic scale; the more dependent you are on the trappings of society, the more handicapped you'll be once they're gone. I also think that the popularity of the genre speaks to the growing class divide in this country.
Second, I believe the technological advances to which we've become so intimately attached throughout our daily activity also create a desire to let it all go and return to a simpler lifestyle, one that is not so plugged-in 24/7. Our lives are infinitely more complicated compared to even a decade ago. A zombie infestation is a way to entertain the fantasy of abandoning our current lifestyle and all the high-tech ties that are a part of it, and adopt a less complex way of life.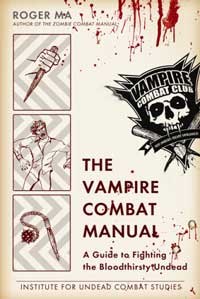 "The Vampire Combat Manual" by Roger Ma
I know you did some acting not long after college, at a time when parts for Asian Americans were arguably even more scarce than they are now. Do you have a sense of whether that's changing in American movies and TV? Have genre shows like Heroes and Lost, which tried to present more multidimensional Asian characters, made any kind of difference?
I think that it could only get better, because when I was out there pounding the pavement, reading scripts and going on auditions, pickings were mighty slim. The positive aspect of that experience was that there was a small, intimate community in New York of Asian actors that you would encounter auditioning for the same roles, many of whom are still my friends. Rather than think of ourselves as competitive rivals, we tried to help each other as much as we could. More than a few times I received a call about a potential part because another Asian actor friend of mine gave my name to someone.
Still, even more than a decade later, it's tough out there for Asian male actors. For most of the Asian male roles you see in film or television, they're still either asexual, have an "Oriental" accent, kicking someone in face, or some combination of the three. Not that any of those traits is necessarily bad and cannot be a part of a more complex character, but it's often the primary characterization.
Ironically, one of the most three-dimensional Asian characters on television now is on a zombie show: Steven Yeun's character Glenn on The Walking Dead. Even more surprising to me is the amazing success of the Harold and Kumar films — that films could be made with two Asian male leads and neither speaks in pidgin English or does martial arts is a victory in itself. It's slow going, but it's getting better.
Last but not least: Zombies, vampires, and… what's next? Are the combat manuals going to be a trilogy?
Never say never, as they say, but I think zombies and vampires make the two ideal adversaries to address in hand-to-hand combat. Despite their physiological differences and advantages, these two creatures are still fundamentally homo sapiens in physical structure, and just as you can train yourself to defend against a human aggressor, you can do the same against the undead. Werewolves and robots, not so much.