Interview: Will Forced Urbanization in China Create a New 'Permanent Underclass'?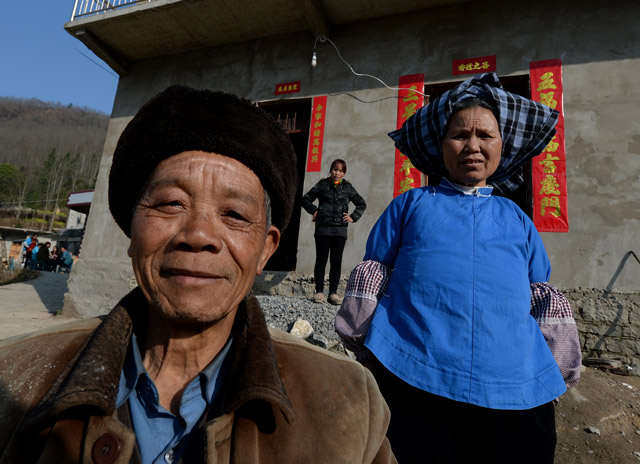 Rural residents pose in front of their new houses near the city of Anshun, Guizhou Province, in February 2014. (Mark Ralston/AFP/Getty Images)

On Wednesday, June 18, 2014, Asia Society celebrates the winners of the 11th Osborn Elliott Prize for Excellence in Journalism on Asia with a discussion moderated by The New Yorker's Ken Auletta.
Around this time last year, New York Times China correspondent Ian Johnson published the first installment in his ambitious series of stories about the effects of China's new policy of forced urbanization, expected to relocate hundreds of millions of rural residents in the coming years. Johnson looked the issue from a variety of perspectives, including those of the rural people affected by the initiative and the government officials behind it.
For his work on the topic, Johnson was named a finalist for this year's Osborn Elliott Prize for Excellence in Journalism on Asia — the judges called his series "revelatory." Asia Blog caught up with Johnson via email.
It's been one year since you first wrote about China's unprecedented plan to relocate some 250 million people — a number equivalent to the entire population of Indonesia — from rural areas to cities. What effects from this policy of forced urbanization have you seen already? And what do you expect to see going forward?
You can see satellite cities popping up not just on the outskirts of big cities, like Beijing or Shanghai, but dozens of smaller cities across the country. These cities, such as Yangling in Shaanxi, Liaocheng in Shandong, or Yancheng in Jiangsu, are meant to be the center of a new wave of urbanization, with surrounding rural people moved into these new suburbs. There is some merit to planning — the government is building roads, schools and housing complexes — but a problem is a lack of choice.
This has the potential to quickly urbanize China, which could take pressure off the overpopulated rural areas, but a side effect is that many people are moving to cities without jobs. They usually get a free apartment and subsidies so they won't be homeless or starve, but they don't have job prospects. I'm concerned that this will create a permanent underclass in China's cites. 
What did the Chinese citizens you spoke to in your reporting, both urban and rural, think about this policy? Did they understand the government's rationale? Did anyone think it was a good idea?
Some people were happy because they already had jobs in cities. For those people, getting a new, free apartment and maybe a one-off payment is a good deal becuase they don't really need their land anymore. But there are many people who don't have jobs lined up and for them their land is a safety net.
I was also surprised at how many of them felt real affection for the land and the farming life. For Americans this shouldn't be surprising because part of our folklore is that farming life is purer and simpler, whereas when we think of developing countries like China, we're constantly told that the people there are "peasants" living in horrible conditions. But in fact many liked the farming lifestyle and didn't want to leave.
We heard that you are currently working on a book. Can you tell us a little bit about it?
I'm working on a book about Chinese people's search for values in the post-communist society that's been created in just a few decades. Some people are returning to traditions, other finding new ways of expressing this universal desire to find a deeper meaning in life than just work and family — to create a "good life" of ethics and shared values. I do this by following people longitudinally (i.e. over a longer period of time) in various parts of China. It's a bottoms-up way of looking at China, which is how I prefer to report, even though I live in the most elitist and atypical part of the country: Beijing!
---
Video: Oz Prize Finalists on Struggles of Reporting in Asia (5 min., 3 sec.)