Interview: Why Humaira Bachal Fights for Quality Education in Pakistan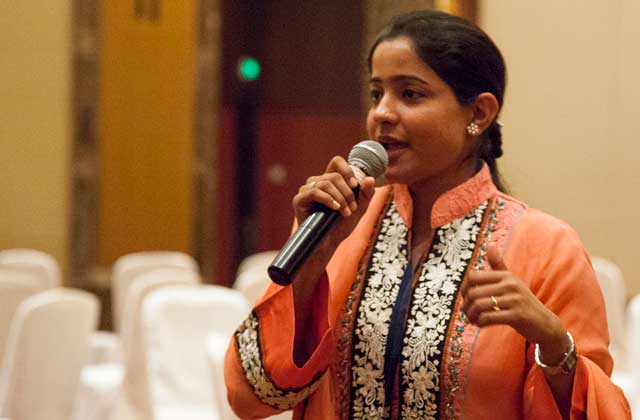 Huamaira Bachal at the Asia 21 Young Leaders Summit in Zhenjiang, China in December 2013. (Tahiat Mahboob/Asia Society)
Humaira Bachal, a member of the 2013-14 class of Asia Society's Asia 21 Young Leaders, has dedicated her life to improving education in Pakistan. But Bachal didn't make that decision after school, when she was about to embark on a career; she made it while she was still a 12-year-old student. Now 25, the education advocate has made great strides in both educating young people and publicizing the need for major reform in Pakistan's education system.
During Asia Society's Asia 21 Young Leaders Summit, held in Zhenjiang, China, last month, Bachal took some time to tell Asia Blog about what motivated her to attempt to tackle this huge issue at such a young age, and her thoughts on the future of education in Pakistan.
When you were just 12 years old, you decided to try and spread the chance for education you were receiving to kids who had no access to school. What motivated you then and are you still motivated by the same goals as when you were 12?
In the underprivileged area where I grew up, education was often forbidden and girls' education was taboo. The constant injustice, violence and mistreatment of girls forced me to work out a solution to the problem. With my mother's prayers and support, I started to find ways of spreading education, and with like-minded friends formed the Dream Model Street School. Through our organization we use door-to-door mobilization and meetings with children's parents to strive toward a long-lasting path for girls to be educated and find their independence.
After nearly 10 years of this work, 10 girls have matriculated from our program and gone on to graduate from college and are now working as teachers, nurses and company employees. Through our work we are changing the attitudes among people toward girls' education and hold firm to our belief that "If you can DREAM it, you can DO it."
What are some of the primary reasons children don't have access to education and job training in Pakistan?
1. Poverty. The majority of people can't afford a high-quality education. Those of limited means are stuck at best in government schools that do not provide a quality education. People of the middle class go to private schools where the environment is nice but the education is subpar. The upper class pays high fees to send their children to O-level schools with swank facilities.
2. Cultural influence. People often abandon educating their children because it is not considered important or [is] even seen as bringing in negative influences. The majority of people still believe that girls may lose their traditional values, go on to marry for love and neglect family.
3. Political influences. The laws in Pakistan often cause people to be scared of sending their kids to school, and so people avoid doing so because they are afraid of being threatened by the community elders and becoming an outcast. In fact, there is no access to education in some areas because the elders and politicians fear an educated community will threaten their authority. That's why they do not provide the resources for education in their respective communities.
Is there a particular student who benefited from work done by the Dream Foundation Trust?
Samina Haque belonged to a poor family leading an underprivileged life. Her mother supported her family by working as laborer. She was keen to get an education, but her parents could not pay for the schooling. During one of our door-to-door campaigns intending to "get the girls out of their homes and into schools," Samina showed her interest in acquiring an education and we responded. We got her into the school to start her four-year education along with other young men and women. Samina approached the task enthusiastically. Meanwhile, her mother was arranging a marriage for her for when she turned 18 years old. When Samina heard the news that she had to get married she declined, but pressure from her family eventually made her relent. Samina eventually submitted, but with the agreement that she would finish her education after marriage. We at the Dream Foundation Trust supported her decision and helped ensure her right to education through creating legal documents related to the marriage.
After passing her matriculation examination, Samina returned to her village, Umerkot Tharparker, where she prepared to attend intermediate college. She soon also had a baby girl, but that did not stop her thirst for education, even convincing the examiner administrating the test that she could bring her daughter to the examination. Samina passed her exams with strong marks despite all the challenges she faced.
Now, she has started a school modeled after the Dream Foundation in Tharparker, an impoverished town with low literacy rates. She teaches young men and women in the village and is working to mobilize the community around the idea of making education a fundamental right for children.
Do you see a hopeful future for education in Pakistan under the new leadership? If so, why — and if not, why not?
The new leadership of Pakistan has inherited many problems in terms of education, but we do see many possibilities for transformation. To date, Prime Minister Nawaz Sharif appears to be working toward peace and security in Pakistan and has proven he can bring better times to Pakistan from his first stint as Prime Minister.