Interview: White House Executive Chef on 'Culinary Diplomacy' and Learning to Cook in the Philippines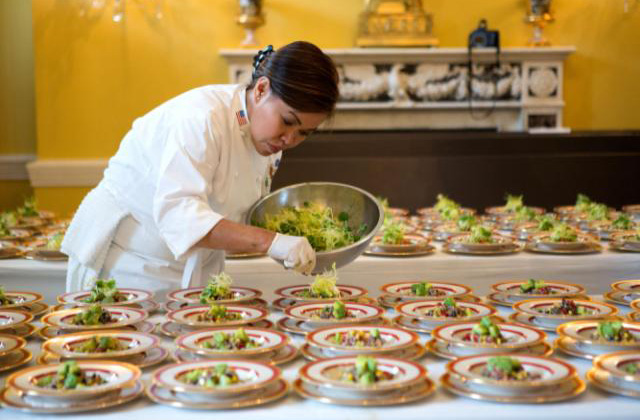 White House Executive Chef Cris Comerford prepares quinoa black bean and corn salad in the old family dining room of the White House, August 20, 2012. (Sonya N. Hebert/White House)

Every May for Asian Pacific American Heritage Month, Asia Blog interviews noteworthy Asian Americans from a diverse set of backgrounds. View the complete Q&A archive
At age 21, Cris Comerford dropped out of college in the Philippines to move to the United States with her family. A decade later, she was hired by then-White House Executive Chef Walter Scheib III, and a decade after that, she herself was appointed executive chef by first lady Laura Bush. Comerford has now served three presidents over 20 years and is the first female, as well as the first Asian American, to occupy the executive chef post. Asia Blog caught up with Cris Comerford via email as she prepared for the state dinner in honor of Japanese Prime Minister Shinzo Abe on April 28, 2015.
You were born in the Philippines and studied food science at the University of the Philippines in Quezon City. How does your background influence your cooking style?
My background has a great influence on my cooking style. My mother was a very good cook and I was exposed to great food growing up. Both of my grandparents were farmers and had livestock. My school background was a good foundation when it comes to how ingredients and flavors go well together.
You moved from the Philippines to Chicago with your parents in 1983. What were your first impressions of the United States?
I clearly remember how cold that December was in Chicago. My family and the Filipino community in the U.S. welcomed our family (eight of us came in at the same time). They brought coats, warmers, hats and scarves. My first impression was that of the warm welcome we received from friends and families.
What was it like being named the first female and the first Asian American White House Executive Chef?
It was such a humbling experience. Being chosen from a long list of experienced, talented, and qualified chefs, it gives me great humility and a great sense of responsibility to do my job the best way I can.
How would you describe your style and philosophy as a chef?
Seasonal and fresh ingredients make the best dishes. If you start with good products, it will be quite difficult to mess it up. And the learning never ends. You have to be open to all cuisines and taste as many types of food as possible. Different cuisines and food open the door of possibilities to new and exciting things.
Do you bring any Filipino flavors to your work at the White House?
Growing up in the Philippines and learning to cook with my mother gave me the greatest tool: your own tongue! You have to taste everything and keep tasting as your cooking progresses. It is quite amazing when you discover how taste develops as you go through the cooking process.
Official state visits are a big deal in Washington D.C. What is your process for planning and executing state dinners?
Our kitchen is very organized. Each of the chefs has their strength and abilities, and as their head chef you have to channel them the right way. We research extensively and rehearse. Planning and organizing is the way to go.
As a chef to a head of state, you are a member of the Le Club des Chefs des Chefs, which meets annually. What kind of things do you discuss with your fellow chefs?
The chefs of the heads of states have very similar roles and experiences. We learn from each other. We learn about their cuisines. We connect with each other to learn about their heads of states' preferences. These meetings give us a great understanding of protocol and culinary diplomacy.