Interview: What Does it Take to Be a Philanthropist in China?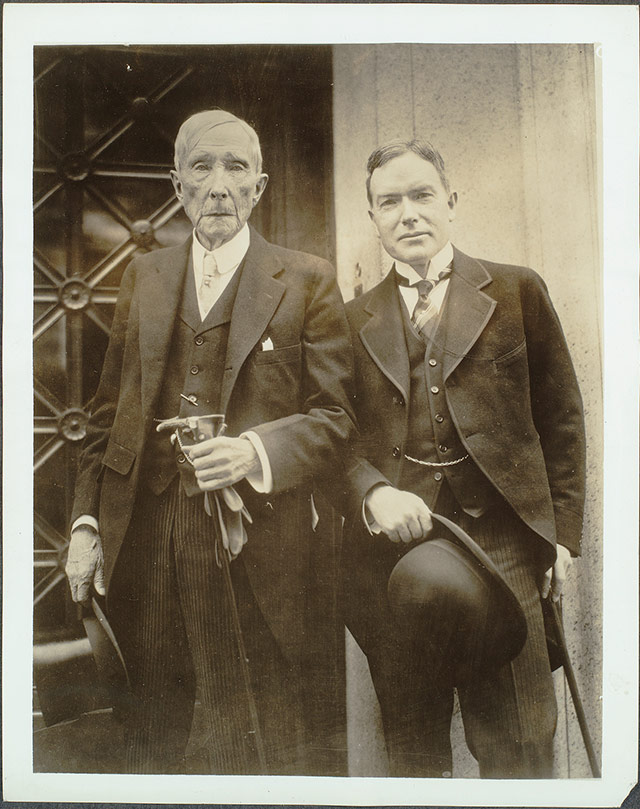 John D. Rockefeller Sr. and John D. Rockefeller Jr. in 1925. (Rockefeller Archive Center)
China Medical Board (CMB) has been promoting health education and research in China for a century.The independent American nonprofit, originally founded by the Rockefeller Foundation in 1914, focuses on strengthening medical education, research, and policy in China and parts of Southeast Asia. As part of its centennial celebration, on June 5 in New York, CMB will join Asia Society's Center on U.S.-China Relations for a panel discussion to reflect on a century of American philanthropy in China and take a closer look at what's in store for the future. Asia Blog caught up with Lincoln C. Chen, president of CMB, who shared his thoughts on the legacy of American giving in China and the particular challenges facing philanthropists today.
How has American philanthropy in China changed over the past century, and how would you describe where we are now?
One hundred years ago John D. Rockefeller, Sr. selected health and medicine in China as one of the primary foci of his philanthropy. He had the bold vision of transforming health in China away from the "sick man of Asia" through building a new medical school that would introduce modern medical sciences. Today, there are a half dozen foreign foundations working on health in China; the China Medical Board (CMB) and the Gates Foundation are most active among them. Gates Foundation has worked on HIV/AIDS and tobacco control, and increasingly is collaborating on R&D to develop new drugs and vaccines for Africa and other poorer countries. CMB is strengthening global health by linking together Chinese universities with counterparts within and beyond China.
What do you believe to be China's greatest needs today, and are they being properly funded?
While China's economy has grown enormously, it wants to balance economic development with social development. Thus, education, health, and the environment are assuming increasing social importance. These areas are being challenged by aging, migration, environmental pollution, and changing family structures. Government can play a critical role, but other actors, including foreign and Chinese funding sources, can be helpful in solving emerging social problems.
Based on your firsthand experience, what tips would you offer to a budding philanthropist in China?
Effective philanthropists must develop passion and engagement for the social problems they are most interested in addressing. They may not have the time to make it a full-time job, so that philanthropic passion may be strengthened by having expert advisors in the field of interest.
What is the current state of Chinese philanthropy? Is it catching on?
Chinese philanthropy is growing very rapidly but still with uncertain structure and pattern. In part, the reason is the newness of the donors who have gained wealth so quickly and recently. In part, it is working through the instruments that philanthropy can use to solve social problems. There are fewer officially registered NGOs in China, for example, to fund.
What major challenges do philanthropists in China face today?
Chinese philanthropists must navigate their giving through uncertainties from regulations and taxation to organizational legitimacy to social causes that excite them and benefit society. Philanthropists have to distinguish between doing some immediate good for some people, like charity for the poor, in comparison to social investments to solve a long-term challenge, like reforming the health care system. Some successful efforts have tackled the first type — immediate assistance to the handicapped, for example — but the second type has not yet fully emerged.