Interview: Vali Nasr on Revisiting US Strategy in Afghanistan and Pakistan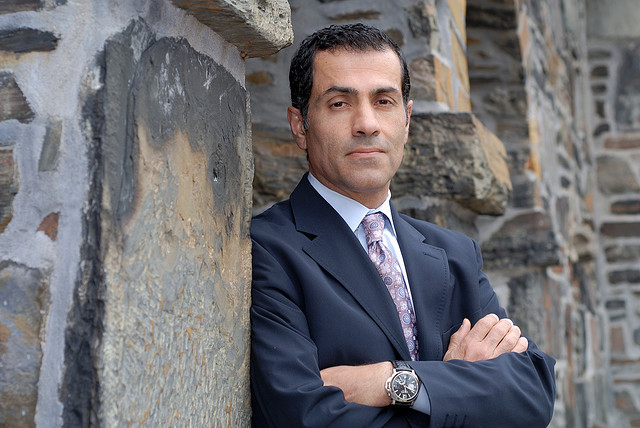 Vali Nasr, professor of international politics at the Fletcher School of Law and Diplomacy of Tufts University and former advisor to Richard Holbrooke. (Vali Nasr/Flickr)
U.S.-Pakistani relations have been fractured by a series of political disagreements and mistrust following the Bin Laden assassination and November 2011 border clashes between NATO and Pakistani troops. Similarly, American relations with Afghanistan have been strained by the recent Quran burnings and the killing of Afghan civilians by American soldiers. As international forces prepare to withdraw from Afghanistan by 2014, America drastically needs to rebuild trust with both Pakistan and Afghanistan for the sake of the region's future stability. As recently appointed Dean of the Johns Hopkins School of Advanced International Studies Vali Nasr says in the following interview with Asia Blog, "The U.S. has to revisit the usefulness of its current strategy of pressure on Pakistan. It is not working."
Nasr will be at Asia Society to discuss the future of diplomatic ties between the U.S., Afghanistan and Pakistan along with Saeed Shafqat, an expert in the field of South Asian studies and a former professor at Columbia University, on April 12, 2012 as part of the HBO Series on Asian Hotspots. For those who can't attend in person, a free live video webcast will be offered on AsiaSociety.org/Live at 6:30 pm ET; online viewers are encouraged to submit questions to moderator@asiasociety.org.
Asia Blog interviewed Nasr via email in advance of his appearance at Asia Society. 
What do you see as the most critical challenges facing Afghanistan, Pakistan and the United States as the international forces prepare to withdraw from Afghanistan?
The greatest challenges are that the end of the war is coming at a time of deep disagreement between the three. Relations between Pakistan and Afghanistan have never been good, but now they are more frail than at any time since 2009. Similarly, U.S. relations with both Afghanistan and Pakistan have suffered over the past year. The insurgency is still there and that makes seeing an orderly and satisfactory end to this conflict difficult.
What are some of the assumptions that the United States must reconsider in its policy on Afghanistan and Pakistan?
First, the U.S. has to reconsider the assumption that Afghanistan will actually remain stable after the U.S. leaves. There is a potential for Karzai's trying to stay in power after 2014, precipitating political conflict. Afghanistan is also susceptible to resumption of the civil war, and the Taliban may well gain the upper hand and threaten Kabul. The U.S. has been working off of a narrative that justifies troop withdrawal based on short-run indicators, but that narrative does not adequately reflect ground reality. The U.S. has to revisit the usefulness of its current strategy of pressure on Pakistan. It is not working: Pakistan has not become more cooperative, but rather is facing a new set of threats that could undermine our project for Afghanistan.
What kind of a role has the Afghan government played in attempting political stability, strengthening domestic security and supporting economic and social development?
The Afghan government does not have the capacity to effectively provide economic and social services. In addition, corruption and power grabs have prevented building new institutions and precluded arriving at a national political consensus to solve large issues. Afghanistan's government has not been a solution to the problems that fuel the insurgency, but in many instances has been the reason why the insurgency is gaining ground.
Considering the surge in anti-American sentiment in Afghanistan and U.S. tensions with neighboring Iran, what do you think is the best strategy for the U.S. to follow as it as it withdraws its forces from the region?
The U.S. currently does not have a regional strategy. It has viewed the endgame in Afghanistan as an issue between the U.S., Karzai's government and the Taliban. It is not engaged with key regional actors to understand their interests and ensure that they are invested in a peaceful outcome. Most significant, the U.S. is not engaged with Afghanistan's most important neighbors: it does not talk to Iran or Pakistan about the endgame in Afghanistan. The U.S. talks to Pakistan about security issues in Afghanistan, but not as [a] partner in deciding the endgame there.
In light of recent events such as the Quran burnings and the killing of Afghan civilians by an American soldier, how do you see the future of peace talks with Taliban going forward?
I believe the talks are frozen. Neither Karzai nor the Taliban have the political cover to pursue them aggressively. These events have changed the political context for the talks. Taliban now see real cost in talking to the U.S., and may see benefit in being more intransigent. Karzai may also feel that he has to distance himself from the U.S. to gain credibility. If talks do not resume soon, the current momentum may be lost.
Is Pakistan's role in achieving regional stability overstated? How much influence do they really wield over the Taliban?
I believe Pakistan's role is understated. It is not a matter of Pakistan helping with specific security issues, but rather that there will be no stability in Afghanistan without Pakistan. Pakistan is the larger of the two and has vital interests in Afghanistan. Right or wrong, Pakistan more than any other country will decide the fate of Afghanistan.
In view of the increasing strains on U.S.-Pakistan relations in the past year, how do you view this relationship going forward? Is there any indication of reconciliation between the two countries?
It depends on what we think reconciliation means. A certain cold peace between Washington and Islamabad is possible, but there is little common strategic ground between them to sustain a warm relationship. In addition, each side views the other with distrust and even as a threat, and that makes reconciliation difficult. Added to this, U.S. is operating under the assumption that it can wash its hands of Pakistan, and that would be an easy and positive thing.
After a decade of failure to achieve peace and stability in the region, do you see hope for positive changes being made within the next two years?
If the American people continue to lose interest in this war, Washington will find ways to manage its periodic flare-ups as we withdraw. The end may not be good for Afghanistan or Pakistan, but it may serve the U.S. goal of extricating itself from the region. A good outcome for Washington is not the same thing as a good outcome for the war or the region.
This program was funded with the generous support of HBO, as part of the HBO Series on Asian Hotspots.