Interview: In Typhoon Disaster Zone, Reporter Says Filipinos Will 'Soldier On'

Damage from Typhoon Haiyan, Dulag, Leyte, November 22, 2013. (Eric Jankstrom)

To learn how you can help typhoon victims in the Philippines, click here. And to meet an Asia Society Asia 21 Young Leader who started a grassroots relief effort called Bundles of Joy, click here.
Last week, Weather.com travel editor (and former AsiaSociety.org producer) Stephanie Valera published "The Sea Washed It Away," a powerful, on-the-ground multimedia report from the Philippines depicting the aftermath of Typhoon Haiyan, the deadliest typhoon ever to hit that country, with more than 6,000 casualties recorded to date. Based on her interviews with survivors, the piece is a wrenching account of human endurance in the face of an almost inconceivable natural disaster.
The story also resonated personally with Valera as a Filipino journalist based in New York City. She describes her experience interviewing her countrymen as "very intense and emotional" — but ultimately, she says, she was struck by their resilience and consideration for one another in a time of severe crisis.
Not long after "The Sea Washed It Away" appeared online, Valera answered Asia Blog's questions about her experiences in the Philippines via email.
How did "The Sea Washed It Away" come about?
To provide a bit of background, Weather.com has started doing long-form, multimedia features and after Typhoon Haiyan (known as Yolanda in the Philippines) struck, we knew it would be important to tell the stories of survivors in a more in-depth manner. Of course, we had coverage of the typhoon before, during and after (with insights from our experts and meteorologists, reports of casualties and photo slideshows of the devastation, etc.), but we wanted to present original video featuring voices of those who lived and experienced it. It was just an important story to tell, so The Weather Channel [weather.com's parent company] decided to send me and a video producer/shooter to the Philippines.
I flew to Manila on November 17 and then to Tacloban, Leyte (the "ground zero" of the destruction) on November 20 with a video producer. This was about a week after the typhoon struck, but Tacloban was still pretty much a disaster zone. Flying in to the airport in Tacloban was a heartbreaking experience — there really was no airport anymore to speak of. Passengers on the plane were wiping away tears as they peered out of the windows into utter devastation.
We were in Tacloban for about five days. The video producer, Eric Jankstrom, and I then traveled to the affected communities to talk to as many people as we could, everyone from survivors living in tents alongside roads, people asking for help in finding their missing family members, and village leaders who had to oversee mass burials to mayors of affected towns, relief and volunteer workers, military personnel, and evacuees living in centers, etc. Gas was pretty hard to get so it was hard to travel, but we were able to drive to coastal villages outside Tacloban, where we interviewed more survivors and relief workers.
After flying back to Manila (on a U.S. C-130 military plane!), we also visited Villamor Air Base (where evacuees from Leyte and Samar were being flown in) and the Tent City to interview more people.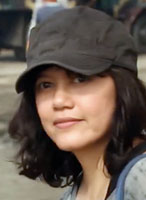 Stephanie Valera in Tacloban
You are yourself Filipino, of course, but you also went to Leyte as a representative of a Western media outlet. Did you have any sense people were reluctant or hesitant to talk to you — or not?
People were actually more willing to speak to me because I'm Filipino and I speak the language. Filipinos are English-speakers too, but when they speak in their native language (whether in Tagalog or Cebuano) they can elaborate on details and express more emotion, and be less formal when they speak. They would inject humor into the conversation sometimes or just be more willing to talk at length about what they experienced than when they speak in English. Being able to speak the language definitely gave me an advantage when it came to getting them to tell me their stories.
Offline you alluded to the intense, even overwhelming emotion you experienced in conducting these interviews. Is that something you can describe, even briefly?
Interviewing the typhoon survivors was a very intense and emotional experience for me. As a Filipino, I, of course, felt for my countrymen and women. I rarely get to go back to the Philippines now and it was definitely difficult for me to return at such a tragic time for the country. But it was also enlightening/uplifting experience for me because it reminded me of how strong and resilient Filipinos are — and how thoughtful they are even in times of personal tragedy.
For instance, when I was at the mass grave in Palo, I was talking to a man who was there to bury his wife, but he was more concerned for me that I didn't have my face mask (to block the stench) on. Or when we were in the evacuation center, and people there who kept offering us food. These are people who lost everything they own, except for the clothes on their backs. And of course, just hearing about the loss of lives, you can't help but be affected emotionally.
Some of the survivors you interviewed are extremely blunt about the government's failure to deliver aid in a timely fashion after the typhoon. Is that failure the source of any lingering bitterness in these areas?
In the immediate aftermath of the typhoon, I think there was a sense of bitterness about the delay in getting relief to the worst-hit areas. I think this is only natural in the wake of the utter devastation. But as the recovery continues, I also think there is less and less bitterness and there is more of a general willingness to help each other, to stay positive and to get back on their feet. One of the many good qualities of Filipinos is their ability to smile through hardship and to stay positive amidst tragedy. There will be some blaming and some bitterness in the immediate aftermath, but they will soldier on. We saw and experienced this positivity so many times while we were in Tacloban, and we also tried to reflect that in our piece.
"The Sea Washed It Away" conveys a sense of what it's like to be in a disaster zone not only immediately post-catastrophe, but weeks and months later, when the world's attention has largely moved on. In your opinion, what needs to happen next in the afflicted regions?
Recovery is all about people, so I think the country needs to continue to implement programs that will help children go back to school, or help people rebuild their homes and their livelihoods so they can regain their productive lives. Also, the Philippines is no stranger to natural disasters. Because of its location, it will regularly experience flooding, earthquakes, volcanic eruptions and typhoons. So as recovery and reconstruction continue post-Haiyan, there is also a need to focus on long-term improvements. I am not an expert, of course, but I think many will agree that there is a need to work on disaster preparedness, early warning/communication and emergency operations strategies for future extreme weather events, especially on the local and community level.
I know that we can't blame Haiyan (or any one weather event) on climate change but national and local governments must implement climate-change adaptation and disaster-risk reduction programs to help communities be more resilient to typhoons and storm surges (funding for these programs will be an issue too, of course).
Video: "Washed Away — Papoose Lantajo, Jr." (4 min., 11 sec.)