Interview: Turntable Pioneer DJ Qbert Spins for 'Planet Earth'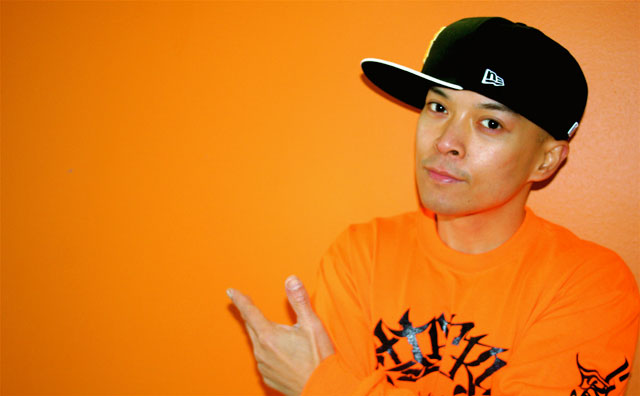 DJ Qbert. (Thud Rumble LTD.)
DJ Qbert (born Richard Quitevis) has been an influential force in the world of DJ-ing and turntablism for more than 20 years. Originally from the San Francisco Bay Area, he became known worldwide for his technical mastery at the turntables, and helped raise scratching and mixing to innovative new levels. Over the years he's pioneered breakthroughs in DJ mixing technology, won the DMC World championships three times, and has been featured in numerous DJ showcases, tours and documentaries like Scratch and Hang the DJ. (DJ Qbert also performed at Asia Society Texas Center last fall for the opening reception of their exhibitions Portraiture Now: Asian American Portraits of Encounter and kip fulbeck: part asian, 100% hapa.)
To mark Asian Pacific American Heritage Month, we'll be running Q&As with noteworthy Asian Americans throughout May. Read them all here.
The turntablist/DJ community includes a lot of Asians and Asian-Americans, with a number of well-known DJs being Filipino American, including yourself. Was this the case back in the early years of your career or is it more so now?
Before I was in the international DJ circuit, in the city of San Francisco, where I grew up, there were all nationalities doing the DJ thing. Asians were definitely a big part, and my cousin was in probably the first mobile DJ crew called Electric Sounds. Now it's still the same... Every nationality is DJ-ing.
What was one of the most memorable moments of your music career?
Probably winning a world championship a few times with my crew mates Mix Master Mike (DJ for the Beastie Boys) and DJ Apollo (of Triple Threat DJs). This gave us worldwide notoriety and the chance to spread love to the planet through music and also the chance to let people remember about important things such as taking care of the planet and eating healthy, and all that good stuff.
Filipino Americans are the second-largest population of Asian Americans. Can you name one or two things that make you proud to be Filipino American?
I am happy that I got to go back to the PI every year since I was born. I went to the provinces and saw how poor people are so creative and could make something out of nothing... The creativity showed me that anything can be done and that God truly flows through each and every one of us.
But nowadays I don't see myself as a gung-ho Filipino. I see myself as a part of the whole human race and am here to make humanity move forward in everything I do.
Sometimes when I do get caught up and Filipino flag-wave (like when I'm watching a Manny or Nonito fight lol), I feel closed off to the rest of the world... So I have to snap out of it and remember that my flag has Planet Earth on it.
What Asian Americans do you admire or look up to?
Bruce Lee.
You've been the "Jimi Hendrix of turntables," a part of one of the first pioneering turntable groups (Invisibl Skratch Piklz), a successful turntable mixing inventor, a technical scratch master for over 20 years, teacher, and inductee into DMC DJ Hall of Fame. What's next for Qbert?
Almost done with my album!!! :D
On Twitter: @djqbert