Interview: Translator Gives Urdu Literary Classic 'Basti' a Passport Into English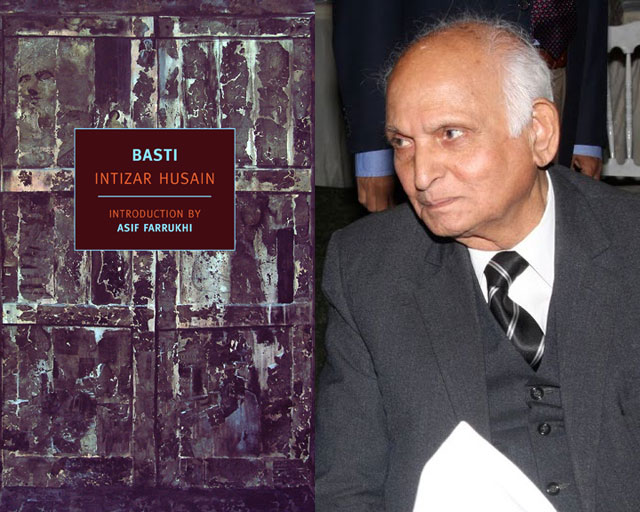 L: New NYRB edition of "Basti" by Intizar Husain; R: Husain at the Karachi Literature Festival on February 5, 2011. (Karachi Literature Festival/Flickr)
Anglophone fans of South Asian literature get an end-of-year bonanza this week when Intizar Husain's 1979 Urdu novel Basti, regarded as a contemporary classic among readers of Urdu, receives its belated first American publication. "Arguably the finest novel on Partition," according to a critic in The Hindu, the book arrives in an English translation by Columbia University South Asian scholar Frances Pritchett that has been issued twice in India and now appears courtesy of New York Review Books.
No summary of Basti can do justice to its originality, but in brief, the story begins pre-1947 with a vision of a small-town childhood marked by harmony — not only between Hindu and Muslim, of course, but also between human beings and the natural world they inhabit. Zakir, the book's protagonist and occasional narrator, will grow up to be a history teacher once the scene shifts — almost brutally — to Pakistan in the early 1970s, when civil war leads to the founding of Bangladesh, riots convulse the streets of Lahore, and the national project is called into question like never before.
Dramatizing how "the merciless present pushes us back again toward our history," the narrative weaves hypnotically between first- and third-person as Zakir's aimless day-to-day existence meshes with a kind of collective dream life centered on earlier historical traumas like the failed rebellion against British rule in 1857 and the martyrdom of Imam Hussein in 680. Though the mood only seems to darken as Zakir comes to realize that "Once doubt begins, there's no end to it," a glimmer of hope appears in the closing paragraphs — and by virtue of being an artistic triumph the book itself can be taken for the positive "sign" Zakir and his friends are left waiting for at the conclusion.
Husain's prose is dense with allusions to Indo-Persian literary culture, not to mention scripture from several religions, so it may have found its ideal translator in Frances Pritchett, Professor of Modern Indic Languages at Columbia University and a noted authority on the classical ghazal tradition exemplified by the poet Ghalib (1797-1869). The author of several scholarly works, Pritchett maintains a web page that's an outstanding resource for teachers and students of South Asian literature, and she has also given the present edition of Basti a set of end notes and a glossary that this reader, for one, found enormously helpful.
Via email, Pritchett shared some thoughts on the translator's task, and this text in particular, just prior to Basti's American release.
To a layman, Basti's densely allusive prose and frequent changes of register would seem to present almost insuperable challenges to a translator. What would you say was the most difficult aspect of the text that you had to contend with?
As you said, the changes in register. Their full range just can't be captured in English. All I could do was mention the problem in my introduction. However, in general, I was very faithful, sentence by sentence, to the text. Sometimes I had to resist the urge to transcreate, but I did resist it. The translation is so close to the original that it can be used as a real tool by Urdu language learners, which was always part of my purpose in making it.
The decision to adopt "yar" as an English word was one example of a problem and a solution. "Yar" can't really be rendered as "pal" or "buddy" or "friend" or "comrade" without sounding very unidiomatic in English. Yet if it's omitted, it sometimes throws off the colloquial balance of a whole sentence. By adopting it one not only retains something interesting and suggestive, but also reminds the reader that this is an Urdu text we're encountering, not an English one. By translating most words, one can create a relatively smooth surface, so the reader won't mind the retention of a few really significant, evocative untranslatables like "yar." The retention of "yar" has been criticized, but also praised; such discussion is part of our awareness of the inevitability of translation strategies, and the need for them to be conscious and clearly thought out rather than casual and haphazard.
My own view is that there can and should be many styles of translation, for many different purposes and audiences. What the translator owes the reader is no more than (but also no less than) "truth in labeling." Any serious translation should tell the reader in a note or preface something about the process of translation. Where did the text come from, and were there any complexities or choices involved in selecting it? What special difficulties came up during the translation process, and how were they resolved? And in particular, did the translator decide to omit things, or add things, or alter things? In my view the translator has a perfect right to do so, provided that he or she then tells the reader what has been done. It's unethical to leave the reader liable to think that a whole text has been translated when in fact it's been abridged, or transcreated to some degree, or transformed in some other way.
Actually I've written an article about translation, using a poem of [Faiz Ahmed] Faiz's as an example. It's here, if you're interested.
I was intrigued by how the novel, among its many other strands, also finds room for a marked Buddhist element. Do we know if there's a precedent for this in Urdu literary tradition, or is Husain somewhat anomalous in this regard?
Intizar Husain has been accused of "nostalgia" for the pre-Partition world, but I think this is much too limited a description of his literary project. In fact he is performing an excellent service in reminding Urdu-lovers of neglected aspects of their own South Asian cultural history. I think there will be more Urdu writers reaching out in this way in the future, and widening their literary world.