Interview: Top Chef Winner Mei Lin on Fighting 'Submissive' Asian Stereotypes in the Kitchen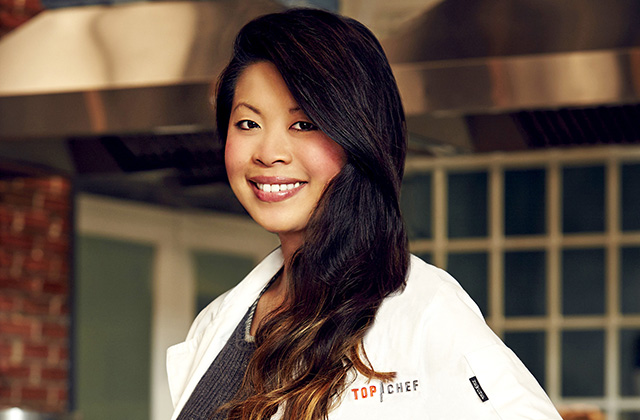 Top Chef winner Mei Lin. (Bravo TV)

Every May for Asian Pacific American Heritage Month, Asia Blog interviews noteworthy Asian Americans from a diverse set of backgrounds. View the complete Q&A archive
Mei Lin is the latest winner of Bravo TV's popular long-running series Top Chef, making her the third woman and fourth Asian American to grab the title. Born in China and raised in Dearborn, Michigan, she started working in her parents' Chinese restaurant at an early age, which laid the groundwork for her cooking passion. She's worked at the restaurants of highly acclaimed chefs including Michael Symon, Marcus Samuelsson, Wolfgang Puck, and Michael Voltaggio (Top Chef winner, season six). Currently, she is on the road doing special culinary events and pop-up dinners around the country. Mei spoke with Asia Blog about her life experiences, family, and the culinary world.
Describe the obstacles you have faced being Asian and a woman in a male-dominated field. Any advice for other female Asian chefs just starting out?
I think that a lot of Asians are perceived as being submissive. So it's easy for people to take advantage of that. For me I knew that I needed to have bigger balls in the kitchen than most of the guys, so I have a tendency to be quiet and focused but intense and bold when necessary. I am not afraid to cook elbow to elbow with anyone. My advice would be to get in there, get your hands dirty, and work twice as hard as those around you.
How did working in your parent's restaurant as a child influence your career path? And what did your parents think about your decision to enter the culinary world?
My parents were completely against me going into this field, even though I grew up in the industry. They know how gruesome it is to work 14 to 16 hour days six to seven days a week on your feet, and of course they didn't want that for their child. But working in my family restaurant gave me a serious work ethic and showed me how gratifying this profession is.
It seems a lot of reality show chefs from Asian or Asian American families are out to prove something to their parents. Have you noticed this? How do you explain this phenomenon?
I don't think it's a phenomenon. I think it's the fact that we have come up from a similar background, so we want so badly to prove to our families that we can make it in this business and be good at it. There is a ton of pressure from Asian families on their kids to make their parents proud or to live up to an expectation or fulfill a role. For me, I want to make my parents proud but I am ultimately working for my own success and ambition.
How did your parents react after you won Top Chef? Has your relationship with them changed?
My parents are definitely proud of me. After they watched the show they really saw what I can actually do. They've never visited any restaurant I've ever worked at, so they never saw what kind of food I was producing. And when the show concluded they realized it's something totally different from what they do at their restaurant.
In the Top Chef finale, you presented an elevated version of congee. Judge Hugh Acehson said it would have "silenced all critics on congee — it was that good." Judge Gail Simmons said she could've "eaten a pot full of it." What's our favorite type of congee to eat? And please tell us you plan to open an all congee restaurant in New York.
My favorite congee to eat is rather simple. It's with pork, thousand-year-old egg, and scallions. I grew up eating this so it's my comfort food. I do love using plain congee as a base. I have friends back home in Detroit that have been pressuring me to do an all congee restaurant concept, so who knows. Maybe one day.
What are the three best things you've ever eaten?
The best three things I have ever eaten? Hmmm, how about the best three things I've had recently that I've been dreaming about:
Thousand Year Old Quail Egg at Benu
Biodynamic Leeks at Restaurant Studio
Grandma Rosalie's Tripe at Cockscomb