Interview: Time-lapse Photographer Rob Whitworth Transforms Chaos Into Structure
Shanghai-based photographer Rob Whitworth has a unique specialization: time-lapse photography. Rather than simply staying fixed at a single location, however, his camera zooms in and out, weaving through the side streets, highways, and waterways of various Asian cities at breakneck speed. Couple that with carefully synchronized soundtracks, and you're left with a highly kinetic experience like none other.
After graduating from the Norwich School of Art & Design (UK) with a degree in Photography, Whitworth soon jumped into the realm of mixed photography and videography. The results have been dazzling; Whitworth's videos combined have earned several million views and 'Staff Picks' certification on Vimeo. His work has also been recognized in festivals across the world, most recently winning "Best Experimental Film" at the Tiburon International Film Festival 2012 and the "Jury's Choice Award" at the 5th Kuala Lumpur Eco Film Fest 2012.
In one of his latest videos, This Is Shanghai, Whitworth collaborated not only with urban explorer JT Singh, but also, through Weibo, local residents of Shanghai to discover the vantage points that best represent the city. By fully utilizing the uniquely disctinctive medium of time-lapse photography, This Is Shanghai displays the rapid development and vibrant activity of the city through both macro and micro perspectives; the finished product whisks the viewer from the cramped stalls of street food vendors all the way to the expansive skyline of the entire shimmering city.
We reached out to Whitworth through email to find out more about his work.

Tools of the trade — nothing but the essentials. (Rob Whitworth)
A significant portion of your work is Asia-centric. Can you elaborate on why you chose the cities of Shanghai, Kuala Lumpur, Hoi An, and Ho Chi Minh for your time-lapses?
Things that fascinate me quickly get turned into photographic projects of one sort or another. It's something of an occupational hazard. My very first experience of a big Asian city was Danang in central Vietnam. While every city is different, I love the energy and sense of change and progression. I think there is an infectious optimism that I sometimes feel has been lost along the way in Europe, where I grew up.
Did you face any challenges while filming these cities? What were some of the similarities and differences you observed among them? What was your most memorable shoot in Asia?
I love Vietnam to bits but I do seem to keep on getting robbed there. Whilst shooting the Ho Chi Minh time-lapse, at the end of a shoot I had my entire camera bag stolen — that was fun. And once again in Ho Chi Minh, the day before flying out to shoot the Shanghai movie, my hotel room was broken into. Fortunately the thief opted not to take the small case with all my camera kit and laptop in it, choosing instead to steal my shoes and a bag of some of my camera accessories. I'm not sure what use size-12 shoes are to a Vietnamese guy, but I'm sure he had a plan. I'll be on the lookout for him next time I'm in town. While these where some of the bigger "challenges," it is part of the fun — arriving in some place new and working to get the shot done — overcoming challenges and setbacks.
Regarding the most memorable shoots, there are many. It's one of the great things about being a photographer; you get to see some amazing things. Recently I was commissioned to produce a short film of the Danang International Fireworks Competition. On the last night I was given access to stand on the top floor of a newly-built hotel about 100 meters from the launch site. Looking down at your feet, you could see the fireworks being launched and follow the shells up to head height where they exploded. It was literally breathtaking.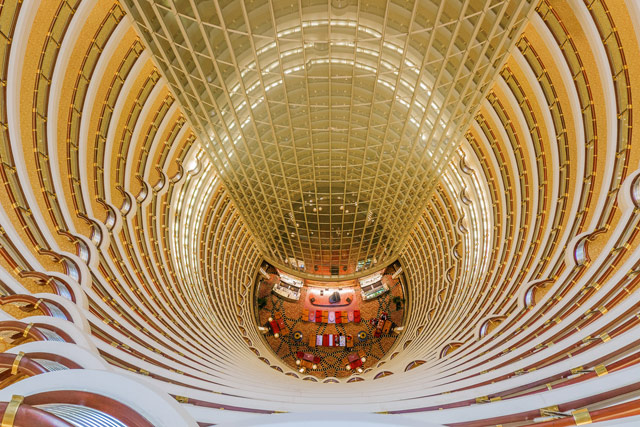 An architectural spectacle: the interior of a building in Shanghai. (Rob Whitworth)
You boast a diverse background in the arts, from photography to videography to architecture. How does this contribute to your work?
Yikes, I've never considered myself to have a background in the arts. I can't even claim to have always wanted to be a photographer. I was lucky to grow up in a creative background which meant, unlike a lot of people, when I decided to follow a career as a creative, I was supported and had expertise to draw from. I studied photography at Norwich School of Art and Design in the United Kingdom, which is a highly regarded art school.
Amongst other things, being surrounded by a number of aspiring professionals gives you the chance to learn from each other's mistakes and generally become less precious and more self-critical. These are essential and I think underrated skills as the client will often not tell you why they are not happy; they just won't hire you again. Also, in the digital age, the ability to quickly determine which is the best shot and not waste time on inferior shots is crucial.
While producing your time-lapse videos, what ideas, emotions, feelings, were you trying to capture for each city? In particular, what inspired you to employ the time-lapse technique as opposed to a more traditional video approach? Can you walk us through your production process?
I am a photographer at heart. Time-lapse sits in something of a gray area that is neither photography, nor is it video. Additionally there are a number of technical advantages to working with a sequence of stills rather than raw video that make a lot of the creative shots in my videos possible. More generally, the thing I love about time-lapse is its ability to reveal broader systems. On the ground, cities often seem chaotic with people and machines rushing around and a huge diversity of life in front of you. However, looking at the same scene from a higher angle — and, crucially, viewing over a period of time — enables you to see the patterns and greater systems at work. What seemed to be chaos on the ground starts to make sense. With my latest video, This is Shanghai, I wanted to juxtapose these elements by transitioning seamlessly between the micro and the macro taking the viewer from the top of a building and down to street level.
What Asian cities are next on your list?
Too many cities, so little time. I'd hate to rule anything out. Provisionally I'm hoping to do some exploring around China. To date, I've only seen Shanghai, and it's such a vast country. But really there are so many places I'd love to visit and attempt to capture in Asia —  there are lots to choose from.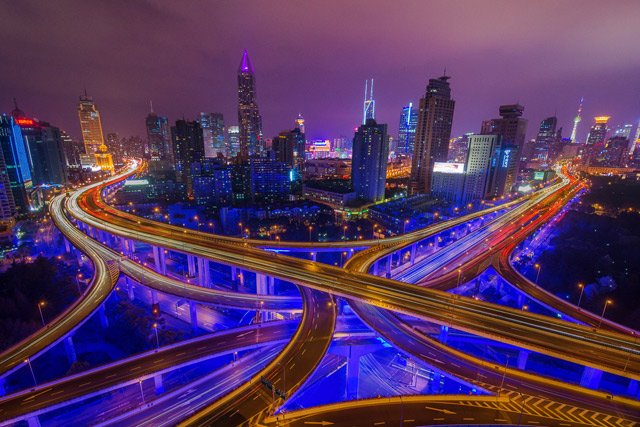 A still of the 'This is Shanghai' time-lapse. (Rob Whitworth)