Interview: Sunada Mami on Filming Her Father's Final Days [Images/Video]
Sunada Mami's directorial debut Death of a Japanese Salesman (2011), which will open Asia Society New York's new series Extreme Private Ethos: Japanese Documentaries on March 10, follows the last few months of the life of the filmmaker's father, Sunada Tomoaki. A typical hardworking Japanese salary man, the elder Sunada loyally served the same company for some 40 years. Upon retirement, he was diagnosed with terminal cancer and told he only had a few months left to live.
In this film, we see the elder Sunada, a pragmatic man all his life, quickly put together an inventory of tasks to accomplish before his final departure. From playing with his grandchildren, bidding farewell to his elderly mother, making funeral arrangements, to compiling a list of friends to inform of his own death, Sunada leaves no detail unattended.
Filmmaker Sunada, who studied documentary filmmaking at Keio University and has been shooting home videos since she was a teenager, made this tender tribute to her father after his passing. In an unflappable and consistent voice-over, she speaks in first person as her father. Like father, like daughter, the filmmaker channels the same can-do spirit in this poetic personal essay. The result is a touching and yet unsentimental film that is as dignified and composed as her father. Having worked as an assistant to acclaimed director Kore-eda Hirokazu (Still Walking, 2008; Air Doll, 2009), who has explored themes of memory and death extensively in his films, Sunada exudes extraordinary maturity and grace in this personal material.
Asia Blog spoke to Sunada Mami via email.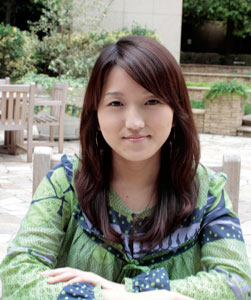 Sunada Mami
I understand that you have been making home videos for personal use for a long time. How did Death of a Japanese Salesman become a feature length documentary that's screened publicly?
Three months after my father passed away, I wanted to organize all my feelings about what had happened, so I started editing the footage I had filmed up until then. I put it all together into a single piece, and then showed it to Director Kore-eda Hirokazu, who I am an assistant to. It's because he liked it that it subsequently became a publicly screened film.
It is very interesting that in the film you speak in first person as your father in a voice over. How did you decide to do that?
When I originally started making the film, it was mainly for myself. Even then, I think I was conscious of the "other" from the beginning. In other words, will people other than me enjoy the film while they watch it, and at the end of the film, will they share the feeling I was trying to touch upon? For it to be a universally accessible story, I needed my father to become a story teller. Originally, I had offered the voice role of my father to an actor. When this actor suddenly became ill prior to recording, I was faced with either finding another actor or else playing the part myself. That's when I decided to do it. It was a very difficult decision, but I thought that, as his daughter and as a woman, my performing the role would make the fictional element of "the dead man's voice" very explicit, and also add a vague and unique sense of humor to the piece.
The film is extremely personal and deals with the passing of your father. How did you maintain such a calm composure throughout the film?
During the filming there were two of me, daughter and filmmaker, and I was able to change roles as naturally and easily as flipping a switch. In fact, strictly speaking, the two of us seemed to coexist without any need to change from one to the other. During the editing process, I became more conscious of myself as a director. At the same time, I was able to feel connected to my father in a way which softened my sadness. So there were no difficulties in this area.
You worked under the acclaimed director Kore-eda Hirokazu (Air Doll, 2009; Still Walking, 2008; Nobody Knows, 2004) on several of his films. Did he influence your work?
I can't even count the influences he imparted on me. The talent and effort needed to get an original script to become a movie, the charisma needed to be at the helm of a large number of staff and a global fan base — he's my number one film teacher. But he's also my boss, so I still get scolded by him all the time.
Death of a Japanese Salesman did very well in Japan and is considered one of the best Japanese films of 2011. As a directorial debut, it's a big accomplishment. How do you feel about it and what are your plans for the future?
I feel so lucky.  All the people who watched the film in Japan as well as the warm reactions it has received from overseas film festivals have given me the most valuable nourishment. By chance, my debut piece has become a somewhat unusual documentary, but I hope to continue making films that deeply explore the human experience.
Interview translated by Michael McAteer. Hanqing Chen also contributed to this report.
Watch the trailer for Death of a Japanese Salesman (in Japanese):