Interview: Sudarsan Raghavan on Afghanistan's 'Pivotal Transformations'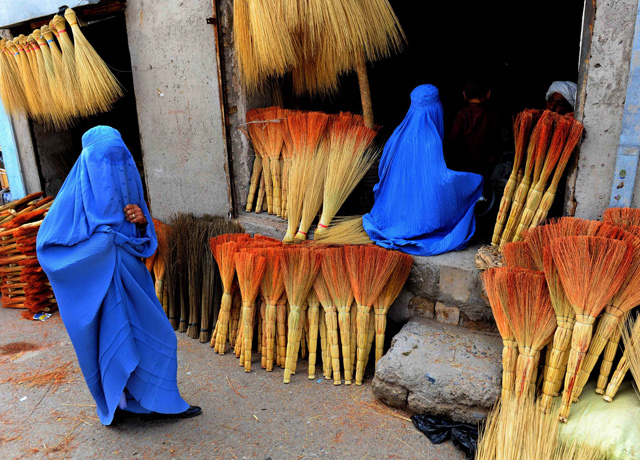 Afghan shoppers look for brooms at a roadside shop in Herat on April 9, 2014. (Aref Karimi/AFP/Getty Images)
For a year beginning in late 2014, Sudarsan Raghavan wrote a series of dispatches from Afghanistan for the Washington Post that, through their examination of daily life in the country, transcended conventional stories of war, poverty, and instability. In one particularly memorable article, Raghavan profiled Sara Bahayi, Afghanistan's only female taxi driver; in another, he explained how years of occupation has left a large American cultural footprint in cities like Kabul.
In recognition of his exemplary reporting from Afghanistan, Asia Society last month awarded Raghavan with its 2016 Osborn Elliott Prize, an honor recognizing excellent reporting on Asia. On Thursday, Raghavan — now the Post's Cairo bureau chief — will appear in conversation with Marcus Brauchli, the Jury Chair for the Oz Elliott Prize and a veteran journalist, and John Hockenberry, host of The Takeaway for PRI and WYNC, at Asia Society in New York.
Asia Blog recently caught up with Raghavan to talk about the challenge of reporting in Afghanistan, the resilience of the Taliban and why, despite the country's struggles, he remains optimistic about its future. The conversation has been lightly edited for clarity.
Your dispatches from Afghanistan go beyond military battles and political intrigue and get into daily life in the country. What was the most challenging aspect of reporting in Afghanistan?
The most challenging aspect is getting to the epicenter of the story. With the Taliban controlling or present in more areas now than at any time since 2001, it's become increasingly dangerous and risky to travel outside Kabul. And with most U.S. troops departed, the availability of military embeds — which most Western journalists once relied on for reaching remote areas — has drastically shrunk.
Trips outside Kabul required careful, often extensive, planning and research. It meant cultivating trustworthy tribal elders, as well as Afghan military commanders and officials, to help get into certain areas. It also required at times passing through or near Taliban and ISIS areas. In Helmand Province, for example, the Taliban were literally walking distance away from many frontline positions I visited. Whenever I traveled, I wore an Afghan salwar kameez to help blend into the landscape.
The reporting, I believe, was worth the risk. It was essential to uncovering the truth unfolding on the ground, to portraying the daily struggles of ordinary Afghans and giving them a voice.
What surprised you the most from your time in the country? What's something that a typical newspaper reader in the United States may not realize about Afghanistan?
Good question. I was surprised by the extent to which urban Afghans were influenced by American culture. It's quite normal to hear anti-American sentiments, and the collective sense among Afghans is that they've not benefited from the tens of billions spent by the United States to improve their lives. Still, I've met Afghan teens into skateboarding, Afghan rappers who love Eminem. There's a George Bush Market (named after "W") where you can buy wrap-around Oakley sunglasses. There are even regular Texas hold-em poker games run by Afghans in Kabul!
I was also surprised by how organized and vocal Afghans have become, especially the long-oppressed Hazara ethnic minority. It's not uncommon these days to see massive protests in the streets against government policies and alleged abuses. But I remember visiting Afghanistan when the Taliban emerged in the mid-1990s, and again after the 9/11 attacks and the 2004 elections, and they were quite subdued compared to these days.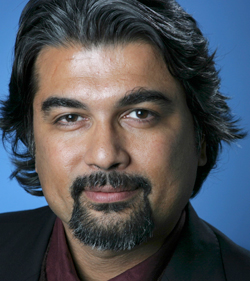 Sudarsan Raghavan
Has the 15-year presence of the U.S. Military — as well as billions of dollars in reconstruction and aid — had a positive effect on the country? Is Afghanistan at all a better place now than 2001?
It's a mixed picture, leaning more to the negative than positive. Speak to the average Afghan, and he or she will tell you that they have seen little impact on their lives from America's billions in reconstruction and aid. Instead, the common refrain is that much of the money has been wasted or stolen by corrupt officials and contractors. And there's much truth to this. Just look at the scores of reports from the Special Inspector General for Afghanistan Reconstruction, the U.S. government's watchdog agency, which details the immense extent to which U.S. taxpayer dollars have been misspent in Afghanistan.
Many Afghans still remember with fondness the days of the Soviet occupation of the 1980s. That's because the Soviets built apartment complexes, factories, universities, and other buildings that still stand today and are used by countless Afghans. The American intervention, many Afghans believe, will not leave anything of much permanence, at least visibly. However, there has been at least one positive impact of American aid: a vibrant, free Afghan media. In 2001, when the Taliban regime was toppled, there was no independent media. Today, there are hundreds of print, TV, and radio outlets across the country. The vast majority were initially funded by U.S. aid, and continue to be supported today.
American aid officials consider the independent press to be among, if the not the most, significant legacy that the United States will leave behind. But even this achievement is under threat. Both the Taliban and the government are increasingly targeting Afghanistan's journalists. Many have fled the country or have decided to censor themselves. And as the U.S. departs, the money to fund journalism is shrinking. Most of these media outlets are unlikely to survive, unless they find other sources of funding.
What do you think most accounts for the resilience of the Taliban?
I think Pakistan has provided the Afghan Taliban with the sanctuary and support that allows them to be resilient. It's no surprise that Taliban leader Mullah Mansour was allegedly killed by a U.S. drone strike inside the Baluchistan region of Pakistan. Secondly, the Afghan security forces, riddled with corruption and low morale, has struggled to fight the Taliban. That has allowed the Taliban to launch successful offensives and seize areas. Today, the insurgents are showing a battle discipline and initiative far superior than the U.S.-trained and equipped Afghan forces. The militants are also well-funded, deriving revenues from opium cultivation and smuggling, as well as marble and gemstone mining and exacting taxes in areas they control. The Afghan central government's constant infighting also helps the Taliban survive.
Is there an optimistic case for Afghanistan?
Afghanistan has long been an important part of my adult life. I wrote my first-ever story — on Afghan war orphans — when I was working for a French NGO in Peshawar. That was in 1992, and since then I've been making repeated trips back to the country, covering all its pivotal transformations. So I want to believe that one day Afghanistan will become peaceful again. I want to feel optimism. But every time I return, I see new players — and old ones — seeking power and wealth, driven by tribal and regional loyalties with little care for the nation. And by now, 24 years since I first wrote that story, I have met several generations of ordinary Afghans shattered by war, corruption, and poor leadership.
At the same time, I've met incredible Afghans who are struggling to improve their lives against all odds, like the country's only female taxi driver in Mazar-e-Sharif. I've met young Afghans educated in the U.S. and Europe who are now back in their homeland trying to make a difference. I've met countless others with big dreams. As long as such Afghans continue to believe in themselves and work towards improving their country, there will always be hope for Afghanistan.