Interview: Singer-Composer Finds the 'Sublime' in Straying Beyond Musical Boundaries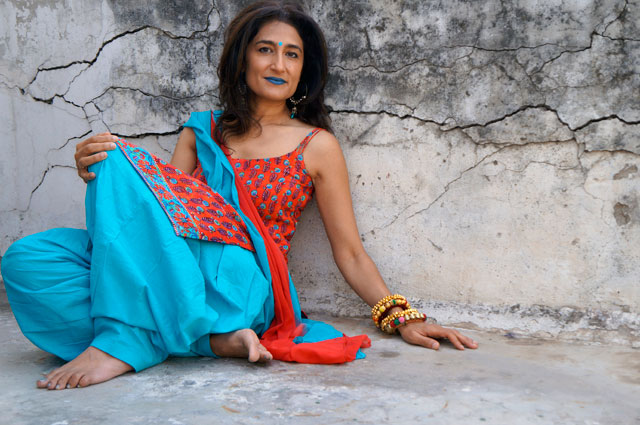 Kiran Ahluwalia. (Sahiba Kaur Chawla)
A virtual one-woman musical genre descends on downtown Brooklyn this Saturday, February 21, when singer and composer Kiran Ahluwalia brings her hypnotic, one-of-a-kind synthesis of South Asian, Saharan, and contemporary sounds to the venerable new-music venue Roulette. The concert is a release event for Ahluwalia's sixth album, Sanata: Stillness, which extends and deepens the artist's engagement with the Tuareg culture of northern Africa, and further demonstrates her gift for finding affinities between the ghazal and Indian classical traditions in which she is rooted with other styles from around the world.
Born in India, raised in Canada, and currently a resident of New York City, Ahulwalia has won two JUNO Awards, Canada's equivalent of the Grammy, for earlier albums. Onstage at Roulette, she'll be joined by her "musical and marital partner," guitarist Rez Abbasi; Nitin Mitta on tabla; Will Holshouser on accordion; and Mamadou Ba on electric bass. The concert is a co-presentation between Robert Browning Associates and Asia Society.
Ahead of the performance, Asia Blog caught up with the singer via email to discuss influences, inspirations, and the once-in-a-lifetime experience of shooting a music video on the Ganges River.
Your concert at Roulette on February 21 is being subtitled "Indian Music: Roots and Revolution." Can you describe how both those two R-words relate to what you do, onstage and in the studio?
Roots refers to my musical background — I'm trained in Indian classical music and ghazal, a form of Urdu poetry and song. Revolution reflects the fact that I don't stay inside the boundaries of my learned disciplines. I fell deep in love with music from the African Sahara — Tuareg guitar-centric desert blues and for my last two albums I have been doing a hybrid Indo-Saharan music — with a strong contemporary edge.
More than many performers who receive the "world music" label, you embody what might be called a genuinely global sound. How do you know when you're fully ready to absorb a new style, a new influence, into your own work?
I'm not concerned with the right or wrong of any genre — what concerns me is aesthetic. When I hear something I love and just can't get it out of my mind, then I figure out ways to work with it. It's a matter of trial and error — of composing and playing and then going back and making changes — until I have what I was looking for.
When you combine musics from different cultures there are no blueprints, so you have to figure things out from scratch. But when you do — when things click and you get that certain delight from what you're doing — it's a truly sublime feeling.
Sanata: Stillness further develops your fascination with the music of the Tuareg nomads of the Saharan region. For those of us who might not be familiar with that music, can you try to describe what it is that you respond to in it?
It makes me feel joy and soothes the restlessness. More specifically, I like the groove; it's slow and trance-y. Rhythm is probably also what first attracted me to ghazals — their slow lilting rhythm. The beauty of both Tuareg blues and ghazal is that I can feel that they are both coming from a time when there was no hurry — when there weren't cell phones — when ASAP didn't exist. Phrases from both these musics are often like clocks lazing about in a surreal Dali painting.
Your new album includes covers of two classic qawwallis, "Jhoom" and "Lament," the latter of which was sung by Nusrat Fateh Ali Khan. Do you approach a traditional South Asian style like the qawwali differently, now, after all your musical peregrinations?
Yes. I approach them in the same way that I approach my own compositions — figuring out how I can inject what I love from desert blues and from my own contemporary aesthetic.
Qawwali having been traditionally a male form, do you feel your singing these songs alters or expands the meaning in any way?
As a child I went to concerts of female qawwali singers, so I never really thought of it as a male-only domain.
Last but not least: the striking video for "Hayat," the lead track on the new album, was shot on the Ganges River in Varanasi. How difficult is it to shoot a music video there?
Difficult does not even start to describe our hurdles — I can fill three pages with all the "difficulties." The video is nothing short of a miracle. On the day before, flying from Mumbai to Varanasi, I developed an allergic reaction to mosquito bites. I had red bumpy dots all over my face and whole body. Those red spots didn't leave until two weeks after the shoot was over. Miraculously I had a wonderful French makeup artist — if I look closely I can kind of see the dots, but I don't think anyone else can.
We were a crew of seven and were about to shoot and live on a houseboat. As we started to load our gear on the boat we found out that the captain had, on his own initiative, hired a Hindu pundit to bless the auspicious occasion of the Kiran Ahluwalia video — and he was going to be yet another additional person traveling with us for three days on our tiny little houseboat. The pundit started doing a prayer ceremony and I do not know how, but one of our cameraman caught it on tape and there it is in the beginning of the video, a snippet of the actual prayer to bless the video shoot, with marigold flowers in the shape of a heart.
The interior cabin on the boat was so tiny that we couldn't ever stand up — for three days we walked through the cabin half bent-over and bumping our head every two minutes. We also dealt with: suicidal moths that stormed around us, an electrical generator dating back to the 1800s Mughal dynasty which blew out all our camera batteries, sun stroke, dietary sickness, inhaling too much sand during the sand storm.
I could go on. But I'll say this — thank God the priest said prayers before we started, because we ended up with a beautifully shot video and an amazing experience regardless.
Watch: Kiran Ahluwalia performs "Hayat," from the album Sanata: Stillness