Interview: Saxophonist Rudresh Mahanthappa on Charlie Parker, Ravi Shankar, and the Other F-Word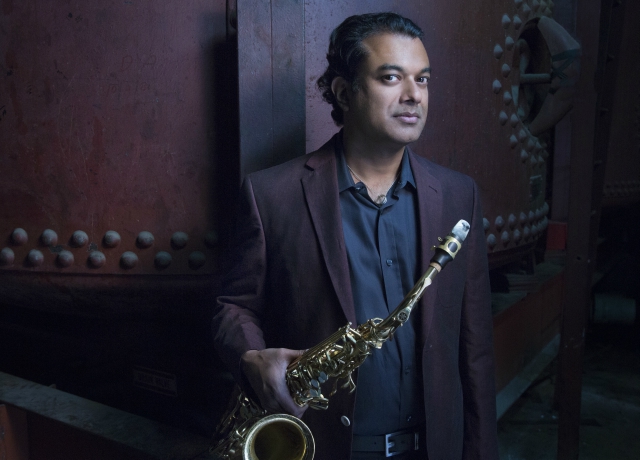 Rudresh Mahanthappa (Jimmy Katz)
The alto saxophonist Rudresh Mahanthappa, born to immigrant parents from India and raised in Colorado, has built an enthusiastic following in the jazz world through perfecting an eclectic mix of Western and South Asian traditions. His most recent release, 2015's Bird Calls, was inspired by the music of jazz great Charlie Parker but is mainly notable for the saxophonist's virtuosity; as the Atlantic's David Graham advised, "forget the original source material and focus on what Mahanthappa does with it." Bird Calls was named the #1 album of the year by both Downbeat and NPR Music's Jazz Critics Poll. 
Asia Blog caught up with Mahanthappa recently to discuss his upbringing, Charlie Parker's influence, and why Ravi Shankar's appearance at Woodstock was both the "best and worst" thing to ever happen to ever happen to Indian music.
Your most recent album, Bird Calls, is an homage to Charlie Parker. What about Parker inspired you to launch this project? 
Charlie Parker was a major force in my choice to make a life in music. When I started playing saxophone in the 4th grade, my entry point into jazz was through instrumental soul and R&B such as Grover Washington Jr., David Sanborn, et al. That music sounded more similar to what was on Top 40 radio than mainstream jazz. Once I heard Charlie Parker, there was no going back. His charisma, virtuosity, fluidity, humor, energy, and myriad other aspects were mind-blowing, to say the very least.
It's important to note that while the bulk of his work occurred in the 1940s and 50s, so much of the music that came after would not have been possible without him. His influence and scope is indelible. The gifts that he left us are timeless.

Why did you use Parker's music to inspire your own rather than cover his songs directly?
I think that the most effective way to honor the work of a master is to show what has been learned and expanded upon, rather than imitate or regurgitate. Each composition on Bird Calls is tied to a specific composition or solo of Parker. It's more meaningful to demonstrate his presence as a contemporary force rather than a historical figure.
Much of your music blends together South Asian traditions, such as Carnatic music, with jazz. Why do you think the two idioms go together so well?
Jazz and Carnatic music inherently bear both the act of improvisation and rhythmic propulsion. Though these traits occur quite differently, there are through lines that can be harnessed to create music that defies genre. Having said that, the avoidance of exoticism is imperative in synthesizing culturally specific art forms. "Fusion" can loom large as the "F" word if one is not careful.
You've said that Ravi Shankar's appearance at Woodstock was the "best and worst thing" that ever happened to Indian music. Has it been difficult to shift Western perceptions of South Asian music from its mystical, exotic reputation?
While the Indian-American population grows and the presence of Indian culture in the West is more commonly embraced, the dated notions of exoticism are certainly receding. The ties of Indian music to hippie culture and drug use are not so present in younger generations. My battles as a youth were more around dissipating the idea that I am automatically an expert on Indian culture (music, food, etc.), an ambassador of sorts. Too much pressure for a teenager without a doubt! The distinction between North and South India seems to be better known in the West nowadays as well. Fewer people expect me to make them naan and chicken tikka when they come over for dinner. Thank god! 
Most importantly, there's is a stronger sense of home for Indian-American identity in general within the fabric of America's multicultural landscape. We are everywhere and we are engaged in career paths and missions that were often previously considered "non-traditional." I think my generation of Indian-Americans have made that possible for the many that have followed.
The popularity of Kamasi Washington's album, among other high-profile releases, has led some to proclaim that we're enjoying a revival for jazz. Is this your sense as well?
I try to avoid looking at my work in that light. If there's a revival for jazz then so be it. I'm not sure what effect that has on me, if any. I spent the early years of my career as an outlier, "that Indian alto saxophonist." It's more recently that I feel accepted as part of a greater jazz community. In the meantime, I have been developing an audience for my music that (ideally) does not hinge on jazz trends or tastes. I'm more concerned with a direct-to-fan sort of relationship in which I'm reaching interested folks who love good music. There's a sector of my audience that may not even be jazz fans and may not event think of what I do as being jazz at all. For me, that's as positive a scenario as a resurgence of an interest in jazz.
In the below video, watch clips of Mahanthappa's 2007 performance with the Kinsmen group at Asia Society.