Interview: Ryan Pyle, an 'Anthropologist With a Camera' in China [Photos]
Shanghai-based freelance photographer (and record-breaking motorcyclist) Ryan Pyle has been covering China since 2002 for The New York Times and many other publications. The gallery above features a selection of his stunning black and white photos on a wide range of topics, from the bird flu outbreak to the earthquake in Sichuan Province to the people of Xinjiang, who he has documented for six years with a book to be released at the end of the year.
Asia Blog spoke to Pyle via email.
What inspired you to move to China and what has kept you there?
After taking a few courses on Chinese history and politics at the University of Toronto, I developed a curiosity about the country that was always lingering just below the surface of my consciousness. But I was never able to act on it. Once I completed my degree in May 2001, I had saved up enough money to make my maiden journey to China, thinking that it would fulfill me with the challenges I was looking for. Needless to say, I was inspired by China immediately. Its sheer size, complexity and culture intrigued me. The atmosphere, the air, the smells the colors — life in China was completely different than anything I had ever been confronted with. It was exactly what I was looking for.
My photography career developed in a very unorthodox way. I really didn't have much of an interest in photography growing up and I never formally studied how to be a photographer. But when I made my first trip to China I was mesmerized by how visual the country is, so much so that it inspired me to pick up a camera and start making images. After a few years, I was able to start working for some of the major publications and build a career out of my passion for image making. It was very much China, and my early experiences exploring the country, that helped build my desire and passion for image making and documentation.
I feel very lucky to have found a subject matter that inspired me so much at such an early age, and I believe that has been the largest factor in shaping my career to this day. As for what keeps me here, my initial 90-day trip to China was almost exactly 10 years ago, and I'm proud to say that I'm still obsessed with exploring and understanding China and all it's complexities. China is an ever-changing place and I'm addicted to learning about how the country is changing and analyzing the positives and negatives associated with that change. I could be here forever.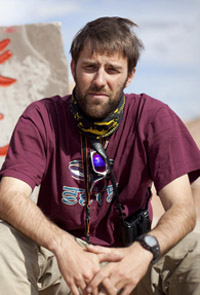 Ryan Pyle
What was your initial perception of China, its people and issues? Looking back, how have your views changed?
I think when I first arrived in China I was pretty naive about the world in general. Sure, I had a university degree but that doesn't mean anything on the ground. The biggest problem was that I hadn't traveled around much and didn't have anything to compare China with, apart from my experiences in Canada growing up. But after a decade of living in China, and a decade of exploring other parts of the world from Central Asia to the Middle East, I now have a deeper understanding of the world and I feel like I have a greater understanding of how China fits into it all. My views on China have changed a lot since I've been here. In the early days my views were very much built up on what I read in the western media. Ten years on, my experiences are mainly based on my first hand experiences traveling in the country and speaking with people, as well as my interactions with Chinese friends and business partners. I would say my views on China are much different than what you read in the news media. How different exactly? Well, there isn't enough space for that here.
What challenges do you face as a photojournalist in China?
I don't see myself as a photojournalist. I would classify myself as a photographer. It's true that I work for a lot of newspapers and magazines but I think most of my time is spent working on longer term documentary issues that don't have any immediate journalistic importance. I see myself more as an anthropologist with a camera. As for challenges, there are few. China is much more open and easy to navigate than it was 10 years ago and people are much more receptive to interacting with foreign visitors like myself.
What kinds of stories have you covered? What was your favorite and why?
I have covered a lot of news stories, from the outbreak of bird flu and the horrific Sichuan earthquake, but I would have to say my favorite body of work is my six-year project that I've been working on about the people of Xinjiang in northwest China. The mainly Muslim region is home to a wide variety of ethnicities and it's an incredibly diverse place. The entire body of work has been shot in black and white film and on range finder cameras. It's been my soul food really, and my book on this topic will be published later this year.
I much prefer looking at peoples and issues long term and working slowing in film than running about with a digital camera and filing the same day. The stories and people of China are complex and can rarely be understood by visiting somewhere for a few hours and filing the same day, but due to budget constraints this is how many magazines and newspapers derive their content these days. Much is being missed.