Interview: Philippines Social Entrepreneur Illac Diaz Listens to, and Learns from, Local Talent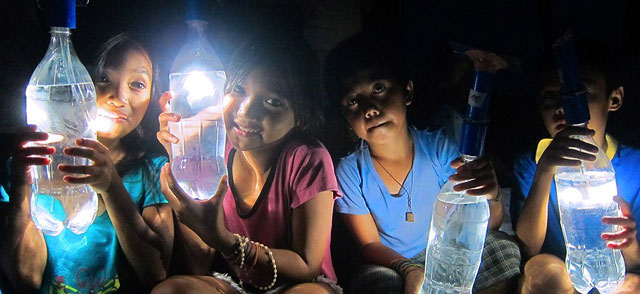 Filipino children holding the recycled plastic bottle lamps designed and circulated by Illac Diaz's Liter of Light Foundation. (Liter of Light)
Asia Society Northern California's December 10 panel discussion, "Resilience by Design: Post-Disaster Innovations from Asia," will feature hands-on, practical architecture and product designs that have emerged in the wake of natural disasters (such as Typhoon Haiyan in the Philippines) and proven effective in providing temporary shelter and solutions to disruptions in public services. These on-the-ground solutions are helping displaced communities, especially those in developing countries, "build back better."
A featured speaker at the December 10 event is Filipino social entrepreneur Illac Diaz, whose Liter of Light project brings eco-friendly, recycled plastic bottle bottle lights to communities living without access to electricity. After its initial success in the Philippines, Liter of Light has expanded to more than a dozen countries around the world; earlier this fall, Asia Society named Diaz one of its 2014 Asia Game Changers of the Year for "bringing light, literally, to so many lives."
In 2008, Diaz was named a "Young Global Leader of 2008" by the World Economic Forum. In addition to Liter of Light, he is the founder of the MyShelter Foundation, which has funded projects to construct classrooms and houses in Negro Occidental, and the Pier One Seafarer's Dormitory (a lodging place for Filipino seafarers) in Intramuros, Manila, and CentroMigrante, a build-for-stay system where tenants are able to stay in a compound in exchange for their labor. Diaz attended the CalEarth institute in California to study under world-famous Iranian architect Nader Khalili, and today he is also a Professor at Open Online Academy.
Asia Society Northern California reached out to Diaz ahead of the December 10 panel for insights into Liter of Light and his advice for aspiring social entrepreneurs.
---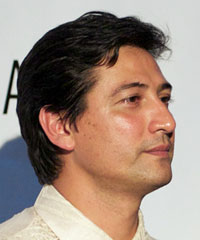 Illac Diaz
What was your inspiration behind the Liter of Light project? How, if at all, has your vision changed since you first started the project, and why?
The project began in the middle of one of the strongest typhoons in the Philippines in 2006. I was trapped with other graduate students in a hotel in the Philippines. The storm had blown the roof and all of the windows off of the hotel, and with electric poles toppled, we lived in darkness for days. We experienced difficulty in obtaining food, water, and medicine, but most impressionable to me was the lack of light. I was inspired to find a way to get sustainable lighting within 72 hours to brighten the streets and homes of communities hit by natural disasters when supplies like candles and batteries dwindle, and try to get better lighting than kerosene lamps. We determined solar power was the best solution, but there were hurdles to build these locally and inexpensively. The Liter of Light is a combination of Alfredo Moser's daylight and the social business of LED nighttime upgrade.
What regions of the world have you not yet been able to reach with your Liter of Light? How do you plan on reaching these communities?
Liter of Light is more about transferring skills to build solar lights than distributing a number of lamps. Off-the-shelf solar lights have limits in the fact that the product has a lifespan of two years, and then when batteries or parts fail, it is thrown away and the process starts all over again. We are now in 15 countries. There are still regions in the Pacific islands, Africa, and South America that we would like to reach but that are geographically challenging to reach. Our solution is to send over the parts list and manual, and ship in what's missing.
A crucial component of our project is access. I have always been inspired by the story of Jonas Salk and his polio vaccine. He did not patent his discovery because he wished to see the vaccine disseminated as widely as possible. Today the terrible disease is almost eradicated in the world. Open-sourcing skills through movements like ours and using the crowdsourcing generosity of people helps us at Liter of Light fight the plight of billions of people living in darkness.
Just bringing solar lights into developing countries without teaching the skills to repair them and the know-how to build them is useless. Such projects are designed to fail because under such a business model, new solar lights need to be bought. I prefer that these solar lights be built and assembled locally.
How are you currently educating the community with respect to this technology — and how are you leveraging the power of the internet and social media networks to open-source the project?
We utilize the internet, Facebook, Skype, and YouTube to provide demonstrations of how to make the light bottle yourself. As LED and small solar panels become more available locally, lights can be built within a day of finding our tutorial online, even in impoverished communities facing dire energy poverty.
The internet has empowered the nonprofit community to reach out more than ever before to broader populations. The challenge is how to use the internet for more than just transactional purposes, for just spreading awareness or for getting people to click "like." The goal is to go beyond just "giving a man a fish" or even "teaching a man to fish," but changing the entire game by transferring green technology and getting solutions online.
What is the most valuable lesson you've learned in the field that you can share with aspiring social entrepreneurs?
The purest form of charity is to make yourself obsolete and to understand the genius of the poor. By listening, I learned there is so much to learn from those who need the product you are creating. Once they understand how it works, you will be surprised by how many things they will tinker [with] to make it better. This is why I think it's a wise thing to develop the solution by speaking to the community about the problem you are trying to solve, as you might discover they may know better.
Change can only happen with a catalyst to drive development; without which, it stops and waits for the next visit. Change comes with solutions that develop local skills and available resources. Change comes when solutions that improve local livelihood can be built — like constructions for rural classrooms that employ local laborers who can actually see the difference on the ground. It's even better if it is something that empowers young people who are looking for a way to make a difference. We only look to big agencies and government to solve our big problems, but leave out a huge segment of the population. We need to tap into the rest of the community. People expect solutions to be brought in by trucks and applied only by specialists.
Of course this is not a blanket statement, but there are solutions that can be done now by combining what two human hands can do, multiplied by millions of those willing to help with time and skill. This can be an untapped force for good.
The UN has announced that 2015 is the International Year of Light. Your Liter of Light technology has changed since its initial design to include a solar panel and an LED light. Are there any significant changes or plans to improve your technology for this upcoming year?
In 2015, the UN International Year of Light, our approach is two-fold. First, we aim to light villages with streetlights and lamps by sending a simple kit with instructions and supplies. Secondly, we will customize and specialize products and designs especially for each country or region. We want to light a village in as many countries as possible. Imagine getting young people to have the power to light streets in a village and inside the homes with open-source solar. Community members can do this with a solar bottle, and using local electrical parts and with one watt or more energy — enough to light a home or even a road.
From one village, to one province, to a nation, then maybe to the whole world.