Interview: Pakistan's First Woman Cartoonist Shapes Young Minds, and Society
ISLAMABAD — This year Nigar Nazar, the first professional woman cartoonist in Pakistan and, quite possibly, the Muslim world, was named one of the 100 Women of 2014 by the BBC.
Nazar began her career in the early 1970s, and her cartoon character Gogi has not only been published widely within Pakistan, in an assortment of newspapers and magazines over the years, but has also appeared overseas (in Turkey and Libya, for instance) and been translated into a host of different languages.
With her short bob, long eyelashes, cute polka-dot attire, and upbeat personality, Gogi has continued to represent the urban, emancipated Pakistani woman living in a male-dominated society. From comic strips to animation, live cartoon demonstrations, and workshops on television and in educational institutions (both public and private), and series of books that touch upon women's rights, anti-corruption, suicide bombing, domestic abuse, environment, religious tolerance, among other topics, Nazar, under the banner of Gogi Studios, stands as an activist who uses her art to educate and create awareness at the grassroots level in Pakistan.
In the following interview with Asia Society, Nazar speaks about Gogi's evolution from light subjects to comics that touch upon pressing issues, a series of in-the-pipeline Gogi Studios books, and the importance of murals with a message in local hospitals.
Is it true you gave up a pre-med degree for Fine Arts?
Yes, that's true. I took a U-turn! I always wanted to draw, even in my botany and biology classes, and was always volunteering to draw diagrams in journals for my whole class. I was discovered by my teacher, who'd said, How come all these journals have a similar diagram? What's happening here?! So I was caught!
I always liked drawing and wanted to draw — but I guess I was pretty good at my studies, so the teachers and my parents thought it'd be nice for me to become a doctor. But when I went further into the degree, that's when I decided I should bunk my classes and go into the Fine Arts department and have some fun! But I was the monitor in the class in the science department and after weeks of being absent I was finally caught red-handed by my teachers.
How did the Gogi comic strip come into being, and how did you envision it initially? Did you want Gogi to be a voice for Pakistani women?
The serious part came much later, but in the beginning, when I was working on her, I really used to miss reading comics and comic strips which were home-grown. I was reading Archie and other imported comic books and comic strips in the newspaper and I said,  well, if no one's doing it, then I will. So when I graduated in Fine Arts and English Literature, I followed my parents to Karachi and decided that I wanted to take up a course in Comic Art. But at the time there was no such academy or college that catered to the subject.
So I approached Ali Imam, the Principal at the Institute of Arts and Crafts (which was in the Karachi Arts Council building), and told him that I wanted to draw cartoons and he said, Young lady, we don't have that here, but attend the classes and draw whatever you like. I had this strong desire to draw cartoons, so I just kept doing it.
How did Gogi pop into your head? Her look, the content of the strips…
There was a sculpture of a girl in the sculpture department that had the hairstyle of Gogi. So I picked that from there, the long eyelashes from somewhere else, bits and bobs from here and there. I knew she had to be a young woman. She was kind of my alter ego and I drew her the way perhaps I wanted to be and look!
How has Gogi grown from just a comic strip to a movement of sorts over the years?
In the beginning it was all fun and frolic. Back then a new local newspaper, the Sun Daily, approached Ali Imam for comic strips and he told them about me. That was when I first got published — those were the fun and frolic days. The cartoons were about everyday life, things that young ladies and teenagers talk about.
So was it then an organic process, Gogi's transition from fun and frolic to social issues?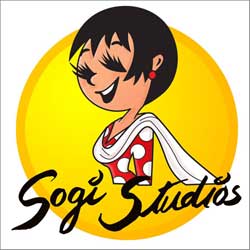 Well, with time, when you mature, you notice things around you that bug you; you feel that the issues need to be commented upon through your work. So it became something more serious with more insight. That's when Gogi became more than just a comic strip.
But see, my biggest hurdle was my location — being a diplomat's wife, I would keep changing locations. It wasn't easy. For example, when we were in Australia, I drew a comic strip with a summer theme and the newspaper I sent it to in Pakistan responded with: But it's winter here! Oops!
Did you feel a level of disconnection from Pakistan when you were traveling with your family?
A lot. A lot! I would just become a begum and all I wanted to do was draw cartoons! So when I would come back to Pakistan, instead of reconnecting with friends and family, I would reconnect with my work and go hyper! I'd enjoy it so much…
What hurdles did you initially face in establishing yourself as a female Pakistani cartoonist?
Locally, I remember it wasn't very hard in the first 10 years or so, my cartoons were published in DAWN, in local magazines called Mirror, Teenager — lots of magazines and newspapers, lots! And then I went into television, where I would draw cartoons live ... so that was fun. I would write the stories and draw the stories; I would even create sound effects, such as dropping a clay pot! It was so much fun.
Does Gogi ever get married?
Well! That's a question I'd like my readers to be thinking about! Gogi does have a live-in cousin who's finishing his medical studies but he's a different breed in the sense that he never has money and Gogi's always paying for the restaurant bills! He's borrowing money from her all the time. They have a bit of a love-hate situation, they have their moments. But no, she's not married.
But the door is open, right?
Yeah!
In your opinion, how can cartoons with a social bent make a difference? Can the medium shape young minds, and in turn, shape society?
Oh yeah. Cartoons can have a huge impact. That's what I'm planning to do. If you have a following, then your character can be very effective in giving messages. But even though my kids are always telling me that cartoons should be pure entertainment, I tell them I'd love to do that from time to time, but look, issues are always cropping up that need to be commented on.
What is Gogi Studios currently up to?
Oh, we've got lots of things in the pipeline! First and foremost I am expanding my base — I'm giving a course at the National University of Sciences and Technology (NUST) to all and sundry who are interested in drawing cartoons leading to animation. The class is called Introduction to Cartooning.
Apart from that I have five books in the pipeline. The dummies of four books are ready — they are on my favorite subject — the environment. We have this character called Bubloo; Bubloo's a naughty boy who loves to eat, so there's a Bubloo book series and then there's an interactive workbook for kids who don't know enough about Pakistan. I've also prepared a dummy for a book on manners!
What do you envision for Gogi Studios in the imminent future?
I would like all the local public and private hospitals to have lovely cartoon-y murals up in their hospitals. By the way, we have our murals up in four hospitals in Islamabad and Rawalpindi. For example, the Pakistan Institute of Medical Sciences (PIMS), the biggest children's hospital here, has 22 Gogi murals! Then the Psychiatric Department in the Central Government Hospital on Murree Road has five of our huge murals on how parents should care for their children with psychological ailments.
When I visit these hospitals I ask the doctors, Wouldn't it be nice to build awareness through murals? So for those sitting in the waiting areas, you could have these wonderful murals educating people in a nice, pleasant, cartoon-y way.