Interview: Pakistani Performer Uncovers Comedy in Taboos, Cultural Crossover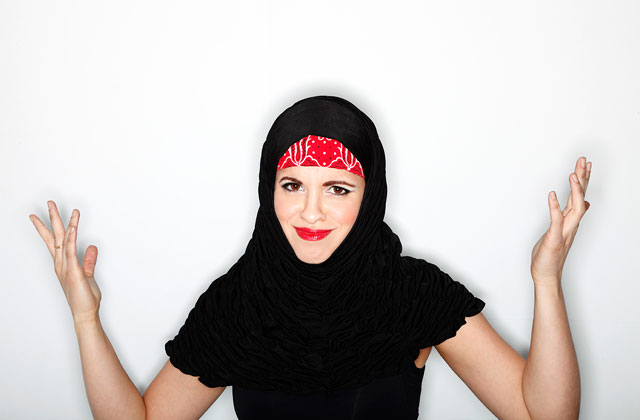 Nadia Parvez. (Leslie Van Stelten)
Nadia P. Manzoor, a Pakistani writer and performer based in Brooklyn, New York, has made it her mission to bring to light the struggles of young Pakistani Muslims, immigrants in foreign countries, who struggle to find their identity while growing up in traditional Pakistani homes; the balance between the East and the West, finding equilibrium amid tradition and familial expectations, taboo subjects and the hypocrisy that can remain comfortably concealed beneath conventionality.
Burq Off!, Manzoor's one-woman play of 21 unique characters, debuted in New York in December 2013, and since then has taken off to a whole new level, with sold-out shows in Los Angeles, San Francisco, and London, in addition to New York, and current plans to take the production to both Toronto and Detroit in March of this year.
With a background in dance and hip hop, Manzoor is a rising star who has managed to strike a balance between performance with a popular appeal and bringing poignant, real issues of culture and identity to the table.
In an interview with Asia Blog, Manzoor speaks about Burq Off! and its taboo subjects, in addition to her current projects.
Tell me a little about your one-woman play, Burq Off! What inspired you to begin writing it?
Burq Off! started off with a passion and care for changing the way Pakistani women are seen and heard in my community. What started as a social work initiative became a performance as I merged my love for performing, writing, and social commentary. It's an autobiographical play about growing up in the West, in a conservative Pakistani household and battling the conflicting arena of identity, shame and self-worth. It is about my life, and the influences that surrounded me. It is a family story about struggling for self-acceptance, and acting deceitfully when one is in fear of expulsion from the clan.
You took on the roles of 21 characters — certainly no easy feat. Was it challenging to pull off?
Yes, it's certainly taken a lot of work, in terms of expanding my vocal and physical ability. I work hard as an actor, as I'm constantly changing the emotional beats in the play, and the story is fast-moving and a lot happens.
What was the response like?
Overall people love the play. The simplicity of the story, of struggling for familial acceptance or conforming to the pressures of the status quo, resonates with them. I've had people from all different races and ages approach me after the show, and tell me that they felt as though I was telling their story, or how they healed through my play, or how they felt the courage to now face their own challenging situation in their personal life. People laugh at the show, and people sob their eyes out, and people leave speechless, and then weeks later people send me epic emails telling me how inspired they are by the work and how they are now going to change the way they approach their life. It's amazing.
Through Burq Off!, you've touched upon some pretty sensitive topics; topics that are taboo to be discussed in public, much less in a play. How did your family react to the production?
People are sometimes offended by the work, since I cover everything. There's a scene in the play where my molvi saab finds some pornographic material and ends up enjoying himself while looking at it. In London I got a round of applause every time I did it. In New York City, people didn't know what to do. I think they were so shocked, and it felt like they didn't have permission to laugh. In London, it felt like people were relieved. My family has been supportive, but there are some people in my extended family who think what I'm doing is wrong, anti-Islamic, and disgraceful to my family.
You've been interviewed by Deepak Chopra and featured on CNN and the BBC, to name a few. Did you ever think Burq Off! would garner so much media attention when you began writing it?
No, of course not. I started writing this material for myself, in journals and for my own cathartic release. The way the show has grown was beyond my wildest dreams.
Given that Pakistan only makes negative headlines in the Western media, do you think productions such as Burq Off! give foreign audiences a chance to understand Pakistani society, its people? Do you think more of that is needed today, for the West to understand us?
Absolutely. My story is just one, and doesn't show everything there is to show about the nuance in Pakistani culture. I do think that more stories are needed, though, to portray a larger spectrum that make up this cultural contingent. Without stories, we rarely have understanding.
What's your web series, Shugs & Fats, all about?
It's a comedic web series about two hijaabi friends who are embracing Western ideals, and experimenting with different types of freedom, in Brooklyn. It started off as two improvised characters, but through the process of developing it, we've started writing and refining the sketches so that we can be a bit more intentional about the stories we're telling. It investigates how outsiders — in this case, Shugs and Fats — perceive and occasionally misinterpret traditions and cultural norms. The first episode was released on February 2, so check it out! There will be a total of six in this season, and another season being released in April.
In an article for the Huffington Post, you wrote about your struggles of growing up amid the freedoms of the West while living in a conventional household. You echo the sentiments of a lot of young Pakistanis re: that search for identity. It's a rather painful process, isn't it?
Especially in the UK, I think it's a problem. I always found my Pakistani counterparts growing up with more freedoms. It seems that immigrants in the UK hold on to their traditions more and as a result fear the Western ways more, and are more strict. It's always a struggle to find yourself, but when you live in a culture that is diametrically opposed to your home culture, that struggle is accentuated.
What are you currently up to?
I'm presently doing the New York City run of Burq Off! I'm also working on the sequel, Jerk Off!, which tells the next chapter of my story. A lot of people ask "what happened" at the end of the show, and so Jerk Off! will definitely answer some of those questions. I'm mostly in the writing phase right now, but we're hoping to premiere it next May.
I'm also working on my book, which will go into much more depth in investigating the themes I've explored in Burq Off! The web series, Shugs & Fats, is another ongoing project, which keeps me busy with writing; we'll be shooting the next series in June.