Interview: Pakistani Duo Zeb and Haniya Cross Musical and Geographic Borders Alike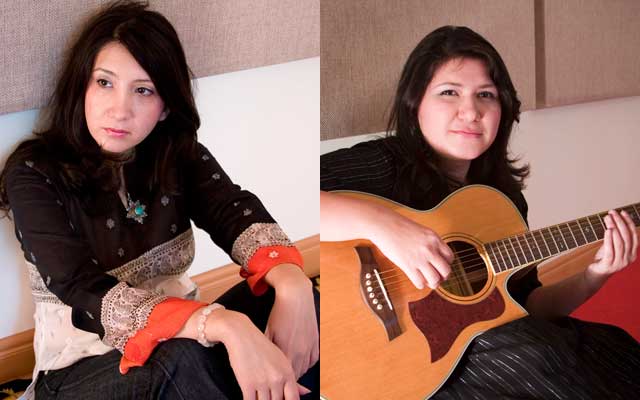 Pakistani musicians Zebunnisa Bangash (L) and Haniya Aslam (R), who perform as the duo Zeb & Haniya. (Nida Rehman)
In 2004, cousins and musical collaborators Zebunnisa Bangash and Haniya Aslam — whose families hail from the city of Kohat in the Pakistani province of Khyber Pakhtunkhwa — released their first single, "Chup."
At the time, the Pakistani music scene was becoming thoroughly saturated with primarily mainstream pop music. But, encouraged by the response to their initial effort, the pair officially formed their band, Zeb and Haniya, in 2007, and released their highly-anticipated debut album (also entitled Chup) in 2008. From there, they made multiple appearances on the popular Pakistani music television show Coke Studio in 2009 and 2010.
Zeb and Haniya first visited India in 2009 — not to perform, but to network. The trip proved beneficial, as the Indian music scene slowly opened up for them, resulting not only in gigs but also, in 2011, an invitation to appear on The Dewarists, a popular Indian TV music program. The duo from Pakistan was paired with music director Shantanu Moitra and lyricist Swanand Kirkire in Mumbai for a cross-border collaboration. The result was the melodic "Kya Khayal Hai," which met with glowing praise both in India and Pakistan.
At the same time, meanwhile, Zeb and Haniya have made inroads in the United States. Among many other concerts, they performed at Asia Society New York as part of the all-star lineup convened for the New York Sufi Music Festival in 2010 and appeared at Asia Society Texas Center last October as part of their Center Stage tour sponsored by the U.S. Department of State's Bureau of Educational and Cultural Affairs. Zeb is also featured in The Other Half of Tomorrow, Sadia Shepard and Samina Quraeshi's documentary about Pakistani women working for social change that screens at Asia Society New York on May 2.
Reached in Lahore recently, Zeb and Haniya spoke about their cross-border success and what they've learned after several years as professional musicians.
What was it like making a song from scratch for The Dewarists?
Zeb: It was really like boot camp. But when we got to Mumbai and walked into the studio — it was like we'd known each other for ages. We really clicked musically. It came together quite organically. We were really taken aback by how the kids — the younger generation — responded to the song and to the whole concept of two Pakistani musicians and two Indian musicians coming together to produce a song. I remember calling [Moitra] and telling him how big the song had become in Pakistan, and he said the response was the same in India. That's when he said that we should just go ahead and make an album!
You mentioned that the collaborative album (with Moitra and Kirkire) will be released sometime this year. What's the sound like, the genre?
Haniya: The album carries an old-Bollywood, old film music sensibility, where the melody is right on top and everything below is there to support it. There's nothing excessive.
Zeb: The album carries our essence too. The entire album is very melodious, the tunes are simple … I think the theme of the album is its overall simplicity.
And your much-awaited second album, when's that slated for release?
Haniya: I know we've been saying this for months now but our second album is almost done. It's true… it's true now. The first album had a homogenous feel to it, but for our second album we decided to let each song run its natural course so that each song has its own distinct personality.
Compared to when you guys first started out, what are your family and extended family's reaction to where your band stands today?
Zeb: They've always been supportive, but now even the extended family that had perhaps been a little quiet — or you know, didn't know how to respond to what we were doing, they're all very proud now. There's a lot of love and appreciation… and pride, I'd say.
What advice would you give to aspiring Pakistani musicians like yourselves? What would you have done differently?
Zeb: I think one thing that we would've done differently is we would've been a little bit more careful about our contracts and about what we sign. This something that we can't emphasize enough for girls and boys starting out in the [local] industry because, actually, Pakistan has a pretty good copyright protection law and the copyright office is doing pretty good work. But because a lot of us don't know about this, we somehow forget to do it and don't realize how important it is.
As far as the whole getting rich, fame thing — I'm honestly still figuring it out.
Haniya: I think what's worked for Zeb and I, personally, is that we started making music for the love of making music. I know this may sound new age-y, but I really feel it's the love of the art form and that sincerity that has brought us this far.
Video: "Kya Khayal Hai" on The Dewarists (5 min., 53 sec.)