Interview: Nuanced Documentary 'Powerless' Illuminates India's Energy Crisis

Loha Singh risks his life to connect electrical wires to redirect energy to the underprivileged. (Powerless Film)
"Cops" and "robbers" don new faces in Kanpur, India, the setting of directors Fahad Mustafa and Deepti Kakkar's new documentary Powerless (2013). In stealing electricity from the rich and redirecting it for the benefit of the poor, 28-year-old electrician Loha Singh locks horns with Ritu Maheshwari, the managing director of the Kanpur Electricity Supply Company (KESCO). Singh, just one of many electricity thieves in India, stands as a beacon of hope for the working poor, but as a source of frustration and destabilization for Maheshwari and KESCO.
However, rather than stacking the deck to glorify Singh and demonize Maheshwari, the film carefully parses out the deeper nuances of the power struggle in India. Mustafa and Kakkar reveal the futility of attributing blame to a single party in advancing a broader agenda of progress; director Kakkar makes the distinction that although "the film positions Loha and Ritu as antagonists, they are both powerless beyond a degree in the face of the glaring energy poverty, the biggest obstacle in both their paths."
Powerless investigates a broad range of issues beyond just the energy crisis: class struggles, controversy surrounding a woman in a position of power, and the relationship between the proverbial light and dark, in which elements of each have bled into each other in a way that feels true to life — neither Singh nor Maheshwari can be classified as a force for strictly good or evil. The final 80-minute documentary is distilled from over 200 hours of footage and over eight months of embedded research and production. Powerless premiered in the U.S. in April at the Tribeca Film Festival (NY), and has since gained accolades from the New York Times and the Hollywood Reporter. 
We reached out to Fahad Mustafa through email to find out more.

Poorly lit walkways are a common fixture of neighborhoods with a unstable source of electricity. (Powerless Film)
How did you first encounter the two protagonists, Loha Singh and Ritu Maheshwari, and what compelled you to focus on their fiercely contentious narratives?
Loha Singh was introduced to us by an acquaintance in Chamanganj, Kanpur. Although he was rather shy of the camera to begin with and hid behind a macho image of himself that he projected, we immediately knew that he is one of a kind among the hundreds of electricity thieves in Kanpur. Even before we spoke a word about the film, he took us along to show us how he could short-circuit a transformer. He is also a sort of legend in the neighborhood, having survived many transformer explosions.
Ritu was more difficult. We had met her as the newly appointed chief of the electricity supply company and there was a lot of talk of her as being an administrator with a reformist agenda. Soon after she was appointed, she held a major meeting and press conference to announce that she intends to tackle the problem head-on. We had to try very hard to get permissions to shoot with her, since she was an Indian Administrative Services officer. We waited for hours outside ministers' and bureaucrats' offices for these permissions, which eventually gave us one-of-a-kind camera access to the Indian bureaucracy.
The film is built around the energy crisis in Kanpur, India, but the cause of this can be traced back to deeply-rooted class conflict in Indian history. Can you expand on how Powerless tackles both these daunting issues?
The energy crisis in India is a lived experience for everyone in the country. After all, about 30 percent of people living without electricity worldwide are in India, and it is a region staring down the barrel of powerlessness. The crisis here is about livelihoods, the climate and basic infrastructure and it is all rather well encapsulated in the history of Kanpur. The path of the city from "Manchester of the East," the biggest industrial city of north India, to an urban nightmare with heavy unemployment and lacking infrastructure, is instructive and cautionary. There are no easy solutions to this mammoth crisis with a heavy human cost, and that is what our film shows. The class differences in India are only too obvious and visible, and often lead to very depraved political and social situations. In a way, electricity is a metaphor — the rich have "power" while those who cannot afford the means have to make do as best as they can, sometimes putting their lives and health at risk in the process.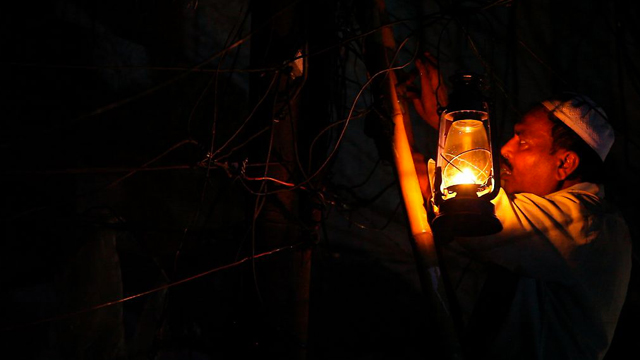 An electricity thief works by lamplight to rewire electrical connections. (Powerless Film)
You've spoken about other films that address social issues in India, but they "rarely get seen in the places where they have the potential to engender change." What makes Powerless different— and perhaps more effective — than similar films, and how has the community in Kanpur reacted following its release?
It is a sad fact of the Indian film industry, and we are intent on changing that. Perhaps it is another reflection of the class conflict in India — films that get distributed and noticed are made exclusively for the rich. We have developed Powerless (Katiyabaaz, in India) keeping in mind that we want to take the film to the "masses" (another classist word that we use in India). Some have described it as a "Bollywood documentary." We really do not care about the Bollywood tag, but I guess in a way it reflects how we approached the filmmaking — character-driven narratives, a socio-political landscape that is relatable, treating it not as a story of victimhood (which is often what documentarians tend to do), using music and song to communicate themes.
We also got the best talent in Bollywood to work with us — lyricists, musicians, editors and sound designers. As I mentioned before, it is not a sad story of "powerless" people, a motif very prominent in documentary cinema, but a lived experience for a billion people, and our film is for them as much as for anyone else. Our struggle to bring the film out in Kanpur is going on. It is slow and tedious, and we are a very small organization with very limited means. At the moment we are trying to build partnerships that could help us reach this goal. As much as a pleasure it is to screen at Western film festivals, our efforts would only be justified when we can release the film widely in Kanpur, and thousands of small towns like it.
One of the challenges you mentioned in other interviews was gaining trust within the electricity company. Can you elaborate on how you negotiated, and eventually struck a compromise, with the bureaucratic forces during the production process?
It was a process of building relationships and trust. We were very open about what we wanted to film and explained in detail our motivations. Initially they were hesitant, giving us very limited access. We told them that it would not look good on them if they were to be so secretive. They realized that this was an opportunity for them to tell their side of the story as well — their struggles and risks in providing electricity to the town which in itself is a major effort. And they are very well aware of their handicaps and flaws, many of which are rooted so deep in the administrative setup that individuals could not do much about them. I suppose they are also "powerless" in a way. With time we became well acquainted with many employees who would openly share their thoughts with us.

Electrical fires are just one of the hazards of electricity theft. (Powerless Film)
You've addressed how the Indian state currently "doesn't really support this [documentary] style of filmmaking." What is the impact of Powerless on the Indian and international film industry, and do you think documentary films will be able to carve out a niche in the Indian film industry in the near future?
I guess time will tell about the impact. I think with Powerless, there is an awareness that documentary cinema from India could be dramatic, engaging and cinematic and talk about major issues facing the globe and appeal to global as well as Indian audiences. A critic said that Powerless was the most cinematic film they saw at the Tribeca Film Festival, and another critic said that it was the best Indian film at the Berlinale. I think that speaks a lot about the global potential of documentary cinema from India.
And I also believe that there is tremendous potential for such cinema to address major issues that face citizens, and which Bollywood provides little scope for. In the making of this film, we contacted a government-run film financing body who claims to finance Indian cinema films that cannot find commercial producers. But they told us straight-up that they do not fund documentaries (which have the toughest time finding ANY financing). That is what I mean when I say that there is no real support. However, I am sure that the Indian government and industry will surely notice sooner rather than later that there is potential here to create works that will resonate and be remembered. We hope Powerless is a step in that direction.
Video: Watch a trailer for Powerless (1 min., 18 sec.)