Interview: Nick Lardy on the Politics of China's Economic Reform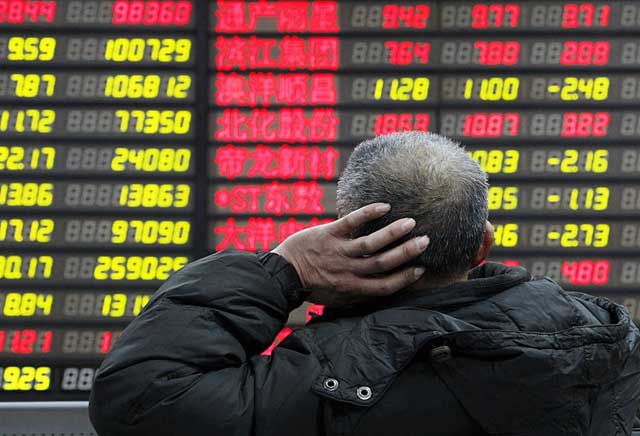 (ChinaFotoPress/Stringer)
After 35 years of world-beating economic growth in China, President Xi Jinping announced a sweeping overhaul of China's economy at the Chinese Communist Party's Third Plenum in November 2013. The recent Asia Society Policy Institute report Avoiding the Blind Alley: China's Economic Overhaul and Its Global Implications, written by Daniel H. Rosen, clarifies the ambitions of China's economic reform program, assesses the progress China has made in implementing the promised reforms, and forecasts the economic impacts these reforms could have on China and the world. One of the report's key conclusions is that "China's leadership is moving ahead across all economic dimensions with purpose and urgency" but that the success of this overhaul is not guaranteed. So what are Xi's priorities, and how is he handling the vested interests that may impede reform?
Nicholas Lardy, a senior fellow at the Peterson Institute for International Economics and author of the book Markets Over Mao: The Rise of Private Business in China, argues that the Third Plenum reform program could weaken inefficient state monopolies in key sectors, unleash market forces, and "go a long way toward assuring China's continued rapid economic growth over the medium term." Ahead of his participation in a series of Asia Society roundtable discussions in Houston (February 2), San Francisco (February 3), and Los Angeles (February 4) titled "Forecast Asia: China's Ambition Grows as the Global Economy Slows," Lardy discussed some of the implications of Xi's reform program with Asia Blog.
What economic reforms are the top priorities for President Xi Jinping?
Financial reforms would have to be at or near the top of Xi's economic reform priorities. These are making some progress — the central bank has introduced some further flexibility of deposit interest rates; the draft of a deposit insurance scheme is under review and expected to be implemented this year, paving the way for further interest rate reforms; the regulators have approved the establishment of a number of genuinely private banks and one has recently begun operations; and the authorities have announced that the monopoly Union Pay has had on clearing credit card payments will end, introducing competition in an important part of the financial system.
China's recently released GDP figures for 2014 showed that growth has slowed to its lowest point in 24 years. Is this cause for worry?
The slowdown in China's growth should be welcomed because it reflects much-needed moderation toward investment in housing. China's real estate investment has been at an unsustainable level for several years, so this is a much-needed development. In the short term this is adverse for growth since it reduces the demand for steel, other construction materials, home appliances, and so forth. But, over the medium term the growth of private consumption expenditure is likely to compensate for a large part of the slowdown in investment, thus helping to sustain high growth.
What relationship do you see between Xi's anti-corruption campaign and economic reform?
I see the anti-corruption campaign as broadly supportive of economic reform, particularly reform of the remaining state-owned enterprises where much corruption has been concentrated. Taking down leaders of some of these firms weakens the vested interests that have opposed opening up some important sectors, such as oil and gas, to private players.
When China under undertook massive restructuring of state-owned enterprises in the 1990s, it resulted in millions of layoffs, though stability and a more competitive economy ultimately prevailed. How would you compare the challenges then to the current economic reforms?
In one critical way the challenge is much less. Today there are only about 40 million workers in state-owned enterprises. This is at least a third less than the number of state enterprises workers in the latter part of the 1990s and, because the urban labor force has expanded significantly, these workers only account for a little more than 10 percent of urban employment. So if state-owned enterprises are downsized today, the challenge of reabsorbing them in the urban work force would be a small fraction of what it was under President Jiang Zemin and Premier Zhu Rongji.

Since coming to power Xi has launched a severe clampdown on media, academics, and dissidents. Could this be a temporary means to push through risky reforms, or is it the new normal?
I fear it is the new normal. Xi clearly seems to believe that he can successfully combine economic liberalization and political authoritarianism.
Ultimately, do you think the Communist Party's monopoly on power is compatible with the kinds of economic reform China needs?

I think that the power of the Chinese Communist Party has already weakened substantially compared to the Maoist era. The Party no longer claims to have the answer to every economic or social issue. Government bodies at all levels now hold hearings to solicit public input on a range of policy issues and the party relies increasingly on opinion surveys to judge the effectiveness of its leadership. These were unheard of in the Maoist era. Further liberalization is likely to further this trend.