Interview: New York's Nisha Agarwal on Why Being Pro-Immigrant Make Cities Stronger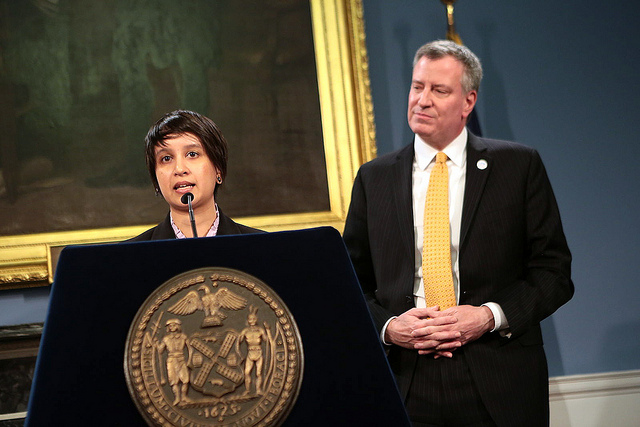 Nisha Agarwal speaks after Mayor Bill de Blasio announces her appointment as commissioner of the Mayor's Office of Immigrant Affairs on Friday, February 28, 2014. (Ed Reed/Office of Mayor Bill de Blasio)

Every May for Asian Pacific American Heritage Month, Asia Blog interviews noteworthy Asian Americans from a diverse set of backgrounds. View the complete Q&A archive
The daughter of Indian immigrants, Nisha Agarwal grew up in upstate New York hearing stories about her grandfather's role in the struggle for Indian independence. Years later, after attending Harvard Law School, Agarwal turned down lucrative career paths and opted instead to follow in her grandfather's footsteps as an activist. After stints at New York Lawyers for the Public Interest and the Center for Popular Democracy, Agarwal founded the Immigrant Justice Corps, a nonprofit that partners law school graduates with legal services providers that offer representation to undocumented immigrants. In February 2014, she was tapped by New York City Mayor Bill de Blasio as commissioner of the Mayor's Office of Immigrant Affairs (MOIA), where she has led the rollout of a municipal ID for undocumented immigrants.
In an email interview with Asia Blog, Agarwal reflects on her commitment to social justice and her work as the city's advocate for immigrants.
Does your own experience as an immigrant growing up in upstate New York help you as an advocate for immigrants?
We moved to upstate New York when I was very young. At the time, the area had very few immigrant families moving and living there. We would have to drive several hours to Toronto just to buy ingredients for the Indian food we cooked at home!
For the most part, upstate New York was a great place to grow up, but the lack of diversity also presented problems. Our first real estate agent tried to steer us to particular neighborhoods, and there was some resistance in the neighborhood we ended up in to the "foreigners" moving in. I also remember examples of discrimination in the workplace that my father had to face. But I learned a lot from those experiences and, in particular, from my father's commitment to speaking up and challenging discriminatory actions — instead of feeling defeated by those behaviors, my dad took action and spoke up. This influenced my interest in civil rights law when I was older.
Your entire professional life has focused on issues of equality and social justice. When did you realize this was something you were interested in?
From a very young age I was motivated to challenge injustices in the world around me, and my parents were supportive. My protests against animal cruelty as a young person eventually led to actions against apartheid and larger social issues. My parents taught me about my family history as well — my grandfather marched with Gandhi and believed in nonviolent civil disobedience. Activism was just a part of who I was and I grew up in an environment that nurtured that.
One of your main responsibilities has been to establish a municipal ID card program to help undocumented immigrants in New York City live more open lives. How is the roll out of the program going?
The roll out of the IDNYC program has been incredibly successful. At the moment, just a few months into the program, we have more than 200,000 people who have their cards and more than half a million New Yorkers signed up for appointments to get the card. That's pretty incredible! And it's very much a broad cross section of New Yorkers who are enrolling — from immigrant families to seniors to parents and their kids.
What else are you and your office currently working on?
MOIA in the de Blasio administration has grown considerably and we have a range of programs we are working on: citywide planning and implementation of the president's executive action; an expansion of English language programming in community settings; helping New Yorkers become naturalized citizens; and advising on significant policy and legislative changes impacting the city's immigrants.
Most of the work around improving life for immigrants seems to be taking place in urban areas. What can state and federal agencies learn from cities?
My sense is that the federal government can get hamstrung in its plans to help immigrants because the voice of a small, anti-immigrant minority drowns out the vast majority of Americans who support making this country welcoming and inclusive. But in cities like New York, we've been able to show that you can implement bold, pro-immigrant policies and not only is all the fearmongering proven wrong, but our cities thrive and succeed because of those policies. That's what I hope the federal government can learn by looking at our example.
In fact, we have come together with cities from across the country in a coalition called Cities United for Immigration Action (CUIA). Through CUIA, our hope is to spread best practices for immigrant integration to many more cities across the country and to advocate for immigration reform — and, in doing so, to make the voices of cities heard loud and clear in Washington, D.C.
You've studied law at Harvard and Oxford and more recently lectured at Columbia Law School. What would you change about the law school curriculum?
I would create lots more opportunities for critical thinking. When I was in law school, I felt like I had to check my values, questions, critical thought at the door. But it seems impossible to me to understand the law outside of the political and economic context in which it evolves. Law students should be taught to contextualize the legal principles they are learning, and to think critically about those principles and the world in which they operate — not taught to analyze the law in a vacuum.
---
You can follow Nisha Agarwal on Twitter at @nishasagarwal.