Interview: New Philippines Senator 'Bam' Aquino IV Sets Sights on Growth for All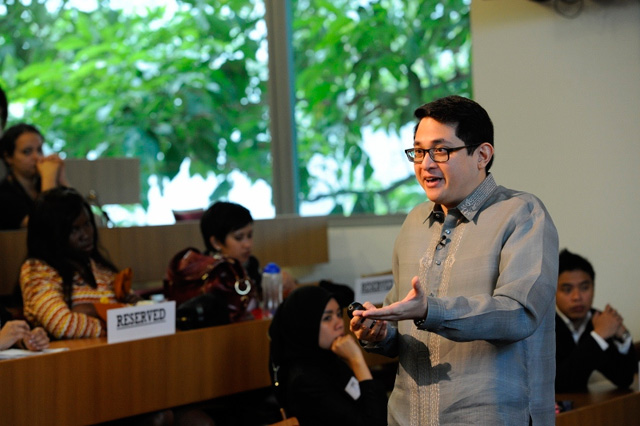 "Bam" Aquino presents his grand prize-winning MasterCard Project Inspire idea, The Hapinoy Program, aimed at empowering women micro-entrepreneurs in Southern Luzon, Philippines. (MasterCard News/Flickr)
Paolo Benigno "Bam" Aquino IV was officially proclaimed a member of the Philippine Senate on Friday, May 17, after winning over 14 million votes in the Philippine midterm elections held last month. He is the youngest senator of the 16th Congress of the Republic of the Philippines. In 2003, Aquino became the youngest head of a government agency at 25, when he was appointed as the Chairperson of the National Youth Commission, the primary national policy-making body for Filipino youth. After his stint in government service, Aquino co-founded the social enterprise the Hapinoy Program, which has since received global awards for its program that helps lift poor Filipinos out of poverty through micro-finance and micro-enterprise support.
Aquino has dedicated his entire career to empowering youth and the poor, helping thousands of Filipinos improve their lives through access to opportunities and crucial support systems. Because of this work, Aquino was named a Young Global Leader of the World Economic Forum in 2006, one of the Ten Outstanding Young Men of the Philippines in 2010, one of the Asian Social Entrepreneurs of the Year in 2011, and one of the Ten Outstanding Young Persons of the World in 2012.
Aquino is a member of the original class of Asia 21 Young Leaders — an Asia Society initiative designed to identify, inspire, and develop leaders across the Asia-Pacific community to build relationships, engage in transnational and inter-disciplinary dialogue and cultural exchange, and develop cooperative responses for addressing shared challenges.
By sharing Aquino's insights, Asia Society's Global Leadership Initiatives, which runs the Asia 21 Young Leaders Initiative, hopes to inspire other young people in the region to become change-makers and next-generation leaders.
With your background in youth advocacy, what, in your view, are the challenges that pertain specifically to young people in the Philippines today? How do you plan on promoting more youth involvement in government?
One of the biggest challenges for Filipino youth today is the lack of opportunities for economic empowerment. We have at least half a million college graduates who enter the labor force every year, yet not all of them are able to get jobs that match their skills. The National Statistics Office reported in March 2013 that around 17-18 percent of the country's unemployed are college graduates. Even those with jobs aren't assured of job security and social safety nets. Underemployment is also a major problem that young people face.
We need to get young Filipinos out of poverty and hunger at the same time that we engage them in other issues. This can be done by opening up access to education, employment, and entrepreneurship.
For us to do this, we need to ensure that more jobs are generated by the Philippines' economic boom, by building an enabling environment for business to thrive. The economy is made up by micro-, small and medium enterprises that need a lot of help, so government needs to step up and provide the support that businesses need.
We are sure that once we are able to meet more of the needs of our youth, more of them will be active in governance matters. Throughout Philippine history, our youth have always been involved in advocacy and many issues, but we need to reciprocate the support and respond to their pressing needs for jobs and opportunities.
How do you differentiate yourself and your political agenda from that of your cousin, current President "Noynoy" Aquino, and your other family members in politics?
As a member of the Liberal Party, there are basic principles and issues that we will support alongside the President, who is our party Chairman. These include, among many others, this administration's push for inclusive growth as a continuation of the President's mandate to end both corruption and poverty. But as seen during the campaign, I have pushed for issues and advocacies different from those of the President.
What are your key priorities coming into office?
We will be single-minded in pursuing inclusive growth for every Filipino. Now that the Philippines is enjoying a period of steady macro-economic growth and growing investor confidence, government must work hard to ensure that the benefits of this growth spurt are felt by those at the bottom of the pyramid. We can't be complacent about this growth when data shows that hunger and poverty are on the rise, and that millions of Filipinos still do not have access to basic services. Inclusive growth means that no Filipino should be left behind in enjoying the fruits of economic progress.
What are the greatest challenges faced by the Philippines today? How do you plan to overcome them?
To reiterate, some of our greatest challenges include ensuring inclusive growth and opening access to education, employment, and entrepreneurial opportunities for every Filipino family.
We plan to solve this through a combination of advocacy, policy promotion, and legislation. As an advocate of social innovation even before entering politics, we will continue to work with civil society, the private sector, and social enterprises to support pilot programs that can model best practices and innovative solutions to poverty.
As a legislator, we will help push for policy — and exercise our oversight functions, when necessary — that promote inclusive growth at all levels.
As a young leader what was your motivation for getting into politics?
My work as chairman of the National Youth Commission and co-founder of the Hapinoy program have shown me the many problems being faced by Filipinos today, but they have also shown me the many possibilities for innovative problem-solving and change-making. Our work with the poor gave me a close-up look at poverty, but it also showed me what Filipinos are doing to improve their lives in their own communities.
I also realized that the issues affecting youth and marginalized communities are all national issues — therefore, we need a national platform in order to help solve problems plaguing the youth and the poor.
We need to be able to sustain this growth, and we need to bring in the social innovation mindset in order to push the growth further and make its effects felt by all Filipinos.