Interview: Mother, Daughter Preserve Art Form in One of World's Most Volatile Places
From beautiful coasters to colorful tiles, stunning tabletops and other accessories, Pakistani entrepreneur Farhana Asad and her artisans have been producing meticulous works of art that utilize marble and semi-precious stones to produce stunning, intricate mosaic works in an explosion of colors.
Farhana's works of art involve the application of a unique 16th-century art form, pietra dura (an Italian phrase meaning "hard stone") — a technique that blossomed in Italy and eventually spread across Europe and into Russia, Afghanistan, India and Pakistan. In South Asia, the popular technique, known locally as parchin kari, can be seen in the magnificent Taj Mahal, in Agra (India), and the beautiful Sheesh Mahal in Lahore (Pakistan), Jahangir's tomb (situated outside Lahore) and the tomb of Itimad-ud-Daulah (in Agra), to name a few.
Farhana's company, LEL (Persian for "mountain"), took root over 20 years ago, when she discovered a pietra dura box in a shop in an antique bazaar in Peshawar's Walled City. Farhana learned that the shopkeeper had made it using a technique passed down through each generation of his family. This little box acted as an impetus for Farhana to begin learning the craft of pietra dura with a master artisan for ten years, until his departure back to his home country, Afghanistan.
Since then, Farhana has worked with and trained a number of Afghan refugees and Pushtuns under the banner of LEL, preserving the ancient art form with materials like colored marble and dazzling semi-precious stones such as jade, onyx, lapis, turquoise, mother of pearl, etc., to produce pieces featuring ancient Florentine patterns, Iznik and Islamic motifs, and more.
LEL is now a family enterprise as well — its Creative Director, Meherunnisa Asad, is Farhana's daughter. In the following interview with with Asia Society, Meherunnisa speaks about the art form and her upcoming trips to New York and Verona, where she will be representing LEL, in addition to conducting an exciting workshop in Kabul, Afghanistan, for an initiative instigated by the well-known NGO Turquoise Mountain.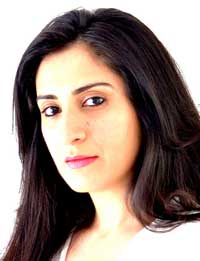 Meherunnisa Asad (Khan Bilal)
You teamed up with your mother a few years ago. What has your experience been like so far? More importantly, tell us a little about your forthcoming trips abroad, where you'll be showcasing LEL's work to an international audience.
I felt that the quality of my mother's work had come a long way since she initially started conserving the art. In fact, when I returned from New York, after completing an MFA from Pratt Institute in 2007, I was stunned at the quality of her work. I felt it really deserved to be put out, although she had had smaller shows over the years, she had never had any major exposure. Some of her best works were packed away in storage.
To create works of beauty, to conserve a centuries-old art, in extremely violent times, in perhaps one of the more insecure places in the world, is a cathartic experience, as much for the artisan as it is for me. It is so tragic that the many Afghans who fled the war and came to Pakistan as refugees have still not been able to escape violence. Their livelihoods have been disrupted and this is where LEL has provided respite to its artisans.
In joining my mother in her endeavor, I look to expand the LEL workshop and train more artisans; create awareness about this art form that is slowly petering out.
We are hoping to collaborate with retail stores in New York and Toronto this year, to develop exclusive products for them and take LEL to the world. I will be representing LEL at the New York International Gift Fair in August and at Marmomac Verona Stone Expo in September this year. We"re also expanding our product line this year — traditionally we mostly created tiles, wall panels and tabletops. Our new product list includes smaller gift items such as jewelry, lamps, bookends, coasters, bowls/containers, boxes, candleholders, etc.
Although classic motifs and traditional Islamic, Turkish and Florentine patterns inspire us a great deal, and we will continue to create replicas of some of the masterpieces, in the future we are also creating more minimalistic/modern designs to cater to contemporary tastes. That is how we hope to keep the art alive, to cater to a wider market. This process also has greatly enhanced and built the capacity and skill-set of LEL's artisans, who are now better equipped to carry this technique forward.
You work closely with local Peshawar/Afghan craftsmen/craftswomen. Tell us a little about your artisans.
We work with Afghan artisans who came as refugees to Pakistan following the Soviet invasion of Afghanistan and local Pushtun craftsmen. At any given time, we work with eight to ten artisans.
Farhana Asad (Khan Bilal)
Usually a new artisan trains as an apprentice for a year, doing small tasks for the master artisan. After a year of apprenticeship, he is given simple designs. After two years he graduates to more intricate patterns. In this way the traineeship model has much in common with a guild.
Baryalay, one of our master craftsmen, knows no other work but this. He says he originally learnt the art from his Uncle in Mazar-e-Sharif, where he created calligraphies for tombstones. When he migrated to Pakistan with his family to escape the war in Afghanistan, he would mostly create crude lapis mosaic utensils and lapis beads for the local market. My mother and I trained him in the art of pietra dura. After two years of intensive training and discarding many pieces, he is now able to create works of excellent quality. Baryalay supports a family of ten. He is an extremely sensitive worker with a high work ethic who spends hours studying techniques that he is about to implement and understands that each piece of work is unique. In this way there is a lot of wastage whereby each piece is mastered through a process of not only high skill but also trial and error to some extent.
Other than him, we also employ two local Pushtun artisans, Torsam and Hashim, who are brothers. They are being trained in the art of creating lapis decoratives (sculptures, bowls, boxes, etc.). Due to the highly volatile situation in Peshawar, the artisans sometimes have to work from their homes and not at the LEL workshop.
The Afghan artisans are often questioned/stopped/threatened by the local police. They are constantly under the threat of being deported and we are always afraid to lose a craftsman that we have trained over years with a lot of difficulty. Ours is an extremely precarious and challenging situation.
Do your artisans give suggestions regarding patterns/materials to be used? Also, how long does it take to complete one piece?
The artisans' contribution to LEL is primarily structured around skill and technique. My mother contributes with more classical designs and motifs whereas I contribute with more contemporary design suggestions. Therefore the artisans usually attain expertise in cutting and gluing and are sometimes even puzzled when a work is rejected. After a few years, most artisans want to change their line of work and take up something easier because of the strenuous work of cutting, and the painstaking nature of the work. They often have to be coaxed not to give it up and we have had mixed results with artisans choosing to stay or moving on. Understandably so, their main concern is with livelihoods and we try and make them see that LEL is a viable livelihood for their entire families. For instance, Baryalay's wife has also been working with us for more than a year in performing the same tasks that he was when he was an apprentice. I look forward to her becoming a master artisan just like her husband soon.
The artisans also have a very good technical understanding of the inherent characteristics and properties of various stones such as hardness, density, grades that allude to quality, color, aura, grain, etc. One of our key technical advisors for characteristics and properties of stone is Yaqoob Chacha, who just by tasting a stone can tell if it is genuine or fake and which family of stone it belongs to.
Keeping in mind the challenges of working in Peshawar, where conflict and insecurity are issues along with lack of basic amenities, it can take quite some time to produce work. The chain of production commences with identifying the right stone, to cutting, polishing, design, cutting, assembling, curing and quality control comes at all stages. We also work in Scaglioli, a less complex version of pietra dura that was also invented in 16th-century Italy. Therefore, depending on the type and technique of product, it can take anywhere between a week to four months to get it perfect.
Where does the craft of pietra dura stand today?
As with any other art form, traditional handcrafted techniques are being replaced with mechanized modes of production. The water jet is a machine used to create floor and wall mosaics. For instance, it may have taken years to design, plan and execute the parchin kari at the Lahore Fort, but with a water jet, the entire endeavor could be completed in a matter of several months. A digital drawing is fed into the machine, and it cuts precise pieces, which are then put together manually. These works end up looking apparently perfect and clinical; however, they are devoid of the labor of love.
We rely on traditional hand tools for the most part, where it is ensured that each piece that is produced is unique and no two pieces are ever the same.
Are you looking at other connections and linkages beyond markets?
Yes I am eager to take LEL's work into avenues of conservation and craft revival. The Aga Khan Trust's cultural services work is commendable in this regard. Similarly, Turquoise Mountain is involved in craft revival by setting up a craft workers training institute in Kabul. I hope to explore options for linkages with not only the Aga Khan or Turquoise Mountain, but also other organizations in the future to take this endeavor forward.