Interview: 'Mango Bride' Author Illuminates 'Multi-Faceted' Filipino Diaspora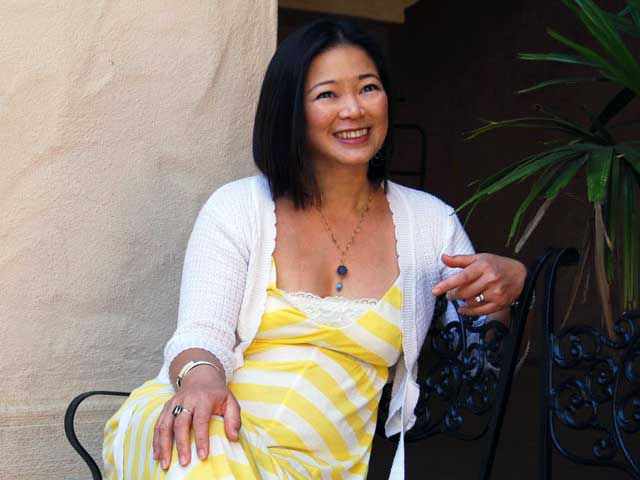 Novelist Marivi Soliven, author of "The Mango Bride." (Nancy Kwak)
Author Marivi Soliven's debut novel, The Mango Bride (NAL Trade, 2013), is a detailed, intensely human portrait of two very different women from Manila who challenge, each in her own way, many assumptions about immigration to the United States. It's a story of the Filipino diaspora, the peculiarities and difficulties of settling in a foreign land, how we define home, and the secrets that haunt a family from one generation to the next.
Asia Blog talked with the author about her book, her personal transition from the Phillipines to America, and the real-life mango brides just prior to her appearance at a Meet the Author event sponsored by Asia Society's Philippines Center in Manila today, Monday, July 29.
The Mango Bride explores the challenges of acculturation and cultural identity. Could you talk a little about the characters, and the ups and downs of trying to settle and make it in America?
As the novel plays out one begins to see that people who move to America carry a lot of baggage with them — not just physical belongings, but emotional baggage — memories, secrets, aspirations. In other words, their past in their home country defines or at the very least colors their perception of America. Amparo is banished to America by her mother Señora Concha, to prevent her from ruining the wealthy family's reputation. The task Señora Concha imposed on Amparo is to remake herself in America as someone without a scandalous past. She falls from a position of social prominence in Manila to a position of virtual anonymity in Berkeley.
Conversely, Beverly is an impoverished waitress who is raised by a single mother who dies when she is 15 years old. Beverly chooses to go America as a mail order bride because she seeks the better life that her mother swore she deserved — she is, after all, named Beverly after Beverly Hills, which, to her mother, embodies the land of milk and honey, where all movie stars live prosperous lives. Beverly's journey takes a turn for the worse when her husband turns out not to be not quite as charming as he presented himself.
For my part, I moved to America by choice, but not necessarily because I aspired to live here. As it happened, my husband, who is Filipino American, was pursuing his doctorate in literature at UC Berkeley and although my writing career in Manila was just taking off at that point, I chose love over the writing. That is to say, I hoped I could have both, but it took me nearly two decades to get published in this country.
Whether or not I wanted to, I had to remake myself several times in the course of the 18 years that I've lived in America. I went from teaching at the University of the Philippines and authoring books for children to working as a caregiver, preschool teacher, nonprofit administrator, and interpreter. Each day job was a means to help pay rent and to support my writing.
Oh, and I just realized something. I did not become a person of color until I arrived in America. "Color" was not something I ever had to think about that in Manila, but when I was at graduate school in Boston an El Salvadoran classmate spelled it out: "It doesn't matter how pale your skin is. You will always be colored in America."
Although a work of fiction, your novel addresses real-life issues like the exploitation of the mail-order bride industry. I understand you interviewed many mail-order brides in domestic violence shelters in preparation for your book. Why was it important for you to include their voices in The Mango Bride?
I didn't interview them so much as interpret for them, which is what I do for my day job. I cannot go into too much detail because of my employer's confidentiality clauses, but essentially I interpreted for abused wives during their intake interviews conducted by social workers. The women were being accepted into shelters after fleeing abusive relationships. At some point a social worker explained to me that when the economy goes south, domestic violence increases: men take out their frustrations at work on the nearest target — their wives. Additionally, with less money to go around, a wife becomes an unnecessary expense. If that wife happens to be an immigrant who came to this country as a mail order bride, then already there is an unequal power dynamic in the relationship.
At one point during the recession I was interpreting for an domestic violence survivor nearly every week. Their stories were heartbreaking, but fairly consistent: controlling husband; wife forbidden from working outside of the house and given little or no access to money; verbal or physical abuse; threats of deportation. Sometimes there were young children involved. That's when I decided their voices needed to be added to the conversation on immigration.
I first heard about the mail-order bride industry in 1999 while writing another book, Suddenly Stateside, a collection of essays on the immigrant experience. The essay "The $3 Cebuana Fiancee" describes how men contracted the matchmaker online to find pen pals before eventually flying to Manila or Cebu to speed-date through several finalists. The phrase "add to cart" was used on one website. While writing this book, I revisited those sites and found actual video testimonials of satisfied customers. One of them featured a middle-aged man dandling what looked like teenaged girls on each knee. All of them wore ten-gallon cowboy hats. Positively creepy.
Coincidentally, the recently-passed Violence Against Women Act has expanded its definition of "serious crimes" to include stalking. This ostensibly adds more protections for immigrant wives, who are granted a special U visa which allows them to remain in America while the authorities are investigating the crime committed against them.
The characters in your book come to America, leaving behind their lives and families in the Philippines. Immigration is often a difficult process. With polarizing debates on immigration policy ongoing here in the U.S., what do you think needs to happen to build a national consensus for coherent and consistent immigration reform?
I honestly don't know that a national consensus can be orchestrated, given the cacophony of opinions that rise around every new development in the debate. I know how difficult and quite frankly, humiliating, it is to go from that conditional green card to permanent residency to citizen. Another essay in Suddenly Stateside, "My Season in Purgatory," describes what my husband and I went through over the course of many years and many, many long lines at the INS. And yet I do not begrudge the children of illegal immigrants their chance to (what other folks consider) "jump the line" via the Dream Act.
What do you hope people will take away from reading this book, and more importantly, about the Filipino diaspora?
That the diaspora is multifaceted. Not everyone comes to America seeking a better life; some immigrants already have that better life in the Philippines. But certain circumstances — love, ambition, a new job opportunity — compel them to uproot themselves and move here. Not all of us are (to paraphrase that overused quote) the " tired... poor...huddled masses yearning to breathe free." And I would like to think that none of us are,"…the wretched refuse of your teeming shore."
What are you working on now?
Another novel about immigrants, this time set in the 1930s, when anti-miscegenation laws held sway as the Prop 8 of their day.