Interview: Literary Pioneer Jessica Hagedorn on Glass Ceilings and a Generational Divide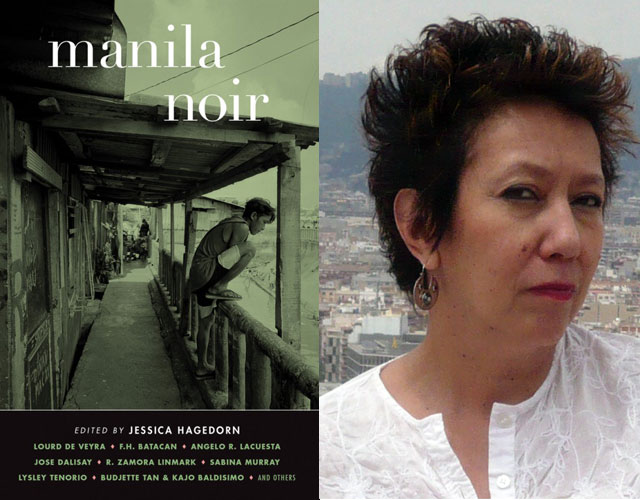 "Manila Noir" (Akahsic Books, 2013), edited by Jessica Hagedorn (R).
Filipino American playwright, novelist, and performance artist Jessica Hagedorn kicked down a lot of doors with her 1990 novel Dogeaters, and she did it again as the editor of the canonical two-volume collection Charlie Chan is Dead: An Anthology of Contemporary Asian American Fiction, a literary landmark whose influence has only continued to grow in the 20 years since its first publication.
Now, Hagedorn expands her portfolio still further as the editor of another groundbreaking anthology, Manila Noir, a collection of original crime fiction set in the Philippines capital, characterized by the publisher as "one of the most intense, congested, and overpopulated cities in the world ... and the ideal, torrid setting for noir." The book has already been praised by the Philippine Daily Inquirer as "masterfully crafted," in a review that also singles out Hagedorn's introduction for its "poetic and powerful observations about the sublime contradictions of Manila."
Hagedorn launches the new collection in-person at Asia Society New York on Monday, June 3. The evening will also feature an excerpt from the movie thriller Graceland by writer-director Ron Morales, after which Hagedorn and Morales will be joined by Manila Noir contributors Gina Apostol, and Sabina Murray for a panel discussion moderated by Allan Punzalan Isaac of Rutgers University.
Asia Blog caught up with Hagedorn via email ahead of next Monday's book launch.
To mark Asian Pacific American Heritage Month, we'll be running Q&As with noteworthy Asian Americans throughout May. Read them all here.
You live in NYC but go back and forth to the Philippines — and have described yourself as "a tourist in my own birthplace" — has that stayed with you over the years?
Yes, that feeling of home/not home hasn't changed.
Given the widespread use of English in the Philippines and the way it has permeated Tagalog, do you think this puts Filipino and Filipino American writers at an advantage or disadvantage with the international book reading public? Have you ever considered writing in Tagalog?
Filipino writers who write in English should be at an advantage in terms of connecting with international readers, but the irony is that their work isn't really known to the rest of the world. As for me, writing in Tagalog has never been a real option. It's too complex. Just because I can speak the language (somewhat) doesn't mean that I can write in Tagalog with any eloquence or authority.
In spite of the achievements of people like yourself, David Henry Hwang, Jhumpa Lahiri, Han Ong, Ping Chong, is there still a "glass ceiling" for Asian Americans in the theater and the arts in general in the U.S.? Has it changed in any significant way in the last 20 years?
No, nothing much has changed. The barriers are still there.
You are a novelist, playwright, screenwriter and editor. How do you describe what you do?
Exactly how you've said it.
If you were just starting your creative career now, do you think social and digital media or other new technology might affect how you would express yourself artistically?
I have no idea.
Or in fact does it now?
Social media is fuel for fodder in my most recent novel, Toxicology. I write about it as a cultural phenomenon.
Is there a generational shift?
No doubt.