Interview: Korilla BBQ's Eddie Song Shares His Top Five Good Eats and More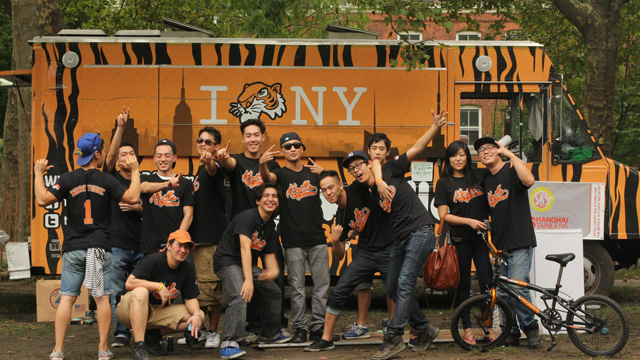 The Korilla BBQ team strikes a pose in front of their truck at the 2011 Vendy Awards in New York City. They won the "Rookie of the Year" Award. (Korilla BBQ)
In 2008, as the financial world started collapsing, the last thing a recent college graduate with $100,000 in debt should have done was pursue a nostalgic passion for restaurants. But that's exactly what the Queens-born and Manhattan-schooled Edward Song did.

On May 1, Asia Society New York kicks off the month with an Asian Pacific Heritage Month celebration, featuring dancing, live music, and street food. Learn more
And so the Korilla BBQ truck was born.
A graduate of Stuyvesant High School with a degree in Economics and Mathematics from Columbia University, Song equipped himself with a few things that would quickly lead to success: four months of training at a cooking school, "culinary casanova" Chef James Jung and an impromptu pitch to the the designers at BOX Creative in Manhattan's Koreatown to realize his vision. Soon, they were off... literally.
From the streets of Manhattan to a controversial cross-country roadtrip on Food Network's Amazing Food Truck Race, the Korilla BBQ Truck is now a household name in the New York City food scene. With so many trucks to compete with in a city overflowing with eateries, every detail of Korilla is carefully planned out — from their sauces to their social media. Even the snazzy tiger motif on their truck is done with a sense of purpose.
"I loved the idea of associating Korean food with a persona and we chose the tiger because the tiger represents our energy, our vibe, our food (BBQ, tiger eats meat) and because the tiger is the national animal of Korea," explains Song.
If you're craving some Korilla grub, stop by Asia Society New York on Friday, May 1, 2015 for our Asian Pacific American Heritage Month Celebration, when Korilla BBQ will be parked on Park Avenue and serving up their delectable dishes all evening.
We reached out to Song via email to find out more about the menu, how he uses social media and his favorite eats in town.
Korean food is so expansive. What were the things that inspired your menu?
When I was a kid (and didn't have a choice in which restaurant to dine at and would undoubtedly end up in a Korean restaurant), I used to think, Why are they giving me an encyclopedia for a menu? Nowadays, I am still given a tome at Korean restaurants but with decades of eating out at them, I have my favorite go-tos, which are showcased on Korilla truck.
How important is social media to your business? How do you use it?
I would not be surprised if in the future the word social and mobile are synonyms. For food truckers, social media is an integral part of our business model. It is a very powerful tool — something of a secret weapon, if you will, against brick and mortar places, that allows us to interact with our fan base. We broadcast our locations, any pertinent updates to our daily service, talk about anything that's on our minds and other musings. Our social media tools are pretty much a mashup of our crew, since we all have access to it.
When you are not in the truck, what are your five favorite places to eat in the city? Are any of them other food trucks?
The best perk of working on a food truck is that we get to try each other's food through swap-and-trade. I think food trucks produce better food than most restaurants out there in terms of quality and freshness.
My favorite places to eat depend on the occasion. I would go with Maison Premiere for their oyster happy hour, Dinosaur BBQ when I'm craving the other BBQ, Sake Bar Hagi for sake and Japanese gastropub and Nepalese Indian Restaurant for Indian.
Lastly, and more generally, If I had as many stomachs as a cow and wanted to be a cow, I would try to eat my way through Flushing.
Is there such a thing as food-truck etiquette? Do you have any tips to ensure the best food truck dining experience for all?
Go eat at a food truck at 11:30 am. This is when the food is freshest and lines short.
Are you finally allowed to talk about The Great Food Truck Race controversy? The public wants to hear your side of the story!
Stay tuned for Korilla Konfessions.
Video: Eddie Song on Korean cuisine in New York City (2 min., 46 sec.)