Interview: Julie Chu on Her Olympic Hockey Journey and 'Breaking Down Walls'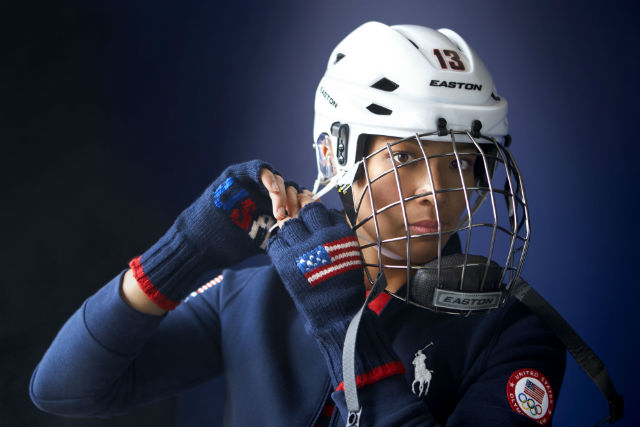 Julie Chu. (Ralph Lauren Magazine)

Every May for Asian Pacific American Heritage Month, Asia Blog interviews noteworthy Asian Americans from a diverse set of backgrounds. View the complete Q&A archive
Julie Chu, the first Asian American to play for the United States women's ice hockey team, has won four Olympic medals and five world championships. As team captain at Harvard, she became the NCAA's all-time leader in scoring and assists, and at her latest Olympic appearence in Sochi, she was even selected to be the American flag bearer for the closing ceremony. In a phone interview with Asia Blog, Chu reflected on her beginnings in hockey, her Olympic experiences, and on how her Asian American heritage has impacted her.
What have you been up to since last year's Olympics in Sochi?
So this past fall, I joined the coaching staff at Concordia University in Montreal. I've enjoyed working with the girls and seeing their development throughout the entire year. I've also really enjoyed living up here in Montreal, where I've trained for many summers but hadn't lived full-time before. On top of that, because French is the main language here (along with English), I've been taking a French class, because it's been important for me to be able to integrate myself into the culture.
Rewinding a bit, how did you first get started playing hockey? When did you first realize it was what you wanted to do?
I first started playing hockey when I was eight years old, and to be honest, it wasn't necessarily on the top of my list of sports to play. Growing up in Connecticut, soccer was the biggest sport for girls, and every school in town had some sort of recreational program. So I started out playing soccer first.
One day, my brother came home and asked if he could play hockey, because he had some friends who played. And my parents, who didn't know much about the sport, said, "Sure, we'll go to the local rink," and signed him up for hockey. My sister and I got signed up for figure skating, because that was a little bit more of the stereotypical girls' sport at the time.
I remember I was in figure skating class for about two months, but my eyes kept going over to where the boy hockey players were playing. And when I saw how much fun they were having, I thought, "Well, I'd like to give it a shot as well." I was lucky that when I asked my parents if I could switch to hockey, they said yes. They were always about opening doors for me and supporting me. And I don't think they realized what they would be doing in that moment by allowing me to just try a new sport.
When you first started playing, women's hockey was not yet an Olympic sport. How have you seen the sport change since you've started? Is there more excitement?
Absolutely. So when I started in 1990, there were maybe 5,000 girls playing hockey across the nation, maximum. For the most part, my sister and I went through an entire season without seeing another girl playing — we grew up playing on the boys' teams. Now, there are 60,000 or 70,000 girls playing in the United States. So it's really grown tremendously. Adding women's hockey to the Olympics in 1998 really helped launch the growth in North America, and every Olympics is a new springboard for more growth. We're still a young sport and there's room for more girls to try it out.
Julie Chu. (Ralph Lauren Magazine)
You've played in the last four Olympics. Are there specific ones that stand out to you?
I would say my first Olympics experience in 2002 in Salt Lake City was unbelievable. I can't really describe it, because any time you have a first experience, there's an extra excitement, there's an overwhelming feeling about it, too. I finally reached my dream of being an Olympian and representing my country, and because it was in the United States, I was able to have 30 friends and family come and be a part of it as well. They're a big part of who I am and how I've reached the successes that I've had. So it was a special moment.
And even this last Olympics; it was a tough way to end the Olympic Games with the way that the final unraveled at the end. But as far as our team and just enjoying the moment, I really enjoyed my Sochi experience and the environment that was created there.
At the Sochi Olympics, you were selected to be the flag bearer for the United States at the Closing Ceremonies. What was that experience like?
Yeah, that was a little wild. It's such an immense honor to be bestowed on someone. And I know there were a lot of other athletes that were up for it and would have been great. I don't know. Even to this day, it kind of leaves me speechless to know that my peers think enough of me to give me that honor. It was very special to me, and I think it was also a testament to my team and the environment we created together.
You were the first Asian American woman to play for the U.S. women's hockey team. What has that meant to you?
We grew up in a predominantly white area in Connecticut, and we very much grew up in American society. But at the same time, my dad was born in China and grew up in Hong Kong before he immigrated to the States. So we were still brought up with a lot of the values of the Chinese culture, such as the importance of the family, and the respect, honor, and hard work at the cornerstone of our family. And maybe it wasn't a very "traditional" Chinese cultural experience, but at the same time, those values can transcend and cross over into different cultures. It's a part of how I grew up, and it's a huge part of who I am.
Growing up, I didn't think it was that big of a deal. But after the 2002 Olympics, I was in Chicago working at a girls' hockey camp for Cammi Granato, who was a national team captain at the time. And about halfway through the week, one of the moms (whose daughter was Asian American) came up to me. "I just have to tell you this story," she said. "My daughter just came up to me the other day and she goes, 'Hey Mom, there's someone else that looks like me, too.'"
That was when I first realized there's something important about having role models with some connection beyond just being a female or just being a hockey player. And it made me realize that we're still trying to break down walls. We're still trying to break down images — whether they're created by someone else or created by ourselves — of who should do this, or who shouldn't. And that's something I hope will continue to disappear. People used to say girls shouldn't play hockey. Well, that's starting to disappear. It's the same thing with cultures or ethnicities and who should be doing what sport. Well, let people pursue what they're passionate about — that's how it should be.
So you're seeing more Asian American hockey players now?
Yes. Now there will maybe be a couple of Asian players at every camp, and that's fun to see. It's a slow growth, but one that we'll hopefully continue to see.
And I have two little nieces and a nephew. So you know the second they were kind of standing, I was putting a hockey stick in their hand. Whatever they end up pursuing, I want them to be active and I want them to happy. So as long as they're running around being cute, if they're doing what they love, that's perfect. But I'll still try to influence them into hockey.
What's something that your fans might not know about you?
I love to cook! I really enjoy spending the time to make great meals and share them with my friends and family.
What's next for you?
I love coaching. There aren't many days where it feels like work; it's fun and it's something I'm passionate about. In the summer I run my own hockey school, so I'm working on creating that business and putting out a great product where people not only want to come and learn but also walk away hopefully a little more developed as a person.
As far as the national team, I've taken this year off, and then I'll figure out if I want to transition back into it or move onto something else. But for right now, hockey's still in the future.
---
This interview has been edited for length.
You can follow Julie on Twitter at @juliechu13 or on Facebook.