Interview: Japanese American Grant Ujifusa Defied Odds in Face of Historic U.S. Error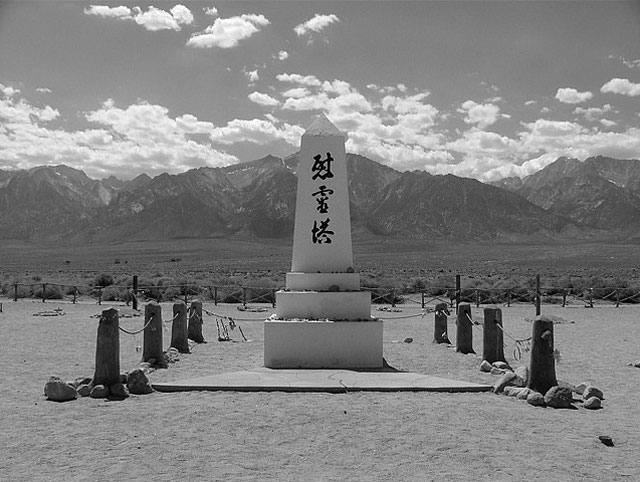 This monument at the Manzanar National Historic Site in California was established to commemorate the internment of nearly 120,000 Japanese Americans during World War II. (manyhighways/flickr)
Last year, Wyoming native and Harvard University alumnus Grant Ujifusa received the Order of the Rising Sun, one of the Japanese government's highest honors, for his key role in securing passage of the Civil Liberties Act of 1988, which provided official U.S. redress and an apology for all Japanese Americans forced into internment camps during World War II. Ujifusa was Redress Strategy Chair of the Japanese American Citizens League from 1982 to 1992 and founding editor and former co-author of the Almanac of American Politics.
This Thursday, June 20, Ujifusa joins former Governor of New Jersey Tom Kean, Ambassador Shigeyuki Hiroki, Consul General of Japan in New York, and Thomson Reuters anchor Fred Katayama at an Asia Society New York event recognizing the 25th anniversary of the Civil Liberties Act of 1988, which was signed into law by President Ronald Reagan. (For those who can't attend Thursday's event in person, a free live webcast on AsiaSociety.org/Live will begin at 6:30 ET.)
Ujifusa recently communicated with Asia Blog about the 25th anniversary of the redress bill's enactment, what it means in a post-9/11 America, and the power of perseverance.
In January 1945, the U.S approved the end of Japanese American internment. President Ronald Reagan signed the H.R. 442, Civil Liberties Act of 1988 in August of that year. When did Japanese Americans begin to become conscious of the camps and decide to rectify historical injustices of the internment?
Not until the mid-'70s was there even a willingness to consider the possibility of taking action. The idea to do something first surfaced on the Berkeley campus. Until then people were putting their lives back together. Some returned to the West Coast to find themselves homeless. So many said to the activists, don't rake these coals. They'll come after us again. But by the early '80s, Japanese Americans had reached a new consensus, driven by a deep emotional commitment to set things right, to seek common, ordinary American justice for what happened.
After joining the lobbying effort with the Japanese American Citizens League (JACL), how did you manage to mobilize individuals and gain both public support and legislative approval for apology and reparations?
People were already mobilized when I joined the effort in 1982. Broad public support was never going to develop. On talk radio, the callers would ask, "Would you believe that the politicians are going to give $20,000 to people who bombed Pearl Harbor?"
We don't live in a direct democracy, so we took our case to the House, where we needed the votes of 218 people; the Senate, of 51 people; and the White House, of one person.
By the mid-1980s, you had already been fighting for over 10 years and were facing strong opposition. President Reagan publicly opposed the bill for two years under his presidency. Was there ever a moment you were ready to give up, and how did you find the courage to continue your efforts?
Never for a moment. Let's say we got it through Congress, but got vetoed by Reagan. The exercise would have produced a feeling among Japanese Americans that we gave it our best shot, and while doing it we educated the country about not repeating what happened.
Do you think there is a possible danger of internment being repeated in today's political climate?
I think the nation's experience with once imprisoning law-abiding Americans perhaps immunized our country from considering the same for Muslim groups after 9/11 and after the Boston Marathon bombing. Few calls to round up people who look like the really bad guys. But you never know what fear and hysteria might do down the road.
What does the 25th anniversary of this bill mean to the Japanese American community?
Japanese Americans are happy to celebrate the 25th anniversary of our success in Washington — something the Kennedy School called "against all odds." We're happy that our forebears who lost their rights, dignity and property now rest more quietly. We're grateful that we live in a country willing to acknowledge error, and we're happy that Asia Society is celebrating with us.