Interview: Jamie Metzl on Why Chinese Snowboarders Will Be Significant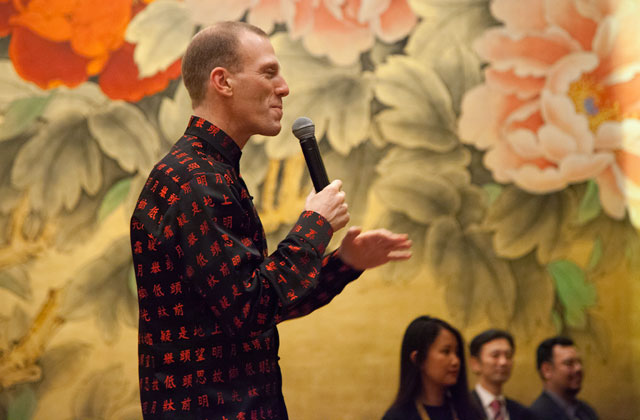 Jamie Metzl at Asia Society's eighth annual Asia 21 Young Leaders Summit in Zhenjiang, China in December 2013. (Tahiat Mahboob)
Jamie Metzl is an Asia Society Senior Fellow and was formerly Asia Society's Executive Vice President, where he oversaw the organization's strategic direction and overall program activities. Metzl helped develop and steer Asia Society's Asia 21 Young Leaders Initiative, a leadership development program spanning the Asia Pacific region, and maintains his connection with that initiative, having attended and spoken at the most recent Asia 21 Young Leaders Summit, in Zhenjiang, China, last December. He has also served on the Senate Foreign Relations Committee, in the U.S. Department of State, on the National Security Council, and in the United Nations Transitional Authority in Cambodia. He is currently a partner in the investment holding company Cranemere Inc.
Metzl is also a writer whose second novel, Genesis Code, arrives this fall, and whose first novel, 2004's The Depths of the Sea, has just been re-released in e-book format. AsiaBlog checked in with the multitasking Metzl for news of his latest activities and his views on Asian news stories to watch out for in 2014 — beginning with the Sochi Olympics.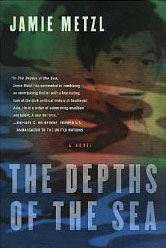 Your 2004 novel The Depths of the Sea was just re-released in digital form. How does the book look to you now, a decade later?
The Depths of the Sea deals with the impossible choices people are forced to make at moments of extreme stress, in this case the Thai-Cambodian border in the aftermath of the Vietnam War and Cambodian genocide. The unfolding tragedies in places like Syria and the Central African Republic seem to suggest that the themes of Depths are as applicable today as they were in the '70s, when novel is set, and in the '90s, when I started writing it in the shadows of Rwanda and Bosnia. Although the Thai-Cambodian border may feel far away for many readers, my goal was to connect readers to the painful personal choices people are forced to make in extreme situations.
Your next novel, Genesis Code, which comes out in November 2014, deals with the topic of human genetic enhancement in the context of a future U.S.-China rivalry. What sparked the book? And do you foresee reality mirroring fiction?
When I was working in the White House during the Clinton administration, my friend and mentor Richard Clarke shared his view that if everybody in Washington is focusing on one issue, it's almost certain there's something more important they are missing. For me, that issue was the national security implications of the biotechnology revolution. In 2008, I wrote an article in a national security journal on how global competition would turn human genetic enhancement into a critical national security issue. After I was invited to testify before Congress on the topic, I started writing a nonfiction book based on the article but quickly realized I instead really wanted to write a novel exploring these issues. I am absolutely certain reality will mirror fiction — just Google "BGI Shenzhen."
Your CV differs a bit from the average novelist. Has fiction writing always been an interest of yours? How did you get started?
I came back from my two years working for the UN in Cambodia in the early '90s with a bit of shell shock. The country was just ending its long civil war and still in deep shock. I'd seen so much death and sadness and felt enough of both that I needed an outlet to express the emotional side of my experience and that I wanted to find a way to help outsiders better understand the terrible human tragedy of Cambodia's genocide. It's bit of a cliché, but I felt like the first novel kind of wrote itself (but the six years of editing to get it ready for publication most definitely felt like effort!). I've always loved writing.
What do you think is the Asia-related news story to watch for in 2014?
I'm going to cheat and give two answers.
First, 2014 is a huge year for Afghanistan, with the April election and the military draw-down. If the elections are inconclusive, if Hamid Karzai clings to power, it's going to be very difficult for the United States to stay the course. The Afghan people are incredible (with notable exceptions) and we owe it to them and to ourselves to give them a chance to succeed in building a better future.
Second, China's economy is not as fragile as some say, but it is also vulnerable because of its massive debt problem. I'd bet on China's leaders muddling through, but they know more than anyone else that China is facing the prospect a very significant debt crisis.
In the past you have said, "When China dominates in snowboarding, we'll know its rise is for real." With another Winter Olympics upon us, does that still ring true? And what Asia storyline to you see coming out of Sochi?
China is great at hard infrastructure, like building cities, road, bridges, etc. They are terrible at soft infrastructure, like creating the creative culture where people can innovate and buck the system. They've aced the first phase on their modern economic growth, but so did the Soviet Union. To overcome the so-called "middle income trap," the Chinese government/party needs to reform so that the rest of society can evolve.
When China has more free-spirited snowboarders (and stars like the amazing Li Na), intellectuals who are able to speak their minds without being harassed or jailed, courts that can enforce a rule of law that applies to everyone (no matter how powerful), and citizens who can fight for their constitutional rights without being squashed, they will become the global leaders they have the potential to be.
Re: the games — Korea, Japan, and China will all win medals in Sochi, but let's be honest, most Asian countries do summer sports better than winter.